Editor's note: Content Marketing World welcomes Michael Brenner as author of the post below. We appreciate his support of CMI and are excited for his workshop at this year's event.
Very few companies today doubt the significance and necessity of a content strategy. After all, even the smallest startups understand the need for an active presence on social platforms and the need to have content updated on their own website.
And most companies understand the need to have landing pages optimized for conversions and blog posts that attempt to educate and engage potential customers around anything that's even remotely related to their product.
Business leaders are thinking digital-first because we know that information is as important as innovation. Experience is as important as product. And we understand that gaining awareness without having Superbowl advertising budgets can only be achieved by creating helpful content consistently and sharing that across the social, mobile web.
Even the data supports the increasing adoption of content successful content marketing across the board.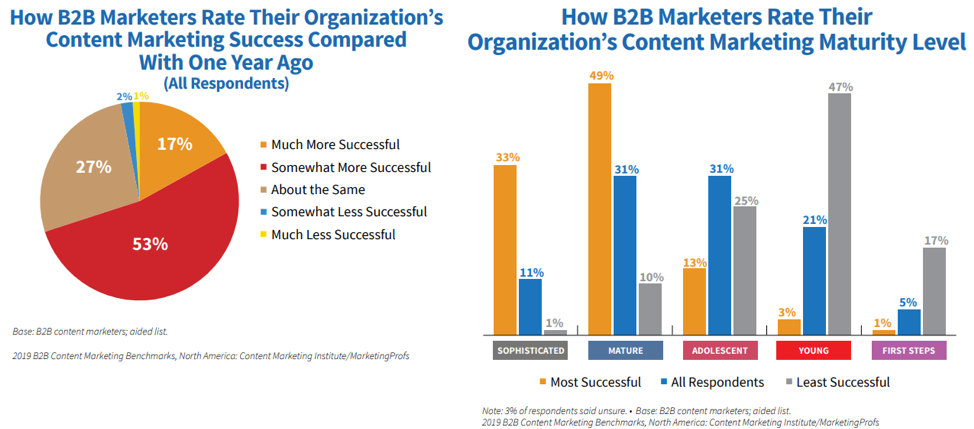 Most marketing leaders I talk to understand the need for a unified content marketing strategy. But they have many questions about how you actually go about formulating, documenting, and executing one? I also hear many questions around what results might you rationally expect and go after with content marketing?
A business that has a fair amount of organizational knowledge and capability in content marketing wouldn't be content (pun intended) with some keyword research, a bunch of topic ideas, and an editorial calendar. They'd have specific concerns such as:
How do we attract more leads by telling stories that make our brand more remarkable?
How do we stem and reverse ad fatigue caused by our PPC and remarketing campaigns on search and social, and sponsored content on other platforms?
How can we help our audience solve their problems at scale?
How can we use content to fuel the growth of our organization?
How can we achieve marketing ROI without spending half our budget on campaigns with uncertain outcomes?
The answer lies not in a general, formulaic approach to content marketing, or a strategy borrowed ad hoc from "the best blogs in the industry." That's why most successful brands start with a customized content marketing workshop that is tailored to the needs of your organization in particular.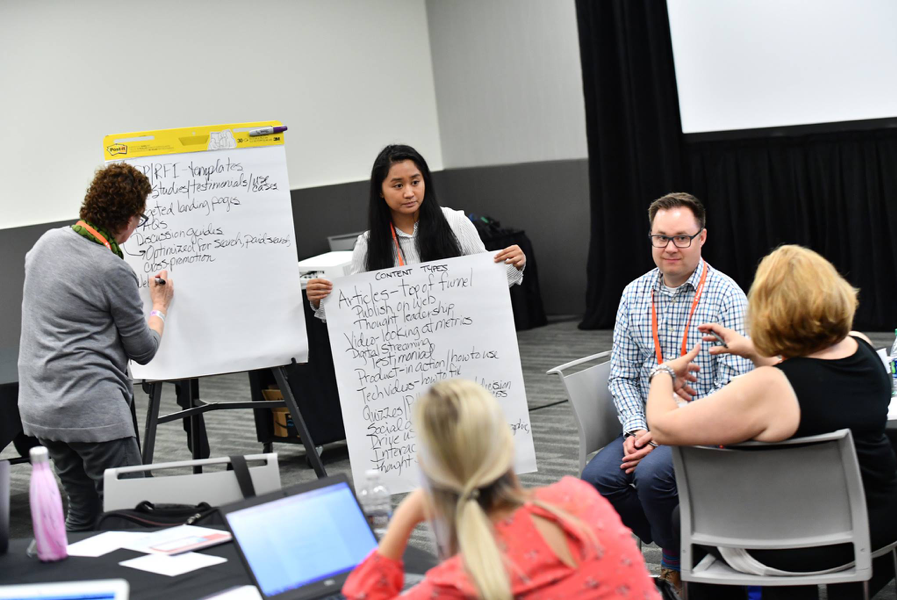 This is the best way to define your goals relative to your competitors and industry peers, activate your most effective content creators – your employees – and instill in them a passion to create and share content that not only gets you credibility and authority in your field, but also makes sure consumer trust in your brand keeps growing.
Here's why you need content marketing to be an all-hands-on-deck affair and a content strategy workshop is the best way to go about it.
Clarifies Your Purpose
No two content marketing strategies are the same. Or, should be the same. Your business needs will differ from others. Your customers' needs will differ from others. These needs will influence your customers' journey, which will in turn influence what actions you want your audience to take once they've consumed your content.
What value can you get from these actions? A hands-on workshop can help you define this value – for your organization – based on business metrics that you track and tie back to your content, including:
Brand awareness and recall
Audience engagement
Web traffic
Search engine visibility
Lead generation and nurturing
Customer retention
More ROI from marketing
Builds the Business Case
The annual research conducted by CMI and MarketingProfs has been showing for years that one of the biggest differences between the most committed and least committed content marketers are the ones who document their content marketing strategy.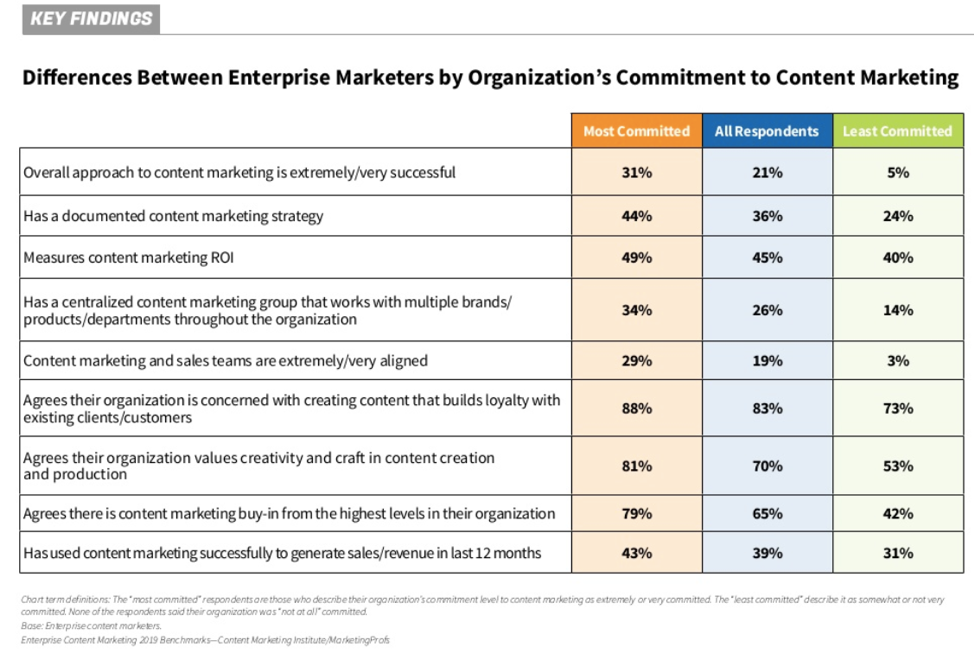 One of the best takeaways from a content marketing workshop is getting everyone in a room and writing down your goals. Not only do you get everyone on board who is in the room, you start to build a common understanding of how to explain the business case to others.
Many marketing leaders have a clear idea in mind on how they want to execute a comprehensive content marketing strategy, but they keep running into a wall when trying to convince top management. One of the first things a content workshop does is help you estimate, measure, and prove the ROI of content marketing.
In a workshop, you'll be able to draw a connection from the core purpose of your content strategy to your business goals, broken down into sales goals, product goals, cost-savings goals, and business growth.
This is the core of a business case – documented evidence of the potential value that content marketing brings to your business. It also includes a summary of the challenges and business risks, a cost-benefit analysis for the account wizzes, and a long-term growth plan for brand awareness.
Gets the Whole Team on Board
We've all experienced it – people who know us very well take us for granted and don't believe us when we claim to know something with conviction. However, when it's a recognized thought leader explaining how consumer expectations have evolved (with examples and anecdotes), playing out fun activities, and presenting the team with interesting new tools and templates for creating content, they will be more likely to be actively involved and be part of the plan wholeheartedly.
I have heard from almost everyone one of my clients, that having an external speaker can give every team member a fresh perspective on how important content marketing is to the bottom line of the company, and how they can add to that bottom line simply by having meaningful conversations with the target audience.
Every time an individual lends their talent to generating ideas, writing a post or sharing the brand message in their networks, they contribute to the overall growth of the company. Further, the marketing department is able to lean on them for industry information, customer education, and support.
Gives You the Roadmap (and Resources) to Business Growth
You need to know your destination before you draw a roadmap. When it comes to business growth via content and effective brand communication, it's all about how you connect with your customers and how your content speaks to them.

Once you define how you're going to create content that reaches, engages, and converts your audience, the next step is to document it. Don't forget to create an immediate snapshot of how you do all three at present.
For example, we created this infographic while I was Head of Content Marketing at SAP to show various stakeholders how we were reaching, engaging, and converting new customers to SAP.com. Our business case was exactly that: reach, engage, and convert new customers. Our internal content marketing workshop got everyone on board. Now, we needed a visual way to demonstrate that we were achieving results.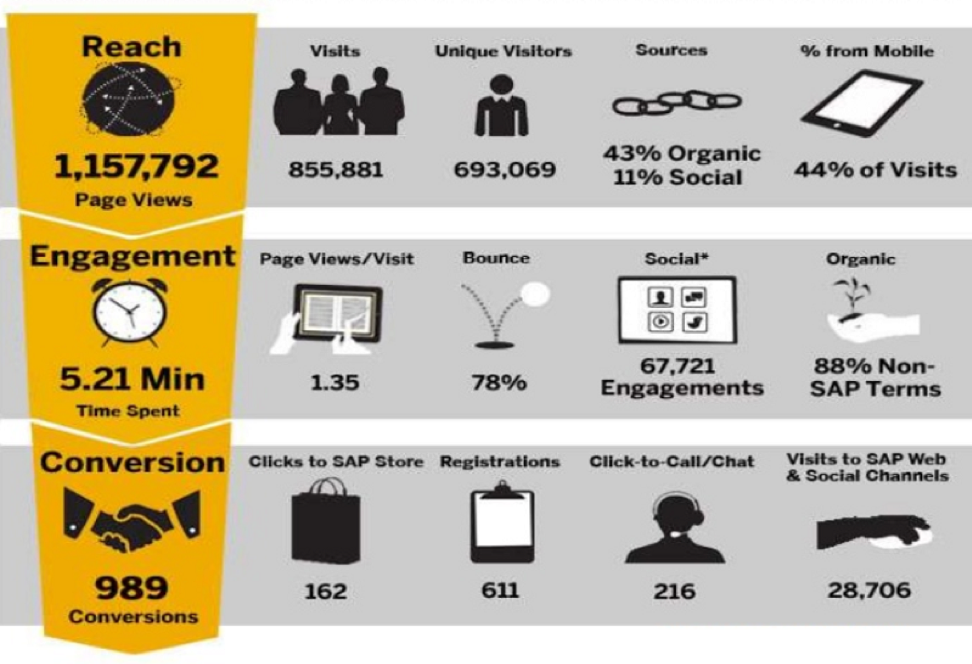 Again, metrics are important here. Depending on your purpose – leads, email subscribers, web traffic, or something else – you need to decide the metrics that will indicate progress and milestones along the road.
A comprehensive content marketing workshop will give you hands-on exposure to the various tools, models, templates, and approaches that help you measure growth on various channels. Your workshop leader will help you understand and decide (and probably create a dashboard) with the key metrics from Google Analytics, Facebook Insights, and so on. As you put your plan into action, these KPIs will help you revisit your strategy and tactics, and refine them continuously as you hit new highs, lows, and variations in these numbers.
What's more, workshops give you the opportunity to ask questions and resolve doubts then and there with the leader. You don't have to wait until you're in the middle of a campaign and suddenly get stuck with insufficient or incorrect data because one of your tracking systems broke.
Perhaps the best thing a content marketing workshop can do for your business is to create a customized strategy document that aligns the team around common goals, clarifies priorities, defines your audience better, and makes team members more accountable. Companies with a documented content strategy are by far more successful than their competitors in promoting their content.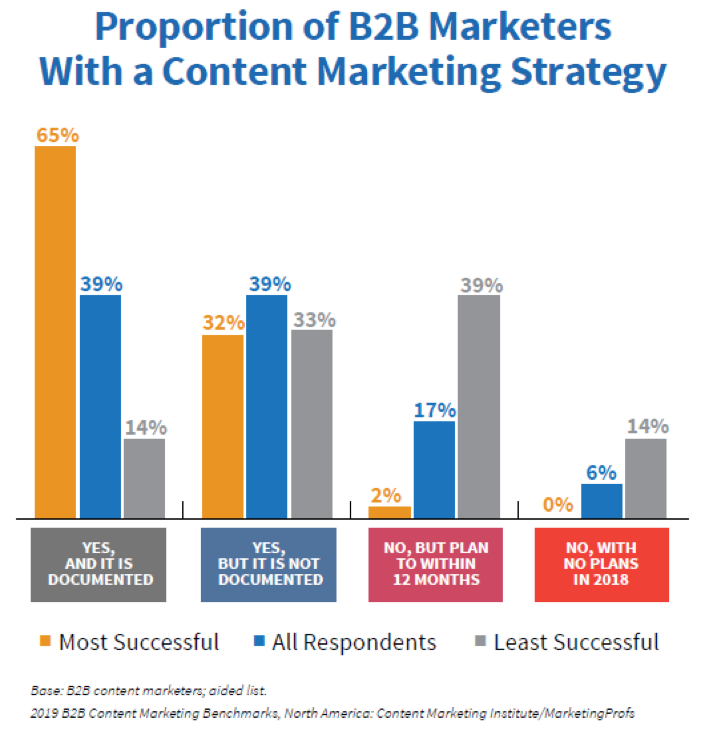 Test Content for Multiple Personas
The single biggest advantage of content marketing is its ability to speak to potential and current customers at every stage of the buying process. We are fortunate to have at our disposal marketing technology with the ability to analyze and remember the online behavior of a large number of consumers and target them at the right moment with relevant and contextual content.
You can begin with identifying your ideal audience and breaking them into segments for better targeting. You can learn about and try various approaches like surveys, focus groups, market research, demographic analysis, and persona building to zero in on the people who are most likely to buy in a given period of time.
Further, a workshop leader with digital marketing experience can show you how to tap different channels like social media, search, email, and niche forums with the ideal content formats that work well on these channels and platforms.
Discover the Keys to Marketing Success
Starting with the foundation of content marketing – a documented content strategy – a content workshop will give you the organizational knowledge and capability you need to get your brand story and messaging across to your audience. It will help you choose the tools and resources that work best for you, and more importantly, train you in how to make use of them to the fullest.
That's not all, a workshop demonstrates the practical aspects of measuring content performance and shows you how to tweak your content to perform even better with targeting tactics and conversion-focused variations in copy. This will save you a lot of time and effort down the line and enable you to meet tangible business goals without dealing with uncertainties.
Join me on September 3rd in Cleveland for Content Marketing World 2019. I'll be conducting a half-day workshop, Content Marketing 101: Setting and Documenting Your Strategy and Building Your Team.
At the end of this workshop, you'll be able to:
Understand the core components of a content marketing strategy
Implement each of these for your business to document an effective content marketing strategy
Define key metrics to measure the success of your content marketing programs
Walk away with a documented content marketing roadmap specific to your business
I hope to see you there!
Did you know you can attend Michael's workshop when you purchase an All-Access or Main Conference Plus pass? Jump start your week at Content Marketing World with a deep-dive, half-day working session. Sign up now with code SM100 for $100 off at checkout.
Posted June 3, 2019 in: Event by Monina Wagner
---