A priest, a rabbi, and a minister walk into a bar…
Let me know if you've heard this one already.
OK, you probably have heard it before. But it likely still made you stop. Why? Because laughter can not only boost engagement, but it can spur analytical thinking.
We wanted to learn more about using humor in our work, so we invited comedy writer Tim Washer to be our special guest on this week's #CMWorld chat. Tim has a resume longer than your CVS receipt, having written for "Saturday Night Live" and Conan O'Brien and has appeared on "HBO's Last Week Tonight with John Oliver."
Tim is also no stranger to CMWorld. He has spoken in Cleveland and has generously shared his experiences with attendees. These two CMI posts provide key takeaways from his sessions.
Read on to discover some awesome insights our participants shared during the chat. And check out our Twitter Moment to view more tweets from the discussion.
PS, I tossed in a joke in at the end of this post. I hope it makes you smile.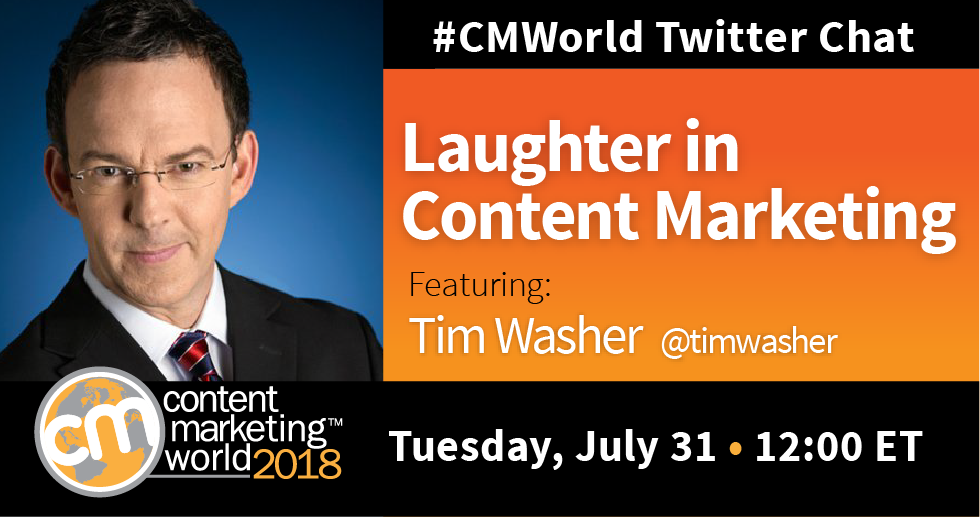 Comedy is largely subjective. So how can you define what your audience will find funny?
What if you don't consider yourself a funny person? Are there ways to develop your ability to create like a comedian?
Have you found success using humor in your work? Let us know in the comments below.
Oh, and here's the joke I couldn't resist telling.
A man walks into a bar with a cheese sandwich under his arm. "A pint of beer for me and the sandwich," he says to the bartender. "I'm sorry sir," says the bartender. "We don't serve food here."
Catch our #CMWorld Twitter chat every Tuesday, when we bring together smart content marketers from around the globe. Have a topic suggestion? Know someone who would make a terrific guest? Tweet me at @MoninaW.
Tim will be at Content Marketing World, on set for the debut of #CMWorld Chatter! Swing by our studio and say "hello!" Still not registered? What are you waiting for? Do it now! (And use code SM100 for a nice $100 discount.)
Posted August 1, 2018 in: Event by Monina Wagner
---