Source: SMG & Huntington Convention Center of Cleveland
For our Content Marketing World alumni and Cleveland locals, we know there are some cool things happening in the Cleveland area by many small businesses, local talent and sole proprietors. But when exciting things are happening from some of the bigger players in the market, it provides an impact and ripple effect for the city. One of those big players is the Huntington Convention Center of Cleveland, home to Content Marketing World. Read more on some of the new changes to the convention center, as well as some things you may not have known.
ART GALLERY
Convention Centers, by nature, are very clean and sparse, allowing room for events that come in to take over the space and make it their own. However, many times those spaces end up bare because of the cost of producing materials for a short-lived conference or expo. In Cleveland, the Cuyahoga County-owned building decided to add an art gallery to liven up the vast space, provide a sustainable and long-term way to beautify the halls, and most importantly to showcase local artists.
Located in the C2 Concourse in between the large exposition halls and the Global Health Center, attendees will now be greeted with some amazing art. Right now, event attendees can see "A Conversation in Metal and Canvas" featuring the sculpture of David Deming and the paintings on canvas by Samuel Roth. Subject to other events and conferences in the facility, The Cleveland Convention Gallery is free and open to the public Monday through Friday, 8 a.m. to 5 p.m. We look forward to our Content Marketing World attendees enjoying this beautiful art!
Read more:
"A Conversation in Metal and Canvas" exhibit features work of two local artists
Huntington Convention Center To Open Art Gallery
MORE COFFEE OPTIONS
Aside from the coffee, tea and juice options available to attendees at the event, we know you'll be thrilled to hear that along with the Au Bon Pain in the convention center, a Starbucks has opened up as well. Download that Starbucks app and place your order on your phone before you head to your first session! Both Au Bon Pain and Starbucks are located in the Global Center for Health Innovation, so you'll want to enter through the St. Clair entrance.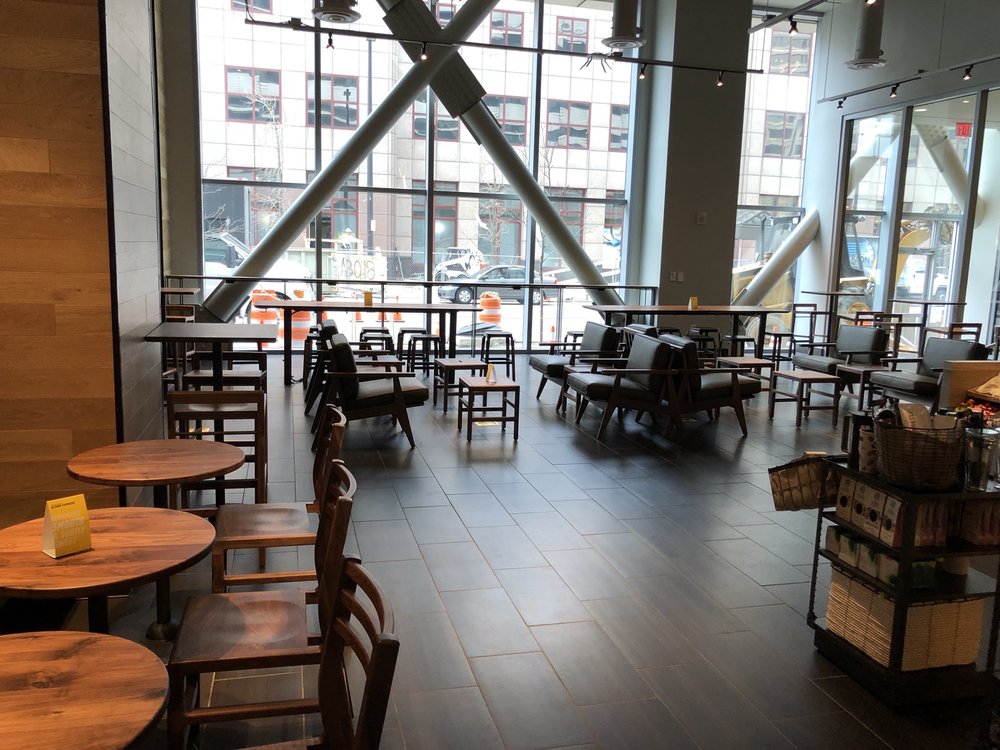 URBAN FARM
While this isn't new news, this is one that bears repeating. Do you know there's an urban farm at the Huntington Convention Center? There is! If you're by the ballrooms in the lower area of the convention center, walk all the way to the windows overlooking Browns Stadium and the Great Lakes Science Center. Walk up to the windows and onto the ledge. Go ahead, you're allowed. Now, look down. It seems so out of place – this modern building that we're in, train tracks, a stadium, Lake Erie, and then this urban farm nestled right in making the most of it and turning that area into usable – very usable – space. Here's a short video tour:
As noted in TSNN, Operated by the Levy and SMG team, the farm is home to 16 colonies of honey bees generating more than 2,000 pounds of honey annually; egg-laying hens that provide fresh eggs daily accounting for up to a quarter of the facility's monthly shelled egg use; a variety of raised beds that feature seasonal greens, herbs and vegetables, and three Mangalista heritage breed pigs.
It's worth repeating all the convention center is doing from a sustainability standpoint. It's remarkable!
We hope some of these exciting changes add a little more to your experience while in Cleveland and at Content Marketing World.
Still not registered? We can help with that! Visit our registration page and use code CMWBLOG to save $100 off any main conference packages.
Posted August 2, 2018 in: Event by Cathy McPhillips
---