Print, digital and in-person events. These are three legs of any content marketing stool. However, only 36% of B2B marketers use print magazines and only 22% use print newsletters. Is this a missed opportunity? This was just one of the questions in yesterday's #CMWorld Twitter chat with Billy Mitchell.
Participants also talked about what benefits print offers that no other medium does and how print can be used during long B2B sales cycles.
For the chat transcript, visit our Storify.
If you want to integrate print, digital and in-person into your marketing efforts, join us at Content Marketing World from September 6 – 9 in Cleveland, Ohio and catch some sessions touching on each of these topics.
And…to see the print arm of the Content Marketing Institute, subscribe to Chief Content Officer magazine, our free bi-monthly print magazine.
Here were a few outstanding takeaways from our #CMWorld Twitter chat with Billy Mitchell: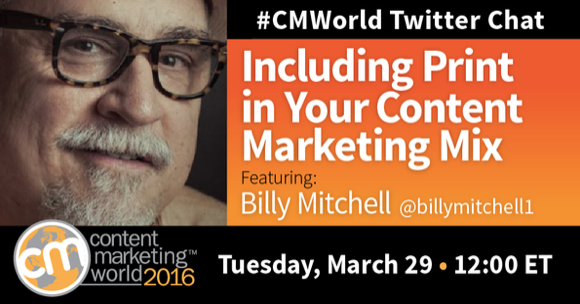 For our community using the medium is not simply about filling a content hole. They feel a personal connection with print.
Before jumping into the medium, our chat participants stressed the importance of knowing your audience. Consider how it consumes your content and think about how a print tactic can enhance that experience.
There are many benefits to print that are not realized with other mediums.
Print is an approach that will continue to evolve, and smart marketers will take advantage of the medium for a stronger content marketing strategy.
Join us on an upcoming #CMWorld Twitter chat soon! They take place every Tuesday, from 12pm-1pm Eastern. And better yet, join our #CMWorld community at our annual in-person meetup/reunion at Content Marketing World. CMWorld 2016 takes place September 6-9, 2016 in Cleveland, Ohio. BLOG100 saves $100 – join us!
Posted March 30, 2016 in: Event by Cathy McPhillips
---