Considering today's managed healthcare climate, sooner or later we are all likely to need to access hospital-based services in some capacity – whether it's for ourselves or for a loved one.
It's an uncomfortable truth to face – especially when hospitals and clinics are still trying to overcome the public perception that they are intimidating institutions that put cost management procedures ahead of patient care. But it also represents a tremendous opportunity to leverage content as a means of dispelling those myths, dissolving anxiety, and dispensing the type of valuable information that's critical to making the smartest healthcare decisions possible.
Of course, there are a lot of challenges inherent to communicating in such a sensitive, privacy-driven, and highly regulated industry. Hospital- and healthcare-related content needs to be at its best in order to adequately serve the needs of consumers when they may be at their worst.
But, as attendees of the interactive Hospitals Lab at Content Marketing World 2016 (led by top industry influencer, Christoph Trappe) will soon discover, learning to tell unique, authentic human stories is one of the most powerful ways marketers in this industry can transcend the stigmas and increase understanding while forging trusted, emotional connections with consumers.
Let's take a look at a few examples of how hospitals and other healthcare-focused organizations are using content to create meaningful conversations around topics that, let's be truthful, few people ever want to have to think about.
Example 1: GE's Reimagine series
GE's goal with its Reimagine video series was to share human experiences that illustrate what its products and technologies make possible. For example, in the video above, cancer survivors visit a GE Healthcare factory that produces machines that are instrumental to the early detection of cancer. The video captures real human emotion as the grateful survivors meet and interact with the builders of the tools that helped save their lives.
Example 2: The Bike Smart Infographic, by Cleveland Clinic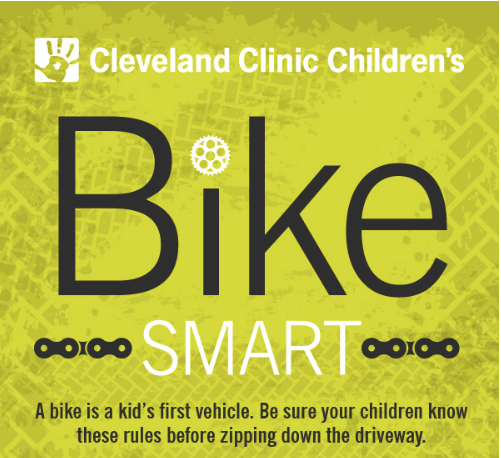 Not only is bicycling a great way to stay fit, it's a great way for kids to explore their world – without having to rely on mom and dad to be their chauffeur. Yet, the Cleveland Clinic recognizes that, with the freedom to ride, comes a big responsibility, as every kid who operates a bike should know how to maintain their equipment and follow the rules of the road. This handy infographic is just one example of how the renowned healthcare organization uses content to reinforce its commitment to child safety, as well as to ensure that all consumers have access to resources and practical tools that will enable them to get the most out of the healthy habits they engage in.
Example 3: HealthCalling, by St. Joseph's Health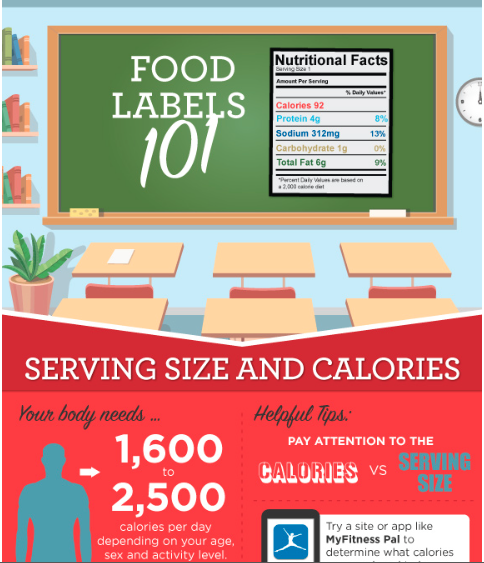 The ever-prescient Ben Franklin is credited as once having said, "An ounce of prevention is worth a pound of cure." It's a lesson that many health-focused organizations are embracing by creating content that focuses on avoiding health crises rather than on just diagnosing and treating them.
St. Joseph's Health built its HealthCalling microsite to provide wellness tips, research-based insights, and contemporary advice on the small steps we can all take every day to make our lives safer, healthier, and more fulfilling. For example, one recent article offers tips on how to stay safe while playing Pokémon Go, while an infographic explains how consumers can use the new FDA-mandated food labels to make healthier eating choices.
Example 4: Algorithms for Innovation, by University of Utah Health Sciences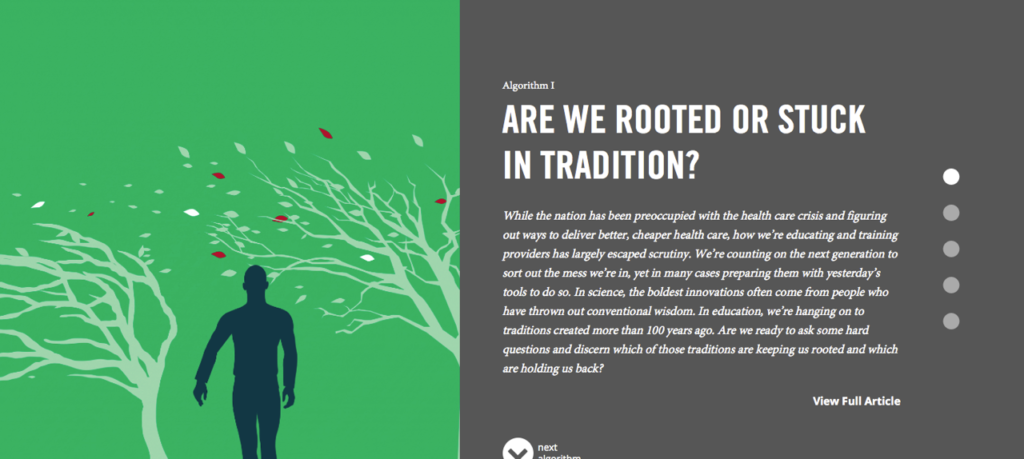 Like most medical centers, University of Utah Healthcare has a site dedicated to helping its patients get the physician information and health services they need. But as it's also a research facility, teaching hospital, and one of the state's largest employers, the organization recognizes that it has a higher responsibility to the residents of Utah (and surrounding states) that it provides care for.
One of the initiatives UUH has undertaken to fulfill that responsibility is Algorithms for Innovation – an annual digital report that explores five of the most pressing current issues in healthcare, and asks some tough, but important questions along the way. By providing a forum where these difficult conversations can be conducted, and enlisting the help of top healthcare thought leaders to participate, the University of Utah is doing what it can to affect necessary change in an industry that should never stop striving to be better.
Want to learn how to achieve better outcomes from your hospital's content marketing program? Don't miss our Hospitals Lab at Content Marketing World 2016. Register today! Code BLOG100 saves $100 off of main event and all-access passes.
Posted August 16, 2016 in: Event by Jodi Harris
---