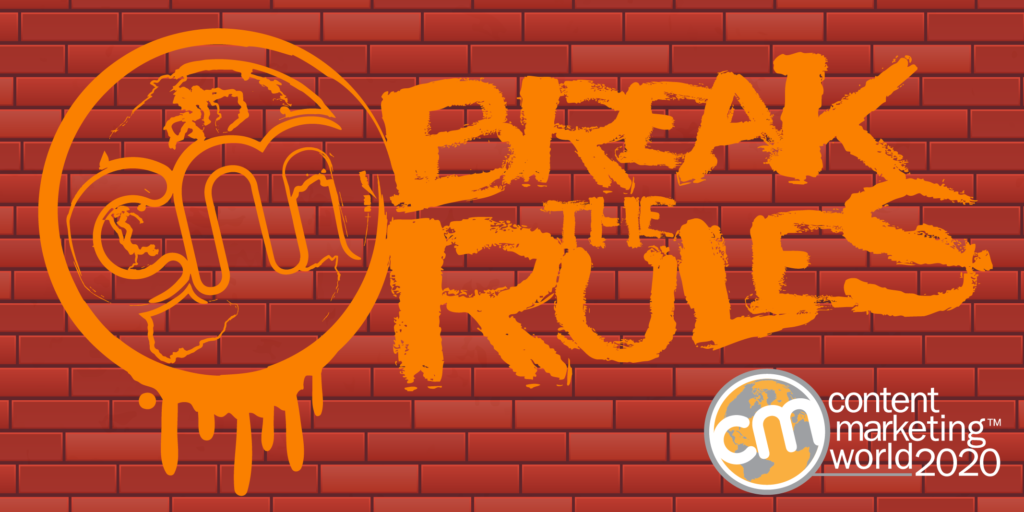 Each year for Content Marketing World, we develop a theme. This theme is used for track posters, event promotions and signage, the cover of the program guide, the stage, and more. It allows us to get creative and have fun! But more than just the design elements of the event, it provides a focal point for the community, the CMI team, the speakers and our attendees to rally around. Since 2011, Content Marketing World's inception, we've focused on the art of storytelling, audience engagement, and the global nature of the content marketing business.
Now, it's time to shake things up.
Welcome to Content Marketing World 2020: Break the Rules.
"Break the rules," you say? But we have frameworks! And templates! And established calendars! And please don't make me say it…hacks (ugh) for making our jobs easier. We've been told what we need to measure, and how. And do you know what? We've been told all this in amazing posts on the CMI blog and other industry sources. We've been told this at Content Marketing World and other incredible industry events. Our research supports the tactics we've been using.
The problem has become this: Our brands, our companies, and our customers are not "one marketing plan fits all." What we need to do as marketers is to take those frameworks and make them our own.
What if a brand is venturing into content marketing, and *gasp* doesn't want to start with a blog? What if the marketing leaders want to start with a small event, or a podcast because they think that will resonate with customers more than written content?
What if your brand has been active on Facebook for over a decade, but your customers just aren't there anymore? Or it's not the best vehicle to deliver your message to your customers and prospects? Why are you still there?
Why are you still blogging seven days a week with good content, when you could be blogging four days a week with epic content?
Why are you tolerating "we've always done it that way" chatter around the office?
It's time to review your rules and break some of them! Give your team permission to experiment. Let this be the year of remembering why we went into marketing. The year of creating something that makes you so excited to get out of bed each morning and go to work.
Are you ready? We are.
The inspiration behind this idea for Content Marketing World 2020 was easy to find. We needed to look no further than some of our favorite CMWorld speakers. Check out Jay Acunzo's book Break the Wheel, Doug Kessler's blog posts, especially "Something Happened.", and Kathy Klotz-Guest's interview on creative content ideas.
And it's not just in the content marketing world, either. History has shown that the rebels, the changemakers and the ones that stepped out are the ones that made some the biggest impact. The history books are filled with the likes of Andy Warhol, Sally Ride, Steve Jobs, Nora Ephron, and so many others.
So what do you say? What risks are you taking? How can you be daring in 2020? It's time we break the rules for GOOD. For DIFFERENTIATION. For SUCCESS.
Quite simply, do it for your CUSTOMERS.
Our speakers are ready to share their stories, the times they veered away from the pack. The times they took a leap that helped them connect with their customers, but also helped them increase revenue.
Will you join us? Content Marketing World takes place October 13-16, 2020 in Cleveland, Ohio. Join us! Code RULEBREAKER saves $100 off current rates. Super early bird rates end 3/31/2020.
Posted January 9, 2020 in: Event by Cathy McPhillips
---