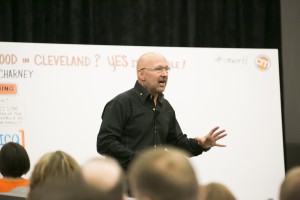 Every Thursday, a Scripted writer will recap a session from Content Marketing World 2014 that will be published here on the CMWorld blog. Find out more about Scripted by visiting their website.
Jeff Charney took the stage at Content Marketing World 2014 hoping the audience would walk away with a few out-of-the-box ideas — and stomach-aching laughs. The Chief Marketing Officer at Progressive gave an exciting presentation titled "Hollywood In Cleveland? Yes, It's Possible" (Kevin Spacey was there after all!) to teach marketers how to stand out from the 5,000 marketing messages day we come across.
He kicked off the presentation by showing footage of a man scaling the fourth largest building in the world, explaining how he was going to share his insights with a 10-question ICQ (Individual Content Quotient) quiz. He said anyone who answered all the questions right would receive a job offer from Progressive. Talk about a Hollywood game show — here's what else he had to say:
Out-Create, Don't Outspend
After a brief discussion of Moore's Law and the rate of change in contemporary marketing, Charney charged into one of the signature themes of his presentation: while you might not be able to outspend your competition, you can out-create them. He returned to this theme time and time again, making it clear that he believed in the power of storytelling, creativity, improvisation, and disruption.
Don't Be Afraid of Improv
After a series of questions about content and Hollywood style-storytelling, he came to another key point in his presentation, introduced, as with all the themes in his talk, a question. "Should you always follow The Brand Book? " he asked the audience. Unsurprisingly, the answer was no. At this point, Charney deployed one of the finest quotes of his entire session: "Improv is the new black."
To support his contention, he offered attendees the opportunity to A/B test two iterations of a coming ad for Progressive, each with a different ending courtesy of the improvisational process Progressive allows its actors and writers to engage in. (Spoiler Alert: B won!)
Always Be Relevant and Brave
As Charney began to speak particularly earnestly on the subject of storytelling, it became abundantly clear that here was the real thrust of his agenda. His philosophy was probably best summed up when he said, "The moral of the story is be who you are."
Charney followed his own advice by being a truly passionate advocate of writers and creatives (going so far as to say that "you can't be in marketing if you're not a writer"). As proof, he presented some wonderful examples, from both Progressive and other brands that he felt to be truly exemplary as regards their creative spirit, and spoke enthusiastically about the pieces which managed to make even the seemingly mundane interesting (blenders, for example).
He reserved his highest praise for video about a simple product catalogue, which seemed to be an audience favorite. He concluded this section of his talk with a question about the comparative importance of relevance versus bravery, which in fact proved to be a trick question. He said you have to have both, and then delivered yet another memorable zinger: "If you are relevant and you are brave you will always have a job in marketing."
During his conclusion, he showed a recent example of an extremely successful (and disruptive) ad campaign (hint: it involves strangers kissing!). This led into his grand finale, an offer of breath mints and mouth wash, and the request for everyone in the audience to turn to someone nearby, lean in close, look directly in their eyes and…hug them and say, "I love you, man!" And that's a true Hollywood ending.
For more examples of relevant and brave content marketing examples, take a look at our Visual Content Marketing Look Book on SlideShare.  We hope one of these 25 examples sparks a little improve for you.
Scripted provides high-quality, original content for a flat rate with a set turnaround time. Post guidelines for what you need, and five days later you'll receive professionally written and edited content.
Posted December 4, 2014 in: Event by Scripted Writers
---