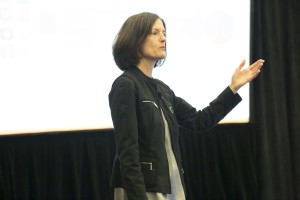 Every Thursday, a Scripted writer will recap a session from Content Marketing World 2014 that will be published here on the CMWorld blog. Find out more about Scripted by visiting their website.
In a world where consumers move through more than 100 brand experiences every day, it's never been harder to truly connect with your audience. Despite this challenge, the best brands know how to move past the advertising clutter to form emotional attachments with people. This concept is called brand attachment, and it's a powerful force in marketing. In fact, there is no metric that has a stronger correlation to sales than brand attachment. JoAnn Sciarrino, a Knight Chair in Digital Advertising and Marketing at UNC Chapel Hill, shares why brand attachment is so important and why companies need to start adapting it within their own marketing campaigns.
The Origins of Brand Attachment
Brand attachment is the emotional connection between people and brands. It is a relatively new concept, but it has its roots in the field of psychology pertaining to the way humans form attachments to one another. The big news for marketers is that the attachment humans feel for one another can also be felt with brands.
Researchers found that human emotional attachments are formed in the limbic system of the human brain, and the emotions that activate this system the most are related to passion, connection, and affection. At the same time, it has been found that approximately 90 percent of all decisions made by humans stem from the limbic system. That means many human decisions are based on emotion rather than logic.
For marketers, creating strong brand attachment can help people make decisions and form connections with a product that is highly favorable for companies. People with a strong brand attachment influence others, creating a virtuous cycle regarding the direct effects of branded content and the indirect effects of emotional brand attachment. These indirect effects can have a huge impact on a company's marketing ROI, in many cases doubling it.
Measuring Brand Attachment
Following the financial crisis, clients were telling Sciarrino that they don't want to put any more money into branded content marketing because it doesn't drive sales. Sciarrano wanted to test this assumption. Using a confluence of linguistics, big data and social media she was able to do just that.
Sciarrino mined a massive amount of data from social media. Using advances in linguistic technology, she looked at the raw conversations involving three different brands from different industries, which could sometimes generate nearly 2 million conversations per week.
She searched for words and phrases specifically related to passion, connection and affection, the three emotions that elicited the highest limbic system response. Her team then scored these words and conversations to produce a reliable metric that represented brand attachment, and then aggregated these scores weekly.
What they found was that brand attachment correlated with sales strength far more than any other metric. In essence, she had found a way to measure brand attachment and determine just how powerful this measurement was.
A Tale Of Two Companies
Sciarrino took her research further. She used two case studies involving major retailers she consults for and found that brand attachment had a huge impact on their ROI.
First, she measured the ROI of brand attachment in relation to indexed paid media and actual branded content. For each company, the ROI for branded content was nearly double that of indexed paid media when both the direct and indirect effects were accounted for.
Her second step was to look at message types. That meant measuring the ROI between promotional types of advertising such as blogs and content versus branded content. She found that once again, branded content generated much higher ROI when the direct and indirect effects are measured.
Sciarrino has since replicated these findings with dozens of major brands, underlining the impact of branded content and the importance of brand attachment. Unfortunately, companies have undervalued the impact of branded content marketing all along. As a result, companies need to work to incorporate a metric into their dashboards to track and measure brand attachment for competitors to learn what marketing strategies work best.
Ultimately, brand attachment is a way to measure storytelling. Storytelling means multiple points of stories that add up to one big story about a brand. For companies that want their story to have a happy ending, brand attachment is one metric they need to look at today.
Join CMI and over one hundred content marketers each Tuesday at 12pm Eastern on our #CMWorld twitter chats. Find our upcoming schedule on our website, with all topics geared toward great content marketing, storytelling, and connecting with our customers.
Scripted provides high-quality, original content for a flat rate with a set turnaround time. Post guidelines for what you need, and five days later you'll receive professionally written and edited content.
Posted March 5, 2015 in: Event by Scripted Writers
---