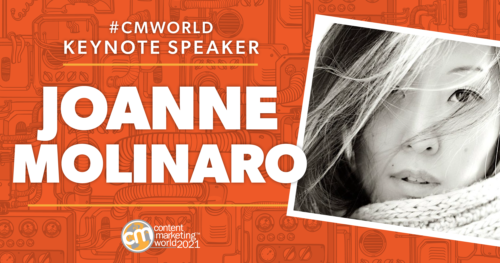 We all know that real magic in content marketing happens when we're able to create a genuine and lasting connection with our audience. In fact, this is one of the driving influences behind our Content Marketing World 2021 theme of Connections.
That theme will come to life when we welcome Joanne Lee Molinaro as a keynote speaker. Known to millions as "The Korean Vegan," Joanne will share how she combines cooking with stories of her heritage to connect with her audience on a human level, find areas of commonality, and build cross-cultural understanding.
A lawyer by day and content creator by night, Joanne began The Korean Vegan blog and accompanying social media accounts in 2016 after adopting a plant-based diet. What began as a personal motivational tool to "veganize" her favorite Korean recipes in an attempt to maintain a connection to her family and culture quickly grew into something much bigger.
As our country became more divisive over recent years, she expanded the objective of her social media platforms to add a second and, to her, more urgent component: sharing the immigrant story. She began incorporating very short stories in the captions of her Instagram posts, often about her parents or grandparents. The idea was to utilize her platform to provide insight to the immigrant experience in the United States, with the hope of developing empathy and compassion, and to begin an ongoing dialogue rooted in civility and a common denominator: the love of food.
In July 2020, Joanne created her TikTok account as a coping mechanism for the isolation caused by the global pandemic. With no real intention of using the account as an extension of her blog, she began posting content related to politics and life as a lawyer during quarantine. However, after a single post of her making braised potatoes for dinner went viral, Joanne shifted her attention to producing 60 second recipe videos, while telling stories about her family—immigrants from what is now known as North Korea. In just over a year, she has amassed more than 2.6 million followers and tens of millions of views.
Much like all of the ingredients that she uses in her recipes to make a delicious end result, Joanne believes that when we revere and respect all of the different cultures and ethnicities of those around us, we can create a harmonious society that we all want to live in.
Join us at Content Marketing World as Joanne shares some of her powerful stories over a lunchtime cooking demo. To preview her recipe for success, follow her on TikTok and Instagram.
Not yet registered? There's still time! Use promo code SM100 to save $100 at checkout.
Posted September 1, 2021 in: Event by Amie Cangelosi
---