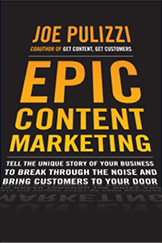 With less than two weeks to go until Content Marketing World 2013 rocks Cleveland, Joe Pulizzi, the mastermind behind the biggest content market event on the planet, is working around the clock. From polishing up presentations, to analyzing this year's research, to developing his top-secret introduction, Joe is dedicated to making this the best CMW event yet. Joe took a breather to share with us his thoughts on this year's conference.
What are you most excited about this year?
Joe: When 1,500+ people get together in one place, it really feels like home.  All these passionate people are trying to do the same thing in their organizations…make content work to create better customers. Oh, and we have a heck of a great time during the week.
This is the third year of the event. How do you continue to keep it "fresh" for those attending?
Joe: By listening. We reviewed every exit survey last year. We talk to brands from all over the world. Both of these things help us understand the pain that's going on out there.  Our job is to create content that solves the pain. Content Marketing World is the medicine all content marketers need to take the next step in their organizations (that may be too much, but that's how I feel).
You and the CMI staff put a tremendous amount of time and effort into making this a world-class event.  Why is it so important to you?
Joe:  Yes, this is a business, but our business is tied to the mission to get every enterprise out there seriously looking at what integrating content into their marketing can do.  We truly believe that if more brands begin to behave with a content marketing approach, it will create a better world. I know, it's deep, but that's what drives us.
By the way, Joe is doing all of this while also preparing for his newest book Epic Content Marketing which officially launches just weeks after Content Marketing World, on September 27th, 2013.  However, if you are attending CMW 2013, you'll get the exclusive chance to buy the book before anyone else!  Whether you are the CMO of a Fortune 500 or the smallest of small business owners, this groundbreaking guide will help you develop a content strategy to tell epic stories and drive epic sales!  Joe shares 20 Epic Examples of content marketing here: goo.gl/ldLRfN.   You can learn more about the book at EpicContentMarketing.com.  
There is still time to register for Content Marketing World! We hope to see you in Cleveland on September 9. 
Posted August 30, 2013 in: Event by Cathy McPhillips
---