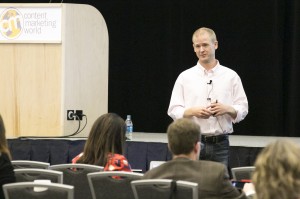 Every Thursday, a Scripted writer will recap a session from Content Marketing World 2014 that will be published here on the CMWorld blog. Find out more about Scripted by visiting their website.
Expert business coach and highly regarded entrepreneur, Jon Loomer, first learned about the power of Facebook marketing in 2007 while working with the National Basketball Association. In a business environment that has been moving further and further away from Facebook marketing, Loomer shared his own methods for turning your Facebook fans into profitable customers at Content Marketing World 2014. By following the "4-Step Facebook Fan Funnel plan," Loomer says content marketers can drive conversions from the social media channel — here's how.
1. Build a Relevant Fan Base
The most important thing that Loomer wants you to take away from this session is the fact that "fans convert." His own experience with selling seminars has shown the vast difference in marketing to fans versus non-fans. The Facebook fans converted easily and in multitudes, while the non-fans resulted in zero revenue. While some online marketers claim there is no return on a Facebook investment, Loomer says it's just the opposite: "Build a highly relevant and engaged audience because these are the people who are going to buy from you." Not only do your fans make up the majority of your customer base, but they are relatively easy to cultivate. Once the "likes" are there, targeting your audience is the easy part.
2. Build Trust and Loyalty Through Value
Does your Facebook page have a great fan base? Loomer says don't stop cultivating that base — instead "help them with information." Whatever your product or service, fans aren't on your page simply to click and give you a quick thumbs-up. They want information on your company, your staff, stance on the environment, whatever you are willing and able to share with them – so long as it is relevant and relatable to them. This is where content marketing comes in: through photos, infographics, status updates, videos, and relevant links, your fans can learn more about your company, products, and brand. The more information they have, the tighter the bond can become between them and your unique company.
3. Drive Website Traffic
Using Facebook to drive traffic to your own company website is the most important aspect of having a business page. All social media marketing is targeted to this one specific goal — driving traffic to the website and converting social fans into paying customers. To facilitate this traffic flow, Loomer says to "collect an email address." There are many ways to do this. For example, offer a free eBook on your website (linked from your Facebook page), and ask for each user's address. This not only drives traffic to your website, but also offers you another marketing avenue through email lists.
4. Target People Who Are Ready to Buy
The last part of the Facebook fan funnel is customer targeting. Loomer simply instructs his audience to "sell." This is where your fan base becomes incredibly important since these are the people who want to buy what you are selling. Share company product news and updates with your fans regularly to build up excitement about what is being released next. Not only does this keep your fans engaged, but it inspires them to share the news with their own contacts. At this point in the sales funnel, selling is easy because you have such a well-constructed list of potential buyers.
When businesses use the "4-Step Facebook Fan Funnel" system, they'll understand how profitable Facebook advertising can really be.
Read more about Facebook marketing, news and information on the Content Marketing Institute blog.
Scripted provides high-quality, original content for a flat rate with a set turnaround time. Post guidelines for what you need, and five days later you'll receive professionally written and edited content.
Posted November 13, 2014 in: Event by Scripted Writers
---