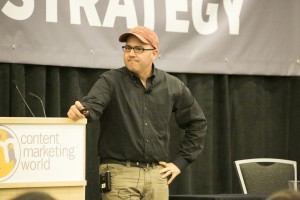 Every Thursday, a Scripted writer will recap a session from Content Marketing World 2014 that will be published here on the CMWorld blog. Find out more about Scripted by visiting their website.
Businesses nationwide convened in Cleveland to learn more about this decade's hot marketing trend — content marketing — at Content Marketing World 2014. Over the last few years, content has become so important that entire departments are dedicated to creating high-quality videos, photos, infographics and status updates. But with rapidly advancing research and knowledge in the industry, how can modern content marketers take it a step further and stay on top of new trends? Facebook's Content Strategist Jonathon Colman took the stage to present "Building Better Products With Content Strategy" and educated those in the room about how content marketing is much more than just copywriting. In the lecture, he drew from his own experience at Facebook where he's focused on developing products and services in which people can trust and empathize — which couldn't be done without the help of content, of course.
1. Don't Lose Sight of Your Content Goal
"Pageviews are not your goal; your goal is your goal," Colman emphasizes (quoting Michael Powers) at the beginning of his lecture. To create a better product through content strategy, we need to focus on clarity and "staying invisible."  To create a better product through content strategy, we need to focus on clarity and "staying invisible." Colman and his colleagues are responsible for a lot of the content Facebook users consume, but since it is so well-placed and useful, we tend not to notice it, he says. If your goal is to create a better service or product for your company, the content you publish should help you work towards that goal. He admits how exciting new publishing tools and analytic apps can be, but urges us not to lose sight of a content strategy's purpose. Analytical applications and tools are great to learn and help you along the way, but they shouldn't distract from the big picture and your main goal.
2. Exceed the Minimum Viable Content Rule
Minimum viable content possesses just the necessary features for publication, and no more. Colman believes that "very little" content on the Internet actually surpasses that minimum number of features. At Facebook, Colman and his team work together to provide content that not only is functional, but is also engaging and helpful. His advice for other strategists? "When you feel yourself failing to provide quality content, there is a problem in the cycles of your organization." Cycles are the specific learning, measuring and building loops that every analyst goes through when developing a product. Only when you challenge yourself to change your perspective about your company's cycles can you develop and build innovative new content for your users.
3. Offer Value and A Clear Choice
At Facebook, the content strategy teams tries very hard not to be "disruptive." Colman wants users to have a positive experience as they interact seamlessly with content published by their friends and Facebook. He urges other strategists to remember that "great content is invisible." It should not get in the way of the overall user experience; it should enhance that experience. To simplify this process, concentrate on two elements within your content: value and a clear choice. Be up front about the personal value of a particular content, and offer the user a clear choice to participate or opt out. Don't involve superfluous text or images; just communicate value.
According to Colman content is more than just writing: "We are building content experiences," he says. Invisible content that helps create a better overall product is purely useful and usable. The smoother the website, app or social network experience, the more likely users are to return. Content strategy isn't just about filling up the page, it's about creating an experience that users won't forget.
To learn more about content strategy, read this article from Jonathon Colman from the August 2014 issue of CCO Magazine. Also, visit the Intelligent Content Conference website for more on intelligent content and content strategy.
Scripted provides high-quality, original content for a flat rate with a set turnaround time. Post guidelines for what you need, and five days later you'll receive professionally written and edited content.
Posted November 6, 2014 in: Event by Scripted Writers
---