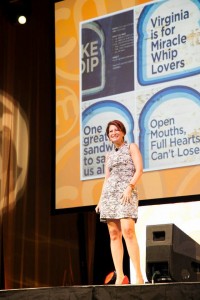 Every Thursday, a Scripted writer will recap a session from Content Marketing World 2014 that will be published here on the CMWorld blog. Find out more about Scripted by visiting their website.
The challenge of calculating ROI for content marketing causes consistent frustration within marketing teams. It's a challenge that Julie Fleischer, Senior Director of Data, Content and Media for Kraft Foods, has conquered, and her insights have reshaped Kraft's entire marketing strategy.
Like most content marketers, Fleischer realizes the creative power of content. She also sees its potential to create connections and experiences for Kraft's customers. The insight that differentiates her approach, however, is her recognition of how content marketing generates data for her company. The data generated by Kraft's content platform yields insights that have transformed Kraft's organizational structure. Content marketing data now drives marketing, advertising and CRM strategies, and it has supercharged marketing ROI. This is the exciting discussion she covered at Content Marketing World 2014.
Reinventing Marketing
In 2012, Fleischer's team decided to create a marketing wish list. They wanted a vision not for what marketing was, but for what they wished it could be. Four main wishes guided their efforts:
They wanted marketing to create and use a proprietary view of Kraft's customers built on an in-depth understanding of customers' lives.
They wanted the view to become smarter over time, becoming a learning engine for marketing.
Kraft's team wanted to fine-tune their targeted marketing so that they could communicate with individuals, not segments.
They wanted marketing measured by addressability, not by gross rating points.
Fleischer's team realized that its content marketing platform was the ticket to fulfilling their wishes. They also realized that it could power not only content marketing but also their entire media platform. By using data to create highly personalized content and then collecting new data from its distribution, they developed new advertising strategies, guided product development and became the best way for Kraft to reach its customers. Kraft eventually restructured to place content, data, media and CRM within the same department.
Lessons Learned
As Kraft moved forward with its new vision for content marketing, Fleischer's team gained some important insights. They learned to distribute content that contained campaignable ideas, not just assets in a vacuum. Too often, Fleischer argues, companies waste time sharing content that offers no ROI. They post low-value items to social media at high frequency with the thought of being "part of the conversation," or they submit content to sites that offer no SEO value, and their content is never seen again.
Kraft also learned to relentlessly pursue worthiness in content creation. Fleischer says that Kraft's marketers are no longer slaves to calendars and posting cadences; they stand up for quality and relevance. She also noted that Kraft learned to always link content to data. When linked to data, content and advertising could integrate, allowing both to work harder.
Measuring ROI
At Kraft, marketing ROI must drive the business, and it must pay for itself. Precision marketing, Fleischer says, requires precision measurement, so she measures ROI in several different ways. Fleischer's team measures how content drives customer spending by matching purchases with syndicated shopper loyalty data. This metric allows Fleischer's team to tie marketing campaigns directly to revenue.
Additionally, Fleischer's team has demonstrated that increased engagement correlates with an increase in market share. Content marketing's greatest contribution, however, is how it generates a stream of first-party data for Kraft. This data drives segmentation, market research and innovation throughout the company. For example, Kraft's team can measure how first party data improves its return on ad spend.
'Move Fast and Break Things'
Not every business can create content and collect data at the scale of Kraft. Still, Fleischer advises content marketers to remember a few important truths. One of her biggest messages is that "done is better than perfect." Today's marketing targets shift so rapidly that no one can afford to wait to deliver perfect content. By following Kraft's strategy – learn, create, deliver, measure, learn, repeat – even small companies can create spectacular content the Kraft way.
Hear from Julie and over one hundred other content marketing practitioners on how content marketing has impacted their organizations. Content Marketing World is happening this September, but Early Bird rates end on 5/31. Don't forget, CMI100 sill save an additional $100 off these Early Bird rates! Register now.
Scripted provides high-quality, original content for a flat rate with a set turnaround time. Post guidelines for what you need, and five days later you'll receive professionally written and edited content.
Posted April 23, 2015 in: Event by Scripted Writers
---