Each week on the Content Marketing World blog, we're going to feature a CMWorld 2020 speaker blog post that dives into the topic they'll be covering at CMWorld, plus a few additional articles they've written to help you prepare for their session.
Today, we're keeping the series rolling with Kathy Klotz-Guest, a CMWorld favorite who will be sharing some big ideas on breaking molds and pushing content limits. Today's post is from a conversation she had with Content Marketing Institute's Kim Moutsos, where Kathy shared her perspective on breaking those molds.
"Here's to the crazy ones. The misfits. The rebels. The troublemakers. The round pegs in the square holes. The ones who see things differently. They're not fond of rules. And they have no respect for the status quo. You can quote them, disagree with them, glorify or vilify them. About the only thing you can't do is ignore them."
More than 20 years later, an interview with Kathy Klotz-Guest at Content Marketing World brought to mind that Apple ad, which pressed into service images of some of the greatest leaders, artists, visionaries, inventors, and thinkers of the 20th century.
Speaker, comic, and founder of Keeping It Human, Kathy responded to the question of how to create a culture that truly promotes creative ideas with answers that echoed the sentiments in the Apple ad.
As you'll see in the video below – the latest in CMI's Mastering Content Marketing series – Kathy believes that the most interesting ideas come from flipping expectations on their head, breaking molds, and taking risks.
Watch the two-minute video to hear Kathy, who trained at ComedySportz and Second City in addition to working in marketing for 15 years, explain in her own words. Then read on to find out what she recommends you flip, smash, and challenge.
Here are six rules and conventions you should set about breaking and what to do instead to create a smarter content marketing program.
Don't miss Kathy's breakout session,
Fearless Content Teams: Creating a Safe Place for Unsafe Ideas
at Content Marketing World 2020 Oct 13-16.
SPEAKER100 saves $100
off your registration.
Make everything measurable and repeatable
Marketers often are scared of things that they can't quantify or replicate. Too many companies, people, and teams buy into this template mentality: "I want to see what other companies do." But you're not that company. Your customers are different. Your path is different. Your story's different.
Give the people what they expect
The best way to think about creativity is to ask: "How can we flip our customers' expectations upside down to delight and surprise them?" Go to places where your competitors aren't and do things they won't. That's where the good stuff is, the scary stuff. If it scares you, you're doing it right.
We don't do that here
Creativity comes from asking "what if." For example, "What if we go against assumptions and mash up two things that aren't supposed to go together?" You might come up with amazing ideas. Creativity demands time to let ideas breathe. When you're told, "We don't do that here," you need to go and do those things.
Content marketers own storytelling
The best stories don't live in the C-suite, and they don't live with marketing. Shocking, right? They live with customers. They live with partners. Who says you can't put a story out there, or start a story and let your customers finish the story?
Minimize risk and place blame for failure
Make your rules and experiment. Make sure teams understand they can take risks. Foster a culture where team members know their managers possess a have-your-back attitude when they do take risks. Companies must start with culture and take an attitude of "yes, and …" to create that environment.
If teams don't feel that the company has their back, they won't (experiment). But if you say, "Look, I want you to know that you are empowered, when something news-oriented comes up that has to do with our brand, like the 2013 Oreo "dunk in the dark" Super Bowl moment, I empower you to do that."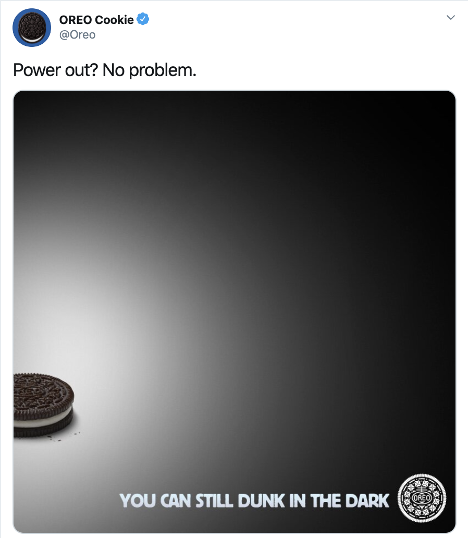 A good example is Wendy's. The fast-food restaurant chain is killing it. Why is its social media team so darn good? It's clear on its voice. And within the brand voice, the team has wiggle room to play.
Only reward results
Reward learning. If all you do is reward the outcomes, you're going to get people going for the easy, safe checkboxes. Imagine if you rewarded teams for how many ideas they generated. Not how many viable ideas, but how many ideas. Or you rewarded them for breaking silos and working with other departments to create new stories. Reinforce the behavior you want to see.
Become a learning organization and an organization committed to curiosity versus just an organization committed to outcomes.
This post originally appeared on the Content Marketing Institute  blog.
Looking for even more from Kathy? Check out these three blog posts that will help you dive deeper into the science of memorable content and prepare you for her CMWorld session:
1.   Why John Oliver Rocks Content and So Can You
2.   How Improvisation Can Make Us Better Marketers
3.   What Key & Peele Can Teach Marketers About Contagious Content
Register today for Content Marketing World 2020, where you'll hear from 150+ speakers and industry leaders including Kathy Klotz-Guest who will be talking about creating a safe space for unsafe ideas. Use SPEAKER100 to save $100 off your pass!
Posted April 23, 2020 in: Event by Cathy McPhillips
---