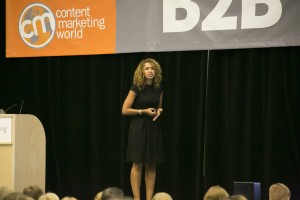 Every Thursday, a Scripted writer will recap a session from Content Marketing World 2014 that will be published here on the CMWorld blog. Find out more about Scripted by visiting their website.
In 1878, Thomas Edison formed the company that would become General Electric. Today, GE houses an astounding number of products and industries beneath its corporate umbrella. Although most people know GE by the products they see in their households — light bulbs and appliances — GE is a worldwide leader in manufacturing jet engines, furthering materials science, creating power generation technology, and even mapping the human brain.
Enter Katrina Craigwell, GE's global manager of digital marketing. She oversees content marketing campaigns designed to raise GE's brand awareness, woo potential investors, and present GE as a great place to build a career. Her team works to deepen understanding of GE's commitment to a better future through technology and innovation. Their efforts have led to creative content campaigns delivered over slightly unorthodox marketing channels.
Instagram: #GEInstaWalk
Not everyone sees a jet engine as fodder for photography. For telling complicated stories, however, nothing beats the efficiency of visual content. Craigwell's team decided to experiment with Instagram by opening its factories to high-powered influencers.
Craigwell's team invited six Instagram influencers and six GE super fans to tour one of its jet engine manufacturing facilities. Thanks to its talented visitors, #GEInstaWalk received 3.5 million impressions, including 200,000 engagements within the first 48 hours. Long after the campaign ended, the user-created images heavily influence GE's branding. Craigwell says that the Instagram visuals have had a broad impact, leading to new concepts in GE's print ad imagery.
SoundCloud: Drop Science
When people envision content, they think of a blend of text and images, but they don't always incorporate sound. GE worked with DJ Matthew Dear to gather 1,500 sound samples from GE products and facilities. GE then made the sounds available as free downloads and the sounds became especially popular with DJs and sound mixers. In addition to earning 1.5 million downloads for the sound samples, Dear fashioned an electronica track called "Drop Science," which GE uploaded to SoundCloud
YouTube: Slow Mo
When Craigwell realized that GE used YouTube as a content repository instead of a programmed channel, she decided to create videos focused on entertainment. Working with YouTube stars The Slow Mo Guys, her team created a video series showing GE technology up close and in slow motion.
The Slow Mo Guys visited a GE research laboratory and took slow motion videos of GE processes in action. For instance, they filmed magnetic liquid beading and bouncing off a hydrophobic surface, as well as cold spray 3D printing, all in slow motion. Thanks to Slow Mo Guys fans and organic reach, the videos earned 7.8 million views. Craigwell sees the same pattern again and again: Creator content yields higher engagement.
Tumblr: #GESpringBreakIt
GE constantly tests materials to create products that can withstand extreme conditions. In other words, GE materials scientists get to break things — a lot. Craigwell's team created a Tumblr spring break campaign called #GESpringBreakIt, which featured images, GIFs, and videos of GE scientists smashing, crushing, and blasting different objects.
The Tumblr videos earned 1.4 million views and got over 120 million earned media impressions. More importantly, they received significant engagement from college students, a demographic from which GE works hard to recruit new talent. While graduating engineers, chemists, and data scientists can have their pick of jobs with newer companies, GE has learned how to leverage content marketing as a competitive recruiting tool.
Demonstrating 'What's Next'
Craigwell's team creates its content within the theme "What's Next," which showcases GE's materials science, big data, power generation, neuroscience, machinery, and world-class manufacturing facilities. Going forward, she plans to cultivate more user-generated content, tapping into talent on networks like Instagram.
By igniting lighthearted curiosity around science and technology, GE opens its doors to the enthusiasts that will shape its future. Thanks to Craigwell's team, a company that's over 130 years old is taking content marketing in new directions.
Craigwell will be back at Content Marketing World with over 100 other speakers. Join us this September! And in the meantime, check out our Visual Content Marketing Look Book for more great B2B and B2C content marketing examples.
Scripted provides high-quality, original content for a flat rate with a set turnaround time. Post guidelines for what you need, and five days later you'll receive professionally written and edited content.
Posted April 30, 2015 in: Event by Scripted Writers
---