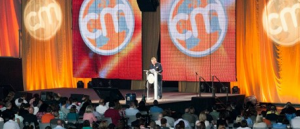 Content Marketing World 2014 opens in Cleveland September 8-11
CLEVELAND, OHIO, September 2nd, 2014 – Bigger and better than ever, the Content Marketing Institute (CMI) kicks off the fourth annual Content Marketing World 2014 in Cleveland, Ohio September 8-11, 2014.  This year, we'll welcome more than 2,500 people from 50 countries looking for practical how-to content marketing advice and inspiration.
Marketers desperately need help breaking through all that "content clutter" out there these days.  They need help with strategy, integration, measurement and much, much more.  At Content Marketing World 2014, they'll be able to find the insight and practical how-to guidance they need in more than 80 sessions presented by leading brand marketers around the world, including Kraft, GE, Progressive, Cisco, John Deere, Facebook, Walmart and many more.
Besides the usual suspects, we are also rolling out the orange carpet for one of the biggest stars in Hollywood as our closing keynote speaker.
You may be thinking, "So what?  How big of a deal is this thing?"  Well, content marketing is not just a buzzword anymore.  It's now being accepted as a strategic part of any company's marketing strategy.  It's so important, that more than half of the Fortune 20 will be attending Content Marketing World 2014, including Walmart, ExxonMobil, Chevron, Verizon, GE, Ford, AT&T, Fannie Mae, McKesson, HP and IBM.
"If there is one event that I tell my clients, colleagues and fellow authors to attend, it's Content Marketing World," says Jay Baer, marketing strategist and New York Time's best-selling author. "There's simply nothing else like it on the planet."
If you can't make it- you are missing out!  But you can still get a taste of all the amazing things happening at CMW 2014.
Registration is open until September 8, 2014.
Want even more info?
Contact: Amanda Subler
Content Marketing Institute
216-798-7220
Posted September 3, 2014 in: Event by Cathy McPhillips
---