Content Marketing World is part of the Informa Connect Division of Informa PLC
This site is operated by a business or businesses owned by Informa PLC and all copyright resides with them. Informa PLC's registered office is 5 Howick Place, London SW1P 1WG. Registered in England and Wales. Number 3099067.
What We Can Learn from Fiction Writers: A #CMWorld Chat with Stoney deGeyter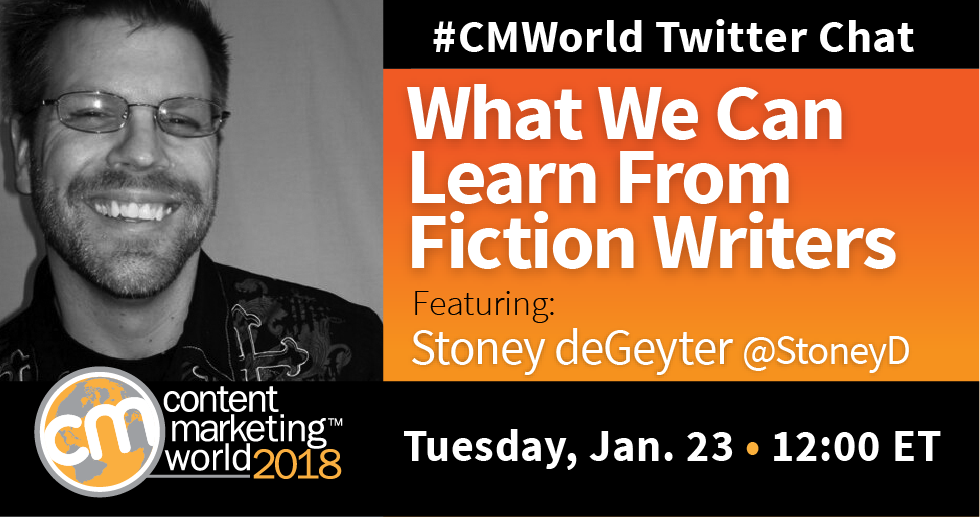 Storytelling is a vital element of content marketing. So it is no surprise we can learn a thing or two from fiction writers. Stoney deGeyter, President of Pole Position Marketing, is currently working on a novel titled A Crossed Time. As he wrote, Stoney found many strategies he used to author his book were tricks he could use when creating content for clients. To tell us more about his experiences, Stoney joined us for a recent #CMWorld chat.
What are the similarities in writing fiction vs. writing content for the web?
How can writing (and reading) fiction help you explore new and innovative ideas for your content?
According to Faulkner, writers often "borrow" from other authors. So we asked our community what fiction writers they have learned from.
Jorge Luis Borges
Charlotte Bronte
Octavia Butler
George Eliot
Ernest Hemingway
Ann Patchett
Michelle Paver
Nora Roberts
This chat motivated us to choose one good read this month for inspiration. It also made us want to pick up pen and paper and begin writing!
There is always a lot of excellent insights during our #CMWorld chats. If you're interested in participating in future discussions, you can find our chat schedule here. And if there is a specific topic you would like to see covered, please let us know in the comments below.
Hone your writing skills. Attend Content Marketing World 2018 to learn from the industry's top experts. Register with code SM100 to save $100 at checkout!
Posted January 24, 2018 in: Event by Monina Wagner
---
UP