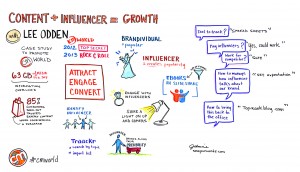 Every Thursday, a Scripted writer will recap a session from Content Marketing World 2014 that will be published here on the CMWorld blog. Find out more about Scripted by visiting their website.
Lee Odden, CEO of TopRank Online Marketing, posed a legitimate question at Content Marketing World 2014: Are conference attendees really taking advantage of the events they attend? Yes, they learn, take notes, and maybe even discuss some potential updates to their digital marketing plan with coworkers. But how often do radical improvements take place? He offers a unique solution for marketers to achieve their content goals.
Brand Content vs. Expert Content
According to Odden, 85% of customers seek out expert content before making a purchase, making expert content more conducive to conversions. These two types of content may seem similar, but the slight nuance between them may impact sales and online presence dramatically. While a brandividual may be popular, an influencer is able to create popularity.
For marketers to successfully team up with influencers, a few crucial questions must be posed first.
1. What types of content does your audience prefer to consume? (e.g. tutorials, infographics)
2. Through what mediums do they consume content? (e.g. iPad, phone)
Essentially, a marketer's ability to answer these questions lies in their ability to empathize with their audience.
Choosing the Right Influencer
So what exactly is an influencer? Odden carefully warns that brandividuals are not the same as influencers. "A true influencer is a niche thought leader," he says. The most popular personalities are not always the best people for the job. Oftentimes, it's those who are effective, but not firmly established yet.
An influencer is not simply one who puts out content consistently, but one who draws audiences to engage consistently. In order to team up with the right individual, marketers should be aware of their specific content goals – like thought leadership, leads, or social shares. Once these are clear, marketers can measure different influencers content to engagement ratio, and determine the quality and frequency of their content.
For those that need help spotting the perfect influencer in their industry, Traackr is a useful app that allows marketers to find and manage relationships with influencers. It also allows users to filter through social media and get entire online footprints of influencers.
Odden recommends starting with the basics when making initial contact with influencers. Marketers should consider whether they are already somehow connected to an influencer. Are there any third parties of mutual familiarity to work through? Of course, joining forces with an influencer should not be a one-time affair. Marketers must nurture genuine relationships with them.
One simple way for marketers to get their foot in the door is by including influencers in their content. They can even interview the influencer or approach them for conversation at an event. Something as simple as linking to one of their articles and giving credit is a start.
Once initial contact is made, marketers shouldn't immediately solicit influencers for content. Rather, they can begin considering what questions and concerns their target audience has, and how the influencer would be equipped to answer them. The work isn't over once the relationship has been cultivated. Marketers can then begin monitoring the co-created content and its performance by collecting data. What methods is the influencer using, and what kinds of engagement are they achieving/not achieving? Marketers may find their audience responding to certain kinds of content on certain social media platforms, blogs, or websites.
The most critical point to remember is that the relationship must be mutually beneficial and undemanding. As Odden says, aim for a situation in which everybody wins.
Hear Lee and over 100 other speakers at Content Marketing World 2015! Registration is open now, Early Bird rates end 5/31, and CMI100 saves you an additional $100 off of the Early Bird Rates! May is the best month to register. Register now!
Scripted provides high-quality, original content for a flat rate with a set turnaround time. Post guidelines for what you need, and five days later you'll receive professionally written and edited content.
Posted May 7, 2015 in: Event by Scripted Writers
---