Content Marketing World is part of the Informa Connect Division of Informa PLC
This site is operated by a business or businesses owned by Informa PLC and all copyright resides with them. Informa PLC's registered office is 5 Howick Place, London SW1P 1WG. Registered in England and Wales. Number 3099067.
Lessons Learned from Writing a Novel: A #CMWorld Twitter Chat with Joe Pulizzi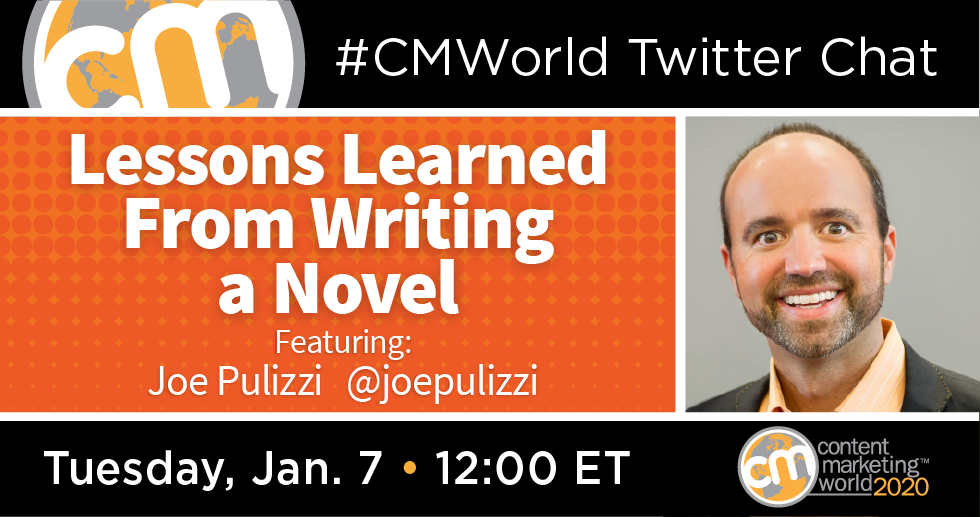 There are content writers, and there are fiction writers. Then there are people like Joe Pulizzi. For years, Joe taught companies about content marketing. He wrote the book on it. Five books, actually. Today, he's celebrating the release of his first novel "The Will to Die."
Sure, there are different approaches to writing content for marketing versus writing a thriller. But there are also similarities. In our first #CMWorld Twitter chat of 2020, Joe shared his experiences going from content marketer to novelist.
What are the similarities in writing content for marketing vs. writing a novel?
See more responses to this question here.
How do you know if you're ready to make the leap from content creator to fiction author?
How do you know if your idea is unique, that the story hasn't been told? Is your idea really new and different, or are you remembering parts (or all) of a book you read once?
What authors have you learned from? Who inspires you?
See more responses to this question here.
What are your goals for the new year? Will 2020 be the year you publish a book? Tell us about it in the comments below. And if your resolutions include reading more, check out the CMWorld Book Club.
Want to supplement your book reading with hands-on labs, meaningful keynotes, and innovative sessions? Attend ContentTECH Summit, April 20-22 in San Diego.
Posted January 8, 2020 in: Event by Monina Wagner
---
UP