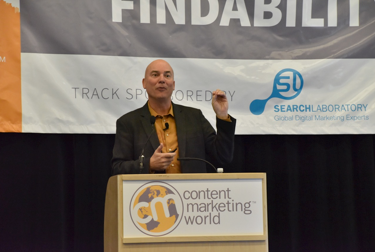 While everyone else is busy trying to figure out how to make more content, CMWorld speaker Arnie Kuenn from Vertical Measures has an idea: optimize your existing content and you can drastically increase organic traffic to your site.
It's more than an idea.
Arnie and his team worked with a university to prove that brands can get 77% more traffic simply by improving their existing content. While others zig, Arnie says zag.
Check it out:
Those are some great tips, right? Here are some to remember:
Tip #1: Improve your keyword footprint
Spending time improving your existing semantic keywords can help a great deal with your search results. In the recent university case study, Arnie's team added 187 unique keywords across just 25 pages and the university's site achieved 77% growth in organic search. Arnie says:
Find your current keyword rankings
Optimize keywords on key pages
Measure keyword rankings after the improvements
Gloat. (Okay, that was me. Arnie didn't say that, but he could.)
Tip #2: A rising tide raises all…sites
Just like the old adage about ships, it's also true that the more you improve your site, the better your authority and credibility will be with search engines. And let's face it, there's no other choice except to improve, because no one goes beyond page one of search engines. Arnie says:
His university client achieved a 167% year-over-year organic traffic increase by making small improvements many sites make
92% of the time, people don't leave page one
The best place to hide a dead body is page two of Google (he did say that!)
Tip #3 (and 4 and 5): The most common SEO problems to avoid
By focusing on some of the search engine optimization (SEO) basics, you can truly improve your website's performance. Arnie and his team audit hundreds of sites each year and they find many of the same issues. Arnie says:
Avoid unintentional duplicate content, like multiple URLs pointing to the same page
Page-load times must be fast – every page should load in less than 2 seconds
Be mobile-friendly or be penalized – more than subpar performance, Google's algorithm now penalizes sites that aren't delivering a mobile-friendly experience.
Before you look for ways to create all kinds of new content, make sure you take a look under your site's hood and crank up the performance of your existing content first.
If you want to learn more about the critical topics all marketers need to know when adding content marketing to the mix, like getting more from your existing content, learn from the experts like Arnie. Come to Content Marketing World 2017, September 5-8 in Cleveland. Code BLOG100 saves $100! Register today!
Posted June 7, 2017 in: Event by Mike Myers
---