Content Marketing World is part of the Informa Connect Division of Informa PLC
This site is operated by a business or businesses owned by Informa PLC and all copyright resides with them. Informa PLC's registered office is 5 Howick Place, London SW1P 1WG. Registered in England and Wales. Number 3099067.
Leveraging Analytics Data to Improve Your Content: A #CMWorld Twitter Chat with Tod Cordill
There are hundreds, if not thousands, of tools available to help marketers create content. What a time to be alive!
But this gift comes with a price. We marketers are given access to a massive amount of information, but how can we take that data and use it wisely?
We turned to Tod Cordill, proprietor of Moderno Strategies, for answers. We wanted to know how to not only access the data but how to interpret it as well. He shared how Google Analytics can show us what worked, what didn't, and how that information can be used to better your content marketing efforts.
Our weekly #CMWorld Twitter chats are always insightful. But our conversation with Tod was filled with actionable takeaways. I walked away with a lengthy to-do list. What follows is a quick look at two of our discussion points. If you're interested in learning more, I encourage you to take a look at the chat's Twitter Moment. There you will find our community's response to all seven questions. We also recently published an insightful article on the four most helpful reports in Google Analytics.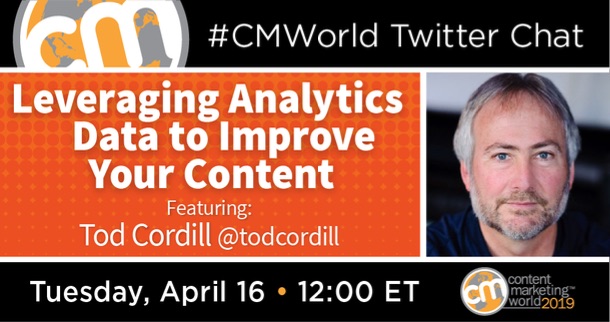 What's the first thing you should do once you have Google Analytics set up on your website?
Posted April 18, 2019 in: Event by Monina Wagner
---
UP