Content Marketing World is part of the Informa Connect Division of Informa PLC
This site is operated by a business or businesses owned by Informa PLC and all copyright resides with them. Informa PLC's registered office is 5 Howick Place, London SW1P 1WG. Registered in England and Wales. Number 3099067.
Leveraging the Power of Emotion: A #CMWorld Twitter Chat with Amanda Milligan
Have you seen the movie "Inside Out"? A young girl gets uprooted from her home in the Midwest and moved to California. She must wrestle with her emotions as she navigates through her new life.
Honestly, I found myself taking a look inside my own mind. Maybe that's why I'm fascinated with emotional marketing.
As marketers, we're aware of the tactics used to reach audiences. That often includes using emotion to make them take notice. But how can we tap into emotions without appearing calculating? What emotions will help our brands come across authentic and helpful? To find out, we asked Amanda Milligan to the #CMWorld Twitter Chat. Amanda is Marketing Director at Fractl. The agency conducts an annual study on emotions that make content go viral. Their latest report, How Does Emotional Content Drive Engagement on Social Media?, dives into the topic further. Amanda took our CMWorld community through its results.
Below is a quick recap of our discussion.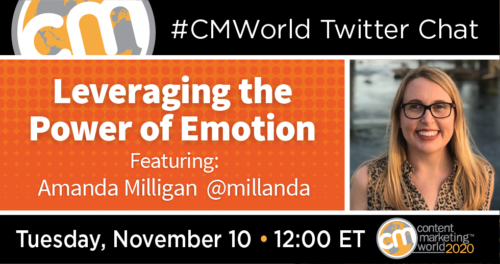 Which emotions attract the most engagement in content? How should marketers choose the appropriate emotions to leverage?
Some people may see triggering consumer feelings as a form of manipulation. How can marketers walk the line but still have an impact on consumer actions?
How do you create emotional content for a topic perceived as dry/boring?
Have you found emotional marketing effective? Let us know.
We get overcome with emotion when we talk about the CMWorld community. We're a friendly bunch! Join lively conversations in our Slack group. Share insights when you tweet on our weekly Twitter chats. Let's have fun!
Posted November 11, 2020 in: Event by Monina Wagner
---
UP