Content Marketing World is part of the Informa Connect Division of Informa PLC
This site is operated by a business or businesses owned by Informa PLC and all copyright resides with them. Informa PLC's registered office is 5 Howick Place, London SW1P 1WG. Registered in England and Wales. Number 3099067.
Long-Form Content: A #CMWorld Chat with Julia McCoy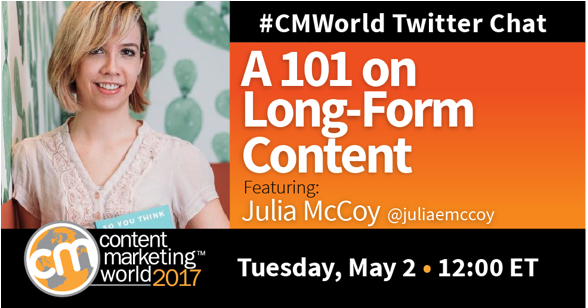 Long-form content can be an incredible tool to gain more online visibility, rank higher in search results, increase conversion rates, and earn recognition as an industry expert. We learned there is no definitive answer when it comes to defining "long-form." (Answers ranged from at least 1,000 words to more than 2,000 words.) Long-form content is more detailed than its shorter counterparts and can include blog posts, whitepapers, and research reports.
On a recent #CMWorld Twitter chat, we discussed the ins and outs of long-form content with Express Writers CEO Julia McCoy. What follows are some of the many highlights of the chat. Looking to produce more long-form content? Make sure to check out our Storify recap for more insights.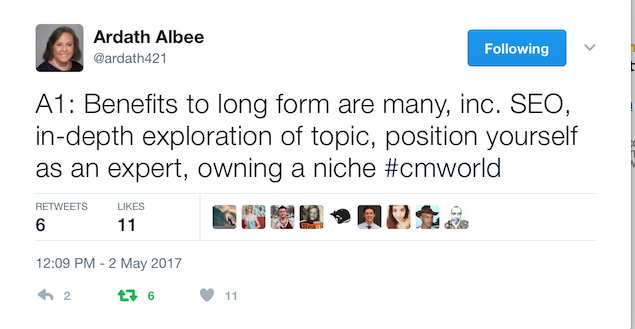 Choose a Topic Wisely
Don't just write for the sake of writing. Identify your goal. What topic will resonate with your audience and drive them to take action?
Know Your First Steps
Why are you looking to write long-form content? Your goal will define how you execute the project.
What are some of your favorite examples of long-form content? Let us know in the comments below.
Long-form content is just one of several awesome topics to be covered in the Content Creation track at Content Marketing World. Register before June 3, 2017, to secure Early Bird rates. Use code SM100 to save an extra $100.
Posted May 4, 2017 in: Event by Monina Wagner
---
UP