Every December, we dedicate one #CMWorld Twitter chat the people, content, and moments that mattered most to you in 2019. It's the perfect time to reflect on learnings, challenges, and connections.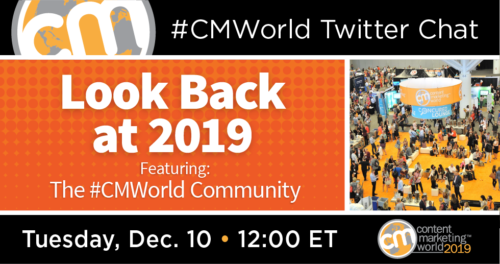 Yes, there were a few lows. We saw a disregard for customer privacy. Brands forgot their audience (and their human voice). Marketers published for the sake of publishing.
But there were also accomplishments to celebrate. We raised a toast to Adelina Karpenkova, as she celebrated a published article in Pages SEO Magazine. We applauded Andi Robinson for surviving a hugecorporate merger survival. The success our community has achieved this year is incredible.
Let's rewind and enjoy this CMWorld year-in-review. Thanks to everyone who attended this chat and shared with experiences.
Thinking back over the past year. If you had to describe your career/work in three words, what would they be?
See all answers to Question 1 here.
What content marketing successes have you achieved this year? What factors or team members contributed to that outcome?
See all answers to Question 2 here.
What was one mistake you made or one opportunity that slipped by this year? What did you learn from it?
See all answers to Question 3 here.
When you look at the content you've created, what types performed well for building brand awareness? Nurturing leads?
See all answers to Question 4 here.
What skill did you learn/improve/master this year that has made you a better content marketer? How did you make that happen?
See all answers to Question 5 here.
Who is one person you've connected with in 2019 who has transformed how you view your work?
See all answers to Question 6 here. (They're impressive, so be sure to check out this list of influential people.)
What's the most innovative content marketing project or branded content campaign you've seen in 2019?
See all answers to Question 7 here
Where does that leave us? Looking ahead to 2020. What's next for our industry? What are your intentions for the new year? Read our post on the CMI Blog, Back to the Future? 90 Content Marketing Predictions for 2020. Then join us for our next Twitter chat to discuss the future.
Have leftover 2019 budget? Don't let it go to waste. Make plans to attend Content Marketing World.  Prices go up December 31. Jump in on our exclusive deals and end the year with extra cash in your wallet.
Posted December 11, 2019 in: Event by Monina Wagner
---