Over the summer, you'll have the opportunity to hear from some of the CMI/CMWorld team on what they love most about Cleveland, and offer you some thoughts on what you should visit while you are here. 
This week's post is written by Joseph "JK" Kalinowski, CMI's Creative Director. 
Unlike a good portion of the Content Marketing Institute staff, I am not native to Cleveland. My wife Kristin and I moved to Cleveland 15 years ago. The thought of moving to a "big city" was frightening to me at first. Having grown up on a small farm in western Pennsylvania, I was not accustomed to city living. I was pleasantly surprised, after moving into a home in the western suburbs of Cleveland, at how similar it was in many ways to the home I was used to… a down-home spirit that you would find in any small town, yet so close to a large city. 
Over the past 15 years, I have found places in this town that I have come to love dearly. Places where I go to find comfort, peace, and a whole lot of fun. Below are a few places that I would love to share with you. I hope you get the opportunity to check them out during your visit to our fair city! 
One of the main things that I love about this city is the fact that there are so many places to feed my pop culture appetite.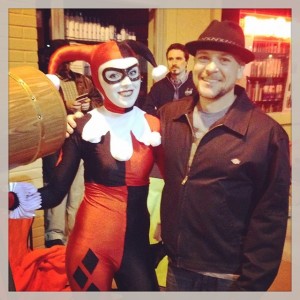 Carol and John's Comic Book Shop 
One of the coolest places that I visit weekly is Carol and John's Comic Book Shop located in the Kamm's Corners area of Cleveland's West Park suburb. Carol and John's has been in business for over 20 years and they supply the neighborhood (and beyond) with the coolest comics, graphic novels, magazines, action figures and pretty much anything else superhero related. Each May they hold a three-day event built around National Free Comic Book Day. During this time they focus on local artists, aspiring writers, local breweries, and anyone else with the love and passion for creativity and imagination.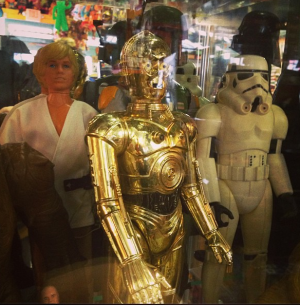 Big Fun Toy Store 
Big Fun Toys is another spot that I frequent to go and get a little pop-culture infusion. Big Fun carries toys, games, and pop-culture novelties that date back from the 40s all the way up to present day. Being an avid Star Wars fan they have all of the toys that I had when I was a child and subsequently blew up with firecrackers or shot with a BB gun. Looking at some of the prices of those retro toys, I regret my youthful foolishness. I love going in and reliving my past… and every now and again making a purchase to reclaim a piece of my childhood memories. The shop is for kids ages 1-100+ and you just can't beat the epic Star Wars, GI Joe or He-Man battle scenes they build in their storefront window!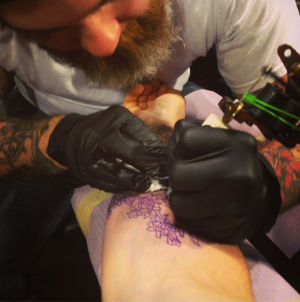 Voodoo Monkey 
I am a huge fan of tattoos. I have a bit of an "ink addiction." I promised my wife 15 years ago that I was only going to get one (in addition to the Pearl Jam logo from 1994… gimme a break, I was an art major in college). Well, that one has multiplied and for the past several years I have visited one shop – Voodoo Monkey. Voodoo Monkey Tattoos is located on the near west side of Cleveland, just down the street from the historical West Side Market that Cathy referenced in her recent post. There are a few reasons I love and prefer Voodoo Monkey beyond other tattoo parlors: One, they do not do piercings. They are dedicated to the art of tattooing. They do not have "flash art" on their walls–meaning they don't have the art on the wall where a customer comes in, points at a drawing and says, "I want that." They are dedicated to custom pieces, and my preferred artist, Eric, has tattooed some pieces on me that even made my Mom say "that looks nice."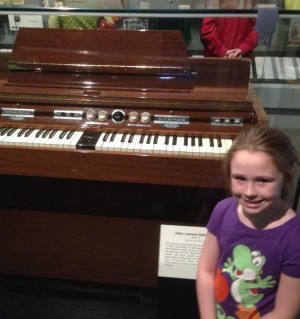 Rock and Roll Hall of Fame + Museum 
The Rock and Roll Hall of Fame + Museum is hands-down a must see while you are in Cleveland. Do I really need to say why? Having been there countless times over the years, I am still amazed by the exhibits and the new things I find there each time I go. Kristin bought me a membership for Christmas, and I really enjoy taking my daughters to experience the wonder of this museum. The museum hold exhibits from the early days of the Delta Blues through the modern era of rock and all stages in between. I recently took my youngest daughter, Ella, to the Rock Hall. We spent hours there; we danced to the music in the listening stations, we shared a big cookie underneath Pink Floyd's The Wall stage prop and I must admit that I was a little emotional when Ella stared at the organ on which John Lennon recorded the opening lines to "Strawberry Fields Forever," her favorite song.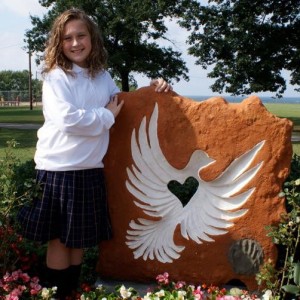 Lakewood Park 
Finally, the one place that my family loves to visit is Lakewood Park. The park is located in Lakewood, just west of downtown Cleveland. The park sits on the shores of Lake Erie and has one of the best vantage points for the breathtaking Lake Erie sunsets. The park also holds a bit of history, as it was the last stop in Ohio for the Underground Railroad. It was a launching point for ships harboring escaped slaves fleeing to Canada. My family uses the park for many activities: running, dog walks, hiking, picnics, 4th of July fireworks, the list goes on. The main reason the park is held so dear to us is because of one particular statue. The Children's World Peace Monument Sculpture was unveiled and dedicated last summer in observance of the United Nations International Day of Peace. My oldest daughter, Jane, won an essay contest held amongst all of the sixth grade classrooms in the Lakewood City School District. Her winning essay, "What Peace Means To Me" was awarded with a special role in the Peace Sculpture's unveiling. In the lower right corner of the statue, there was a spot for Jane to place her handprint in wet cement, there for leaving her mark on the statue, the park and this Daddy-o's proud heart forever. 
I really hope that you get to enjoy some of these lovely scenes around our city. Get out, enjoy and see why I am proud to call Cleveland my home.
Posted July 3, 2014 in: Event by jkalinowski
---