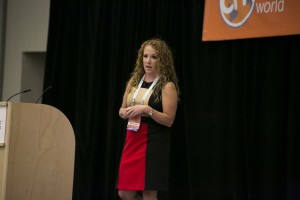 Every Thursday, a Scripted writer will recap a session from Content Marketing World 2014 that will be published here on the CMWorld blog. Find out more about Scripted by visiting their website.
Lorna Breault-Snyder, the Director of Customer Engagement at Schneider Electric, took the stage at Content Marketing World 2014 to discuss how educational content can generate leads and sales data. Schneider Electric is known for their awesome content at Energy University — a program that offers a huge variety of educational courses on behalf of the brand. In her presentation, she talks about how Energy University offers an effective service for customers and professionals around the world, how to properly structure such an initiative, and why Energy University has been such as success.
The Background On Energy University
Breault-Snyder indicates that Energy University's continual evolution has consistently produced a better educational service to clients, customers and professionals over the years. At the same time, she relates the unique challenges and opportunities of designing an educational resource for Schneider Electric, a company generating €26.3 billion in revenue and featuring over 150,000 employees across 100 countries.
Part of the reason why Energy University is so effective is that it ties into Schneider Electric's goal of offering solutions for a huge range of fields, including healthcare, residential, energy, mining and materials through education.
Energy University is a free online educational resource that teaches users about energy usage, technical developments in various industries, and management solutions to energy consumption challenges. Offering over 300 courses, the goal of the Energy University is not only to educate, but also help customers make informed decisions on solutions they need, while also drawing valuable data and leads from those who take courses. This makes Energy University a unique marketing and educational tool at the same time.
Energy University A Growing Success
Energy University's success is clear from the numbers. With over 400,000 active global users and over 600,000 courses taken, Energy University has huge reach and serious demand. This is reflected in a high satisfaction rate, with over 90 percent of those who take courses indicating they would recommend Energy University to a colleague.
An Instructional And Educational Design At Its Core
Breault-Snyder relates that Energy University uses instructional designers who are experts in the field of education. These instructional designers work with industry experts within Schneider Electric to take complex subjects in the energy industry and create courses that an average adult learner can gain from. An important part of this process is offering vendor-neutral content that doesn't advertise Schneider Electric's services and products.
That means users can learn high-level concepts, such as the science behind electric vehicles and charging stations and certain physics concepts, and walk away with a clear educational experience that doesn't come off like a sales pitch. This vendor-neutral approach increases customer satisfaction, and shares the ethos and thought equity behind products and solutions in a credible manner.
Lessons For Using Education as a Content Marketing Strategy
Breault-Snyder also offers plenty of reasons why Energy University has been such a success during her presentation. These include the following:
Be Easy To Follow – Many of Energy University's users are people who want to take their courses quickly, and perhaps even during a lunch break or after they get off from work. That means they don't want their time wasted, which is why Energy University offers a clear format that offers information in a concise manner —especially important objectives since many users that are taking courses are using English as a second language.
Be A Useful Tool – Schneider Electric has found that they can draw a huge amount of new leads from Energy University, and generate data that can be repurposed for marketing within Schneider Electric. They can also use Energy University as a tool for making sales by enticing leads with the unique educational opportunities Schneider Electric can provide.
Be of Value – Breault-Snyder indicates that their educational service provides real value. While blogs and tweets serve their purpose, long-form content through Energy University offers real data, best practices, and easy to understand technical information for free. Energy University also offers credits and certifications for courses that engineers and professionals can use to advance their professional standing, building credibility and trust in the platform.
Be Trustworthy –  Energy University doesn't sell products, and is strict about keeping Schneider Electric's products separate from the educational experience. Breault-Snyder indicates that for other educational platforms, presenting yourself as a thought leader and offering product solutions is a good strategy as well, but you need to be upfront about it from the beginning.
Be Relevant –  Energy University is always staying on top of marketplace trends, as well as keeping in line with Schneider Electric's strategy and messaging. While Schneider Electric doesn't sell a product through Energy University per se, they offer current methodologies and solutions through the platform that often align with their corporate strategy. This allows people to learn, but also familiarize themselves with the type of solutions Schneider Energy offers.
Easy To Play With –  People are permitted to review course offerings before they even register, helping people become engaged with the site quickly, a key difference from many other sites. They also offer Energy University in 13 languages, meaning people across the world can easily participate.
Be Social –  Breault-Snyder stresses the need to network their platform through social media like Facebook and Pinterest to draw more users in and create a shared learning experience.
Ultimately, Breault-Snyder believes Energy University is a vital tool for Schneider Electric, and believes that it's a way to engage customers in a way with which not many other companies can compete. In fact, it may point to a way that content marketing can provide real value to customers now and into the future.
Hear even more great case studies and content marketing examples from top B2B and B2C brands at Content Marketing World 2015! Registration is open now, Early Bird rates end 5/31, and CMI100 saves you an additional $100 off of the Early Bird Rates! May is the best month to register. Register now!
Scripted provides high-quality, original content for a flat rate with a set turnaround time. Post guidelines for what you need, and five days later you'll receive professionally written and edited content.
Posted May 21, 2015 in: Event by Scripted Writers
---