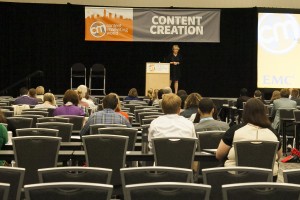 Every Thursday, a Scripted writer will recap a session from Content Marketing World 2014 that will be published here on the CMWorld blog. Find out more about Scripted by visiting their website.
Visual storytelling is a necessary component for any brand and their content marketing strategy. It offers an engaging tool through which marketers can communicate messages that stick – even in a world of never-ending information and short, digital attention spans. Former CBS Network News Correspondent and Producer Maggie Burke took the stage at Content Marketing World 2014 to share her tips on how to create videos that deepen and expand a brand.
Tip #1: Sell a Story, Not a Brand
To grab the attention of a relevant audience, marketers need to find a "wow factor." They need a compelling story or point that sets them apart from their competitors and instantly captures the attention of their audience. It's important to remember that as humans, we love a good story. A powerful story is much stronger than a brand, which is why starting off with a story in a video platform is always a safe bet. Just like network TV, a brand's story needs all of the key components:
Original content
A story arch, which includes a challenge, a form of urgency, a hero or champion, and a payoff in the end
Interesting human characters
Interviewees who tell the story in their own words (it's more believable)
A beautiful, intriguing, or otherwise compelling set to create interesting visuals for the video
Tip #2: Make the Most of Digital Tools
In a digital world, we can utilize technology to attract our audience and build our brands. Seventy-five percent of executives watch work-related videos every single week. And videos help 90 percent of people make decisions about products. However, to really tap into all of our digital tools, we need to expand beyond video. Social media has the power to give visual storytelling tools legs, and capture the eyes of others through very organic growth. On Twitter, videos receive seven times more engagement than plain text tweets do. On Facebook, that number surges to 100 times the amount of engagement. By tapping into those social networks, videos have the potential to go viral, leading all eyes back to the brand that produced them.
Tip #3: Make it Relevant
Just like network TV, video creators need to remember this important question: Why does this matter now? Is there a way to tie your story to breaking news or current events? Can you tap into a particular season or holiday? When it comes to video content, timeliness is key. For example, the Vatican library was able to tie their video to Pope Benedict quitting and again to Pope Francis joining the Catholic Church. By tapping into these timely events, the Vatican library was able to organically drive more than 70,000 views. Thus, by using social media and making our own visual stories timely and relevant, we too can ride the waves of digital trends and drive views at little to no cost.
Tip #4: Keep Talent Close to Home
Think twice before hiring outside actors to play a role in your visual story. Holding auditions within the company gives videos something that actors cannot:
A feeling of authenticity
Excitement within the team
The talent will already know your messages and products
All at a much lower cost
Conclusion
Through visual storytelling, we can build stronger brands and deeper brand loyalty. By keeping your talent close to home, utilizing social media, and remembering to tell a story and not just recite company values, you too can utilize videos to sell products and raise brand awareness.
Learn more about video content marketing on the CMI blog.
Scripted provides high-quality, original content for a flat rate with a set turnaround time. Post guidelines for what you need, and five days later you'll receive professionally written and edited content.
Posted February 26, 2015 in: Event by Scripted Writers
---