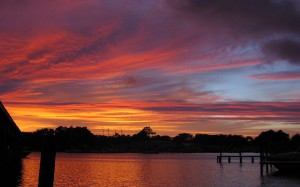 Have you ever been on a team retreat? I have been on many over the years, and I have to admit that I love them. I love the casual atmosphere, the chance for people to know me outside of the hustle and bustle of the average workday, and the chance to open my mind and my mouth to new ideas and new opportunities.
On the flip side, I love in-person events, the kinds that leave you with goosebumps to get back to work and take your learnings and immediately apply them to your own work. (Is it weird that some of my goosebumps come from analytics or spreadsheets? No? OK, good!)
In the spirit of breaking down silos, why do team retreats and educational networking events need to be separate? Why not build your next team retreat around Content Marketing World?
With plenty of green space, parks, and of course Lake Erie surrounding Cleveland, not to mention endless cultural options and facilities for off-site gatherings, Cleveland is a prime destination for your next event and team retreat.
How would a team retreat fit in with CMWorld? Monday's workshops don't start until early afternoon; come in Sunday night or have your team arrive Monday morning for a ½ day or full day of team building before CMWorld 2014's opening reception.
With Content Marketing World's main event being held Tuesday and Wednesday, the rest of the week is flexible for your company's team needs. By combining two team events into one, this is also great on team travel budgets.
What would be my blue sky vision if I wanted our team to attend CMWorld and hold a team retreat?
Monday:
Meet for breakfast at a local hotspot! There are so many that this may entail a separate blog post, though here is one list that was published last year.
CMWorld workshops by team member interest and level of expertise (and consider sending you're the aspiring author on your team to Jim Kukral's Author Marketing Live event!)
Regroup with your team for CMWorld Opening Reception in Ohio City – details to follow!
Late night fun with your team at any one of many local restaurants and establishments (Corner Alley for some bowling would be an awesome spot for a group.)
Tuesday/Wednesday:
CMWorld Main Event – Review the agenda ahead of time, and have your team divide and conquer. Send one team member to each session with a template on what each person should take away from each session – knowing that these are required, as your team will be reviewing each other's notes post-event:

Session/speaker/twitter handle/contact info
5 takeaways or sound bites from the session
1 big idea on how to apply your learnings to your company, regardless of budget, person responsible, logistics
1 actionable idea today, such as updating a particular item on your website, editing copy on your social channels with a stronger CTA, or creating a channel plan.
Thursday:
Will your industry be represented in one of our industry labs? We highly recommend those. While two main event days will give you detailed content marketing information, case studies and the like, the industry labs will do a deep dive into your industry. What are your challenges and your opportunities? There will be 100+ people in the room with the same struggles (and possible applicable solutions) for you. If we don't have a lab for you, please let us know so we can keep that in mind for 2015!
Not attending a lab? Take advantage of Thursday by pulling your team together for a team retreat. This is an awesome time to do so – the day after an event when your brain is going a mile a minute and you don't know where to start, except by trading in your business attire with some more comfortable threads.
But seriously, how does a team retreat even fit in with this professional growth week? Read on.
The goal of team retreats, in my opinion, is to make a company flourish by giving team members the chance to participate and voice opinions in non-traditional ways, put everyone on more of an even playing field with collaboration, listening and growth. It really is a critical part of a successful business enterprise. One of my favorite phrases is "productive discomfort." Get out of your comfort zone and do something that scares you, open up in ways you haven't had the opportunity before, and make well-intended but challenging contributions to your team. Many folks may not like the idea of retreats, as they don't know what to expect, and they like things as they are. Though, as I'm writing this, I'm not sure of any CMWorld attendees who are satisfied with the status quo!
Leave CMWorld's main event with papers in hand from each of the sessions you attended, get a big white board or 3M Easel Pad and start collecting ideas, breaking them down and brainstorming anything from doable to just crazy. My bet is that you'll realize the crazy may not be as out of reach as you think, and that even with some minimal scaling, may be possible. CMI did an exercise at the end of May that was really eye-opening and fun – and helped us with some great content marketing ideas for 2014-2015 and beyond.
It is not often that teams can get off-site together, so when those opportunities arise, we must maximize them as best we can. Imagine leaving after four days in Cleveland with not only the content marketing tools you'd need to advance your practices, but also a reinvigorated, recharged team ready to tackle those brilliant ideas as a cohesive unit.
There is still time! While we do have individual rates, we can offer awesome discounts to teams of eight or more. Join us, and let us know if we can help give ideas for fun off-site events for your team.  Contact Pam for group registrations, and Cathy for any other questions on ways we can help. We look forward to seeing you in Cleveland! 
Posted July 21, 2014 in: Event by Cathy McPhillips
---