Cleveland Clinic is known for its commitment to the patients they serve. Not only do they care for the sick, but they provide information for those in their community. No one knows this better than Senior Director of Health Content Amanda Todorovich. (She was also named the 2016 Content Marketer of the Year.) Her department is responsible for creating content patients need to improve their healthcare journey.
When Amanda first started at Cleveland Clinic, she had a three-person team. Under her leadership, it has since grown tenfold. As the team grew, Amanda knew she would need to reevaluate the department's approach. And that's what she set out to do early this year. I wanted to know more about her efforts and the new structure, so I invited her to be a guest on the #CMWorld Twitter chat.
In one hour, I overheard some amazing conversations. Some people disagreed and didn't think content should be its own department. Others believed it wasn't a feasible model for organizations. But the one thing we could all agree on was marketers need to be truly focusing on our audiences and their needs.
Below, I share just a handful of tweets from the chat. If you're looking for more from our Q&A, check out our Twitter Moment.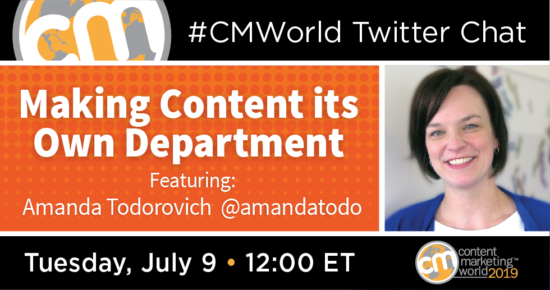 How do you know when it's time to branch out and be your own content marketing department?
Content marketing can be valuable across an organization, but that sometimes means more departments trying to help. How do you address matters of scale?
This is a topic Amanda is passionate about. In fact, she has spoken at Content Marketing World several times about her content team.
Creating a department around content marketing is something that is evolving. What model are you using? What has your experience been? I'd love it if you left a comment below or join the discussion in our LinkedIn Group.
Do you work in healthcare and want to dive deeper into the many facets of content marketing? Hear Amanda's keynote at the #CMWorld Cleveland Clinic Health Summit. There's still time to register for this day-long event!
Posted July 10, 2019 in: Event by Monina Wagner
---