"Be safe. Take care of each other."
One of my favorite live albums ends with this quote. I love hearing Rusted Root band members wishing Woodstock '99 festivalgoers well. The sentiment is something I now find myself saying a lot.
We at CMI have always wished our community well. As the COVID-19 crisis unfolds, we want our members to know how much we are concerned for their wellbeing. Excuse the cliché, but we're in this together. We know this is a difficult time. It is for us too. But as the pandemic continues, one thing remains the same: Our commitment to you and our industry.
As a result, we've decided to share full-length videos of the most popular breakout sessions from Content Marketing World 2019. No barriers to watch. No fee. No email to give. This is one small way we can take care of our fellow marketers.
For three weeks, we'll be adding new videos to the YouTube playlist daily. Coming out of the vault will be sessions led by industry leaders like Jay Acunzo, Annie Granatstein, Ann Handley, A. Lee Judge, Doug Kessler, and Scott Stratten.
In this time of social distancing, we hope these videos will help enable your opportunities to learn.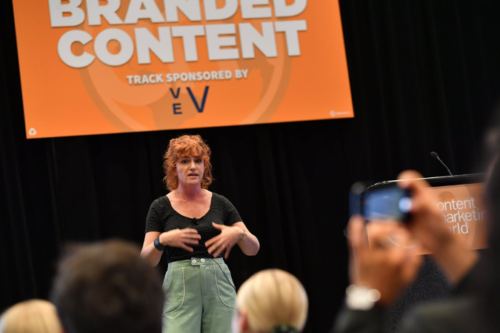 It's no secret. The magic of Content Marketing World is in the people. We love our annual orange event because we get to see many friends and make new ones. Creating meaningful relationships will be hard right now, but it is possible. While going through our playlist, share takeaways and exchange ideas with other marketers by using the hashtag #CMWorld on social media. Let's stay connected.
How can CMI help you? Let's connect on Twitter or you can drop me a note in the comments below.
Until we can get together again, be safe and let's take care of each other.
Posted April 14, 2020 in: Event by Monina Wagner
---