Content Marketing World is part of the Informa Connect Division of Informa PLC
This site is operated by a business or businesses owned by Informa PLC and all copyright resides with them. Informa PLC's registered office is 5 Howick Place, London SW1P 1WG. Registered in England and Wales. Number 3099067.
Making Your Content Accessible: A #CMWorld Twitter Chat with Alexa Heinrich
I realized earlier this year I was doing a huge disservice to the social followers of the Content Marketing Institute. I was not making our social media accessible to all. I forgot to use alt text on images. I overlooked captioning on repurposed videos. I didn't know what PascalCase and camelCase meant. I used way too many emojis and gifs.
I had tremendous guilt. I believe representation matters. Yet here I was not making our content more inclusive. I was introduced to Alexa Heinrich on Twitter. After a few interactions, she taught me practical ways to make my content more accessible.
That's why I was thrilled Alexa agreed to come on the #CMWorld chat to talk about accessibility. The conversation was so insightful, I pulled every tweet from the hour. You can find them here and here.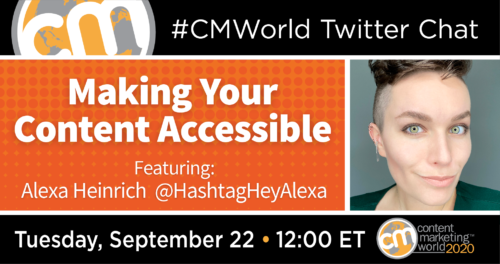 Everyone sees the world in a different way. Improving the accessibility of your content is about reducing barriers your audience may have experience. When writing and publishing articles, composing social media posts, or creating videos and images, there are options to consider in order to make your content impactful and inclusive.
As CMWorld speaker Penny Gralewski tweeted, this is an important topic – one that can benefit everyone who interacts with your content. I agree. What follows is a brief recap of our chat. I hope you will find it to be as valuable as I did.
Why should accessibility be incorporated into your content marketing strategy?
What common barriers exist that make reading content harder? What practices can marketers today implement that will improve accessibility? And what might take a little time?
When designing visual content, what accessibility principles and techniques should marketers keep in mind?
What steps should marketers take if they want to create a content experience that is inclusive? What types of tools, training, or processes are helpful?
What efforts have been done to make your content more accessible? Are there any changes you plan to make in the future? Please share in the comments.
Content Marketing World offers attendees over 100 sessions and workshops presented by top industry leaders. And now you can experience it from the comforts of your home or office. The action starts in just a few weeks. Register now with code SM100 for $100 off at checkout.
Posted September 23, 2020 in: Event by Monina Wagner
---
UP