Content Marketing World is part of the Informa Connect Division of Informa PLC
This site is operated by a business or businesses owned by Informa PLC and all copyright resides with them. Informa PLC's registered office is 5 Howick Place, London SW1P 1WG. Registered in England and Wales. Number 3099067.
Managing Content Throughout its Lifecycle: A #CMWorld with Hilary Marsh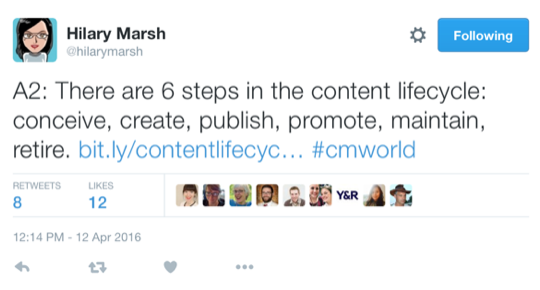 As a marketer, are you thinking about your content's lifecycle — and do you even know what that is? Hilary Marsh, our special guest, tells us, "It's the idea that content is created with a finite lifespan. Lifecycles ensure that content is created to be marketable and that it doesn't stay online after its value is over." Hilary, Founder and Chief Content and Digital Strategist of Content Company, joined our recent #CMWorld Twitter chat to share ideas and resources on how markers should manage all. this. content.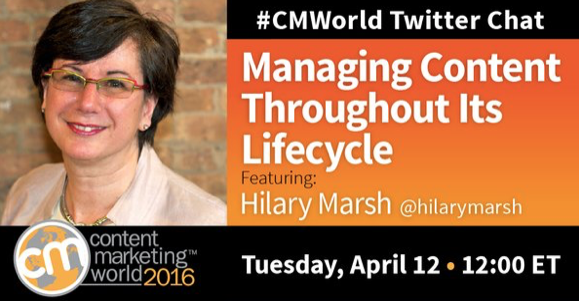 A few highlights of the chat are below. Visit this week's Storify for even more great conversations on this topic.
We asked: What are some of the biggest frustrations when managing content? And two big answers came up:
SILOS
TAXONOMY
We also asked: What are some of the biggest frustrations when managing content — and how can these be solved? We had three distinct answers.
A big thank you to all that joined us today! What great conversations!
If you want to learn more about how to manage content throughout its entire lifecycle, join us at Content Marketing World from September 6 – 9 in Cleveland, Ohio. We'll have 21 tracks fitting all of your content marketing needs, including intelligent content, content strategy and email marketing. Use code BLOG100 to save $100 when you register today!
Posted April 13, 2016 in: Event by Cathy McPhillips
---
UP