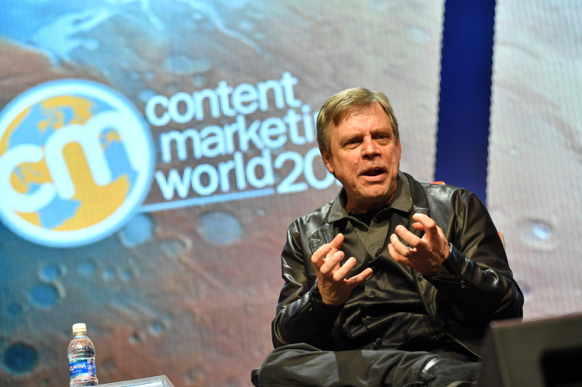 This post is from Joe Pulizzi's weekly newsletter published on November 5, 2016. To receive Joe's exclusive weekly messages in your inbox each Friday, visit our subscription page. 
One of the highlights of my career to date has definitely been getting the chance to interview legendary performer Mark Hamill at Content Marketing World 2016. (You can check out a five-minute snippet of our conversation on YouTube.)

There were a million things I wanted him to talk about; but above all others, there was one question I absolutely had to ask: "Do you ever get tired of whole 'Star Wars and Luke Skywalker thing'?"
His answer was perfect: "Personally, yes; professionally, no."
According to him, playing Luke Skywalker has been both a blessing and a curse – though much more the former than the latter. As he explained, "You have to give the audience what they want…" But it's what he said afterwards that really made an impact on me:
Mark talked about the importance of telling a story through your own prism. Of course, there are many similar stories out there, but you need to tell your stories as you see them through your own eyes, filtered through your own interests and experiences.
I think the once and future Jedi knight's words really hit upon a problem that most of us content marketers have. In our quest to give the audience "what they want," we often fail to put our unique spin on the stories we tell. Friend and frequent CMW speaker Andrew Davis calls this "The Hook." In my book, Content Inc., I call it the Content Tilt.
Basically, it means telling a "different" story – different enough to break through all the content clutter out there. So often I come across marketers who think that the story they tell has to be a radical departure from any other story being told; but this isn't necessarily true. I mean, sure, it can be completely different, but it could also differ in a very small but significant way. For example, maybe you use a different tone; maybe you tell the story from an unexpected perspective. Or maybe you pick apart just one part of the story, which then gives the story a whole new twist.
While it's not always easy, this is where our opportunity lies. Even Mark Hamill, who's worked with Hollywood creators for over 40 years, said that now… today… is the greatest opportunity content creators have ever had – not just because of advanced technology or our ability to directly connect with our audiences, but because even the biggest players don't have it all figured out yet. Content marketing is the one area of marketing that is truly democratic.
But where most turn to technology for answers, the real way to break through lies in finding the "why," rather than in focusing on the "what" or "how." This means taking stock of all your interests, all your areas of authority and influence, and using them to build a story on your own terms – one that the audience needs to hear, but can also be told through your unique prism.
Just ask yourself, "How unique is my story?" You already know the answer, so what you choose to do about it from there is completely up to you.
May the force be with you!
Did you like Mark Hamill's message? Are you giving the audience what they want…but on your terms? What is your biggest takeaway from this interview?
The call for speakers for Content Marketing World 2017 is open till December 12, 2016.  Submit your proposal now.
Posted November 11, 2016 in: Event by Joe Pulizzi
---