Content Marketing World is part of the Informa Connect Division of Informa PLC
This site is operated by a business or businesses owned by Informa PLC and all copyright resides with them. Informa PLC's registered office is 5 Howick Place, London SW1P 1WG. Registered in England and Wales. Number 3099067.
Marketing to Generation Z: A #CMWorld Twitter Chat with Jeff Fromm
Move over, Millennials, and make room for Generation Z. This demographic has brands rethinking their content marketing strategy and with good reason. Gen Z is project to make up 40% of consumers by 2020.
What do we need to know if we want to connect with Gen Z? And how can we use content marketing to reach them? We went straight to Jeff Fromm to find out. Jeff is President of FutureCast and co-author of "Marketing to Gen Z."
We're not sure if this demographic views Twitter Moments, but we put one together anyways. There you can find tweets from the chat. You'll also find some of the responses below.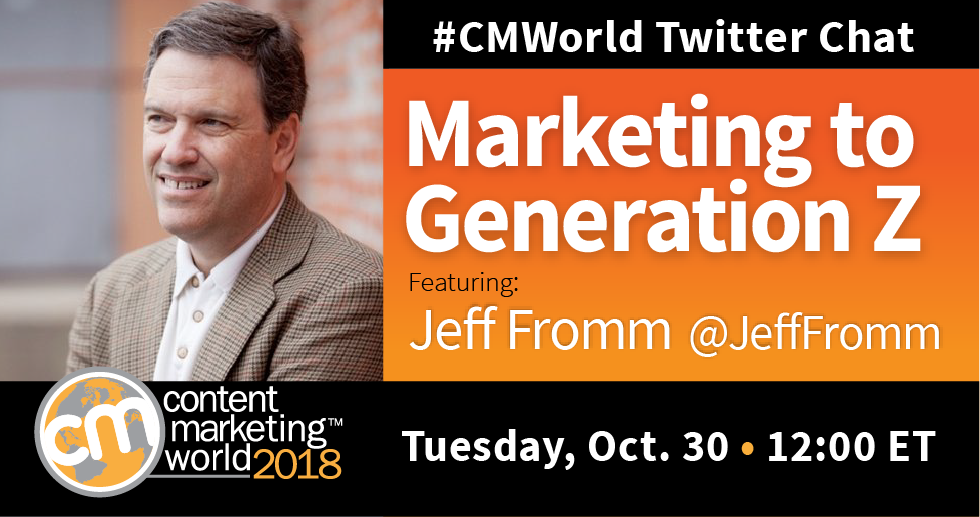 What values and services do Gen Z expect from brands? And how can content marketing fill the gap?
Gen Z might not currently be your target audience, but is there any way to start nurturing relationships now? 
How do you go about creating content for Generation Z? Share your thoughts with us in the comments below.
Huge thanks to everyone that participated in this week's #CMWorld Twitter chat. If you have a topic you'd like covered, tweet me and let me know!
Did you miss Jeff's session at Content Marketing World? Get access to all of the 2018 presentations with on-demand video access. Order today.
Posted October 31, 2018 in: Event by Monina Wagner
---
UP