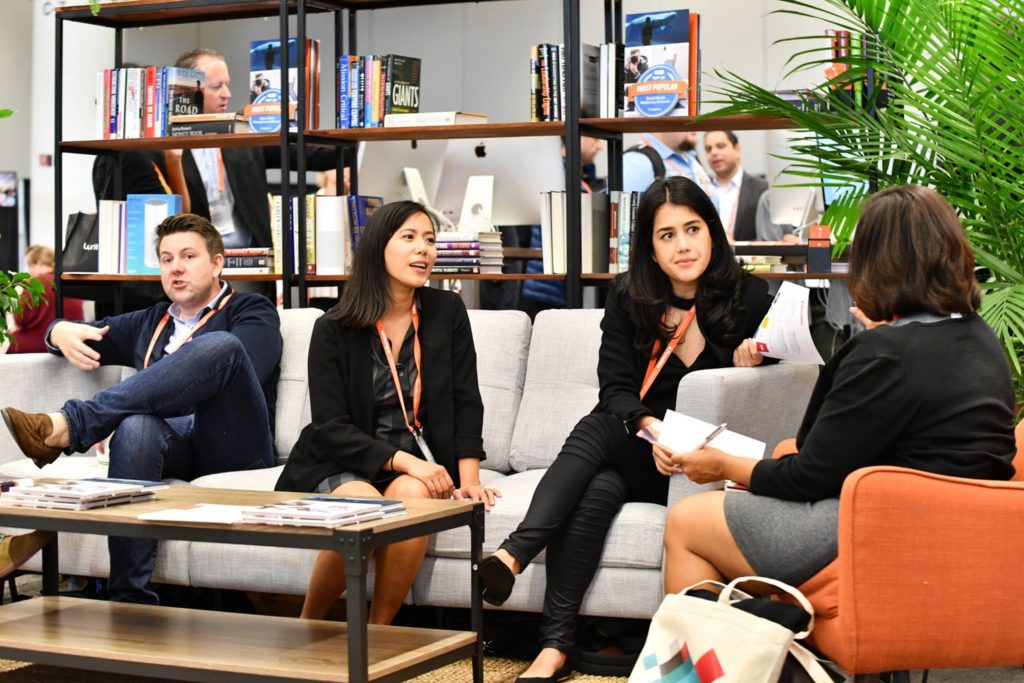 Content Marketing World, at first glance, can be perceived as the place where you send your marketing staffers to bone up on skills and strategies. Staffers come to you with graphs and charts about the benefits that their attendance will bring (and they're not wrong), as well as promises of high level reviews of industry trends they've gleaned. You say "yes"; they run to make arrangements to fly, sleep and learn (as well as have a little fun). But you're left behind.
That makes me sad. You deserve better.
In truth, leaders are left behind so much of the time. Leadership isolation is a real and lonely thing. And as marketers, no matter what your level, we know that skill building is critical to staying in front of marketing trends.
So… what if I told you that you could both keep abreast of the latest and greatest in marketing while connecting with your team AND meeting new people? Take a moment and pinch yourself. No, you're not in heaven, just in Cleveland. That's right, Content Marketing World is the place for you.
Don't get left behind at the office, come to Cleveland!
Not only should you go to Cleveland because I, personally, hate the idea of you being lonely, but there's plenty for you to do at Content Marketing World. Not only is there a track designed especially for you, but the formal and informal events are great places for you to connect with other marketers. This blog is broken down by social events as well as sessions we think are not to be missed. Let's dive in!
Social Activities
I would venture to bet that some of your most meaningful professional relationships started with a personal connection. But you can't just go to every networking event with free wine and well-groomed greeters, can you? Actually… maybe you can try! I've curated your event schedule so you're able to get the most out of your Content Marketing World experience:
Monday
Meet and Greet with the CMI Team
Time slot: 6:30-8:30p
Location: Eliot's Bar – Hilton Cleveland Downtown
CMWorld organizers describe this event as a place to hang out and get to know the team if you've arrived early. I describe it as the time and place to meet people who are serious about making the most of this conference. In the last two years, this is where I've made the most connections, built meaningful relationships and closed deals. It's smaller, more intimate and doesn't give you the feeling that you fell into a Lady Gaga concert (like a four thousand person networking hour in the conference hall can have).
Wednesday
#CMWorld Fun Run/Walk
Time slot: 6:00am
Location: Meet at Lakeside Entrance, Huntington Convention Center of Cleveland
If you're fitness-y, you should definitely go running with the morning group. Not only is it a small group where you're able to actually have a conversation with someone, the perspective seems to be that leaders who are dedicated to regular fitness perform better. So you'll be a marketing leader working on your fitness, meeting other marketing leaders working on their fitness. It's kind of a match made in heaven.
Networking Reception Featuring Yappy Hour
Time slot: 6:00 pm – 7:15 pm
Location: Expo Hall
If you're a dog lover, this is an outstanding opportunity to both support the local SPCA (did someone say photo opp?)—but it's also a mini networking experience within the larger networking reception. There's nothing like getting perspectives on market goings-on when people have their guard down. And how can you not have your guard down when you're petting dogs?
Sessions
Sometimes conferences don't have tracks designed for your level of business execution. Content Marketing World, however, has you covered. The executive track is full of topics surrounding elements of customer experience including trust and innovation. All of the sessions in this track are on Wednesday, so if you have limited time you can fly in on Tuesday and fly out on Thursday morning and still be home for dinner (depending on your flights, of course). Bing, bang, boom.
Should You Fire Your Chief Marketing Officer? My Farewell Gift Learned From 13+ Years of Being CEO of a Digital Agency
Time Slot: 10:15am – 11:00am
According to a Forrester Research study, 37% of CEOs will put their Chief Marketing Officer (CMO) first in the firing line if revenue goals are not met. It's a tough crowd, to be sure. That's why getting Founder and CEO Arnie Kuenn's last bits of wisdom before he retires from his digital agency, Vertical Measures, might be just the thing you need to hear to stay ahead of the curve. With more complexity coming at marketers, and new layers and nuance around digital marketing emerging, understanding how the tools and trades impact performance is critical for CMO survival.
From Nontent to Content: Why Social Innovation Is the Future of Winning at Relevance
Time slot: 11:20am – 12:05pm
Mature companies are creating customer experiences that are valuable, useful and relevant. That means veering away from what Carlos Abler, Leader of Content Marketing Strategy at 3M, calls "nontent". Creating content that is actually meaningful and effective is harder than it looks. Carlos calls for an end to traditional content marketing departments—and the birth of social entrepreneurs that help save and improve lives, and drive business results that leave typical content tactics in the dust. His high-level, cerebral approach will leave you both enlightened and overwhelmed. He'll provide you with the type of food for thought that you can take back to the office and chew on.
The Power of Trust: How to Build Credibility with Customers — and Convince Them to Buy
Time slot: 2:00pm – 2:45pm
Trust is the great leveler for brands. In an era where the majority of consumers actively distrust the majority of brands, building trust and credibility with audiences means you will, without question, come out ahead. Margaret Magnarelli, Executive Director of Audience Acquisition and Growth Marketing at Morgan Stanley, talks about the psychology behind building trust— as well as how to differentiate yourself from competitors using trust as a unique value proposition.
Content Marketing World for the Whole Darn Team
If you're bringing your whole team, we've put together a few curated sessions posts by role. For instance, if you have people new to marketing on your team, here are a few sessions we think would be ideal for them. Have a staffer who needs to be more effective at translating Metrics and Analytics into actionable steps? Check and check. Wondering if your martech or marops folks should join you? You betcha. Will your seasoned content writers get anything out of CMWorld? Absolutely.
Join us in Cleveland
So, come to Cleveland. We'll have some fun, you'll meet some people and you might even learn a few new things. I would hate to see you left behind.
Register for Content Marketing World today to secure your place in Cleveland. (Pro tip: use my discount code, JANN19, to get $100 off your registration fee.)
Don't wait for September to get familiar with other conference-goers! Join in the conversations now—follow #CMWorld on Twitter to chat with your fellow attendees before the show.
About Maureen Jann
Maureen Jann is a veteran B2B marketer whose career in digital media has grown up with the Internet. A self-described jill-of-all-trades, she enjoys the daily challenges of driving business results in unexpected ways. She is currently the Founder and Managing Director of SuperDeluxe Marketing, a marketing and content agency focused on B2B technology, marketing industry, learning and development as well as startups. Maureen has a Bachelor of Arts from San Jose State University and her side hustles have earned her an MBA from the School of Failed Startups. A frequent guest on podcasts and panels, she is passionate about unusual shoes, crafts, and delicious cocktails. In her carefully-guarded free time, Maureen loves exploring the beautiful Pacific Northwest with her daughter and husband.
Posted August 6, 2019 in: Event by Cathy McPhillips
---