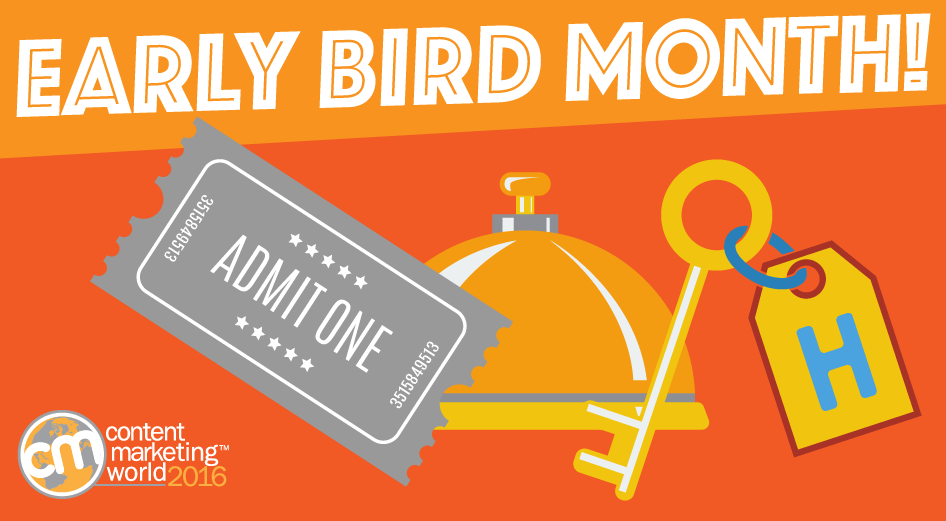 (Spoiler alert – read all the way through for free hotel and free ticket details!) 
September is a big deal at CMI – it's the month that our annual marketing conference and expo, Content Marketing World, takes place.
But following closely behind the excitement of September is the thrill of May – our biggest registration month of the year! Why is May such a big month? We're glad you asked.
It's early bird month for Content Marketing World 2016, meaning rates go up June 1. Now is the best chance to save – especially with companies sending a group!
And shhh…we also have a discount code floating around – BLOG100 – which saves you an additional $100 off of the early bird rates. Double the savings!
Additionally, May wouldn't be complete without a little fun on our end, so all month, be sure to join us on Facebook, Twitter and LinkedIn because our orange prize basket is filled with some great items that we'll be giving away – no conditions (other than you have to be registered for CMWorld) – and it's really just because we're grateful for our #CMWorld community. Connect with us all month and join in the #CMWorld love.
But wait…there's more!
The best news of all this May is that ONE LUCKY ATTENDEE* will receive a free 3-night hotel stay during Content Marketing World 2016!
And another LUCKY ATTENDEE will receive a refund on their main event pass.
Yes…conditions apply, but they're minimal. The biggest one? You must be registered by 5/31 to be in the running, and if you already booked a hotel, we'll work it out with you!
So, aside from all the fun and games, why should you attend Content Marketing World 2016 and why is this event so important to us? Let the numbers speak for themselves. The 2016 B2B Content Marketing Benchmarks, Budgets & Trends 2016 report reveals:
Only 30% of content marketers consider themselves best in class. What an opportunity for improvement!
67% of marketers consider their content marketing maturity level at adolescent or below
68% of marketers don't have a documented content marketing strategy
BUT, 88% of marketers use content marketing.
This disconnect has to be fixed, and we believe that Content Marketing World can help.
Speakers represent leading brands including LEGO, Visa, Kellogg's, IBM, REI, Marriott, American Cancer Society, Electrolux, Zillow, Rockwell Automation, Xerox, Deloitte, Cleveland Clinic, Avery Dennison, Intel, VMWare, Dell and many others…and they're ready to share their stories with you.
We can't wait to see you at Content Marketing World 2016! Register today for the best rates, a chance at great giveaways, and the best chance you'll have to advance your practice of content marketing. Register now! 
Posted May 2, 2016 in: Event by Cathy McPhillips
---