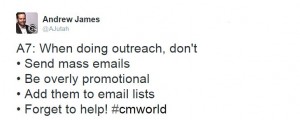 You likely know that there are many benefits to connecting – and creating relationships – with influencers in your industry. And, and anyone who has been pitched knows, a "spray and pray" approach is far from effective. How do you create these and retain these relationships? Amanda Subler, CMI's Public Relations and Media Manager, joined our recent #CMWorld chat.
Download CMI's Influencer Marketing Toolkit to get more ideas – and templates –on how to organize and track your influencer relation program. Plus, Lee Odden will be discussing influencer marketing at Content Marketing World! Join us!
Were there tweets you wanted to retweet, respond to or favorite from this week's chat? Visit this Storify link.
Q1: How large should your media/influencer list be? Do too many people result in an impersonal experience? #CMWorld
A1:  As big as it needs to be  🙂 #cmworld
@AmandaSubler
A1: We have very targeted media lists- focusing just on publications etc. that makes most sense for us #cmworld
@AmandaSubler
A1: I think it depends on your goals. You can easily segment your list depending on what you want to do with a content piece. #cmworld
@AJutah
A1: We have diff. influencer lists set up for diff. projects – for example,a list for each research report we release #cmworld
@AmandaSubler
A1: While I cannot define a particular number, too many media/influencers can dilute a message.#CMWorld
@Mr_McFly
A1 If you find yourself with a large list, it's time to segment it by purpose and whether or not they engage w/ you. #CMWorld
@Twel5
A1: Influencers are a lot like social media channels, only engage those that make sense for your #brand, audience(s) #brokenrecord #cmworld
@mikemyers614
A1:Try to make each pitch as personal as possible-only impersonal if sending to wrong person-someone who wouldn't be interested #cmworld
@AmandaSubler
@AJutah so true. Absolutely part of a greater strategy. #cmworld
@CMIContent
Yes! #cmworld  https://twitter.com/mikemyers614/status/603230907487641600
@AmandaSubler
A1 don't think size is as important as what you know about the people who are on it. Know what they write about and know audience #cmworld
@tracibrowne
Join in the #CMWorld chat with @CMIContent! #contentmarketing https://twitter.com/CMIContent/status/603230367294730240
@taylorhoren
@mikemyers614 broken record = true words here #cmworld
@CMIContent
@tracibrowne Agreed. You can keep a pretty large list as long as you have extensive notes. #cmworld
@Twel5
A1: You probly have hyper-local, general and national media outlets, all on different mediums. Ask yourself how you can segment… #cmworld
@aesmithwriting
@tracibrowne identifying is such an important part of the process #cmworld
@CMIContent
A1: I don't think it's the size of the list that is as important as developing and maintaining your relationships. #cmworld
@JeremyBednarski
A1: If list is large you can always add additional segments for filtering purposes. Size doesn't necessarily correlate to quality. #CMWorld
@szahurones
A1. It's important to keep your lists organized. Keep in touch with influencers who's values align with your brand's. #cmworld
@gonztweets
A1 Should be a curated list of, in case of influencer building don't cast too wide a net. #cmworld
@tulipstrategies
@JeremyBednarski making that connection!  #cmworld
@CMIContent
A1 If you use something like @buzzstream for communication, you can keep some pretty detailed notes w/ a large list. #CMWorld
@Twel5
…to engage the ones that make sense. I think @mikemyers614 and I have the same idea! (he puts it eloquently) #cmworld
@aesmithwriting
A1: The focus should definitely be on quality over quantity. #cmworld
@taylorhoren
A1: It isn't the size of the influencer list, it's how you engage it. Keep the list as big as resources can PROPERLY accommodate #CMWorld
@PatrickHayslett
A1 Quality over quantity when it comes to influencer building #cmworld
@tulipstrategies
@Mr_McFly We have pretty large lists for some things- but they are pretty targeted #cmworld
@AmandaSubler
@tulipstrategies @taylorhoren great minds think alike!  #cmworld
@CMIContent
@AmandaSubler We should always look to better segment. I create tiers for my media outlets/influencers and roll out in phases. #CMWorld
@Twel5
@Twel5 @buzzstream I'll have to check that out #cmworld
@AmandaSubler
@Twel5 @AmandaSubler rolling out in phases is a great approach #cmworld
@CMIContent
Twitter lists can help you stay organized with your influencers, and you can auto-add people using IFTTT.  #cmworld
@AJutah
@AmandaSubler that makes perfect sense, Amanda. That's why I said "can" instead of "would" :-)#CMWorld
@Mr_McFly
@PatrickHayslett Mine was great, thanks! Traveled a bit for the holiday as well; had a great time with the girlfriend & fam. #cmworld
@gonztweets
@JeremyBednarski I agree as the relationship sometimes counts for more than the pitch. #CMWorld
@ideakid88
@AJutah Twitter lists are often so under-utilized!  #cmworld
@CMIContent
Q2: What tools do you use to track influencers/media and the actions they are taking with your brand? #CMWorld
@AmandaSubler @buzzstream They're good folks. I used them quite a bit with different clients. #CMWorld
@Twel5
@AJutah Twitter lists are my secret weapon to keeping influencers organized. Loved this. #cmworld
@gonztweets
@AJutah I find some of the lists I'm on amusing…but impressed at how targeted some smart people make their lists #cmworld
@tracibrowne
Agree on twitter lists #cmworld https://twitter.com/AJutah/status/603231774026661888
@AmandaSubler
A2: If you're rolling out to influencers and specific media outlets, I always have UTMs for their sharing purposes. #CMWorld
@Twel5
A2: Of course social media monitoring is huge- with help from our great community manager @MoninaW #cmworld
@AmandaSubler
A1. With influencers, relevance trumps quantity. Who > how many. And then it's about the quality of your engagement. #cmworld
@carmenhill
A1) We try to focus less on the number of influencers and more on the overall quality and value of the relationship. #cmworld
@CrowdContent
A2: Google alerts is huge to help track media coverage #cmworld
@AmandaSubler
A2 I suggest updating links to most recent articles Media have written…get to know what interests them and their style. #cmworld
@tracibrowne
A2. Twitter lists & listening streams within my @Hootsuite dashboard, BuzzSumo for discovering influencers, & personal judgement! #cmworld
@gonztweets
A1. It's a function of personality (individual or corporate), tools, and the ability to scale a personal interaction. #cmworld
@KipMeacham
@CMIContent A1 Every influencer is unique. Each influencer will have their own way for engaging users. longer the list better it is #cmworld
@kcpravin
A2: Just recently started using @TrackMaven and @SproutSocial to help monitor our coverage and those of competitors #cmworld
@AmandaSubler
I hear you @tracibrowne @AJutah. Some competitors that follow the company I work for put us on a list named "Competitors" lol #CMWorld
@PatrickHayslett
@tracibrowne For sure. I'm on a "beauty tips" list: https://twitter.com/AJutah/memberships #cmworld
@AJutah
A2: Twitter lists (fab)…then I also use IFTTT. On FB same story, lists.  On Google+, special circle. #cmworld
@SocialSMktg
@gonztweets @AJutah Agree Mike and I have a backup copy of my Twitter lists offline just in case. #CMWorld
@ideakid88
@PatrickHayslett @tracibrowne @AJutah My favorite: 'People I've favorited.' #cmworld
@mikemyers614
[email protected] is one of my favorite listening tools! #cmworld https://twitter.com/CMIContent/status/603231888937857025
@taylorhoren
Checking in for #CMWorld from #AsSeenInColumbus http://t.co/X3qWJEECLj
@bendgibbons
@CMIContent I organize Twitter lists by each influencer's specialization, industry, those who I'm most engaged with/keep an eye on. #cmworld
@gonztweets
A2: We've started using Agility alerts to track client mentions and competitors. Seems to be better than Google Alerts so far. #cmworld
@JeremyBednarski
Besides lists, what other tools would you guys recommend?? #cmworld
@tulipstrategies
A2 If I'm rolling out in phases, I use Google Analytics and social reporting from @simplymeasured to look for spikes. #cmworld
@Twel5
@mikemyers614 @PatrickHayslett @tracibrowne @AJutah so we shouldn't favorite you, eh? 🙂  #cmworld
@CMIContent
@bendgibbons Sorry, our building is always photo bombing. #cmworld
@mikemyers614
@bendgibbons rough day at the office?? lol #cmworld
@AmandaSubler
@bendgibbons your view is pretty awesome today lol  #cmworld
@CMIContent
@CMIContent Twitter lists are great for following influencers, because you can easily see what they are interested in & sharing. #cmworld
@carmenhill
@mikemyers614 @bendgibbons we think we may see you waving out the window, Mike #cmworld
@CMIContent
A2: I use Topsy to see who's tweeting our content, and @socialbro to create custom Twitter lists. #cmworld
@AJutah
A2. Listening to hashtags relevant to my interests and objectives. #RealTimeTrumpsSEO #cmworld
@KipMeacham
@AJutah IFTT has become one of our favorites! #cmworld
@rabbleandrouser
@CMIContent @bendgibbons That's me! (wish I was out there). #cmworld
@mikemyers614
@rabbleandrouser @AJutah ours too! Any go-to recipes? #cmworld
@CMIContent
@CrowdContent quality > quantity for most things, right? #cmworld
@rabbleandrouser
A2 I'm also still a fan of @Mention matched up with some @Zapier formulas for monitoring. #cmworld
@Twel5
Lots of great recommendations for social media monitoring. Taking so many notes now! #cmworld
@tulipstrategies
A1: (see all previous responses) What they said! #CMWorld
@bendgibbons
"Sucker I want to sell crap too" is not Twitter-list name I'd recommend. #CMWorld
@WALToONs
@tulipstrategies this group always has great recos. And we find ourselves learning something new each week!  #cmworld
@CMIContent
Twitter lists definitely seem like an underutilized tool, but they can make influencer listening so easy! #cmworld  https://twitter.com/CMIContent/status/603232087160782848
@taylorhoren
Is the term 'influencers' truly relevant on social media? Isn't EVERYONE an influencer via one-to-one comms? #CMWorld
@PatrickHayslett
@KipMeacham love this. I also listen in on keywords – many people tend to tweet / talk without using hashtags! #cmworld
@gonztweets
@tracibrowne @AJutah completely agree, where do we draw the line on list categories?! #cmworld
@rabbleandrouser
@CMIContent Yes, however, also what works best for the other party, too. A two way street. #cmworld
@ZirconTools
Q3: If media/influencers are not responsive, is it wise to keep them on your list or do you risk annoying them? #CMWorld
@taylorhoren we have lists upon lists. So helpful.  #cmworld
@CMIContent
Yes! @lindadessau Comfortable – and also, provides good, timely results. #cmworld
@ZirconTools
[email protected] – this is on point. Hahaha #cmworld
@gonztweets
[email protected] Absolutely! Same goes with content. #cmworld
@CrowdContent
@CMIContent A1 – Size isnt everything, but have to invest in influencer marketing #cmworld
@kilfrew
A3: IMO Just because they don't respond-doesn't necessarily mean not interested or appreciative #cmworld
@AmandaSubler
A3 If they haven't asked to be taken off your list then don't – not previously responsive doesn't mean never responsive #cmworld
@tracibrowne
@absolutemobile Yes, true! Those in charge of the budget need to be convinced. #cmworld
@ZirconTools
A3 If they're not responsive, remove them and place them on a hold list. Think of a new approach and try again in a few cycles. #CMWorld
@Twel5
Very true, @gonztweets. #IWillAdaptAndAdopt  #cmworld
@KipMeacham
A3: If you're concerned about annoying someone, ask them. Relationship needs to be beneficial for both. #cmworld
@mikemyers614
A3: Especially busy reporters- who get hundreds of pitches a day-don't have time to respond to every email #cmworld
@AmandaSubler
A3 Well perhaps save them for a later date if they'd be a good 'get' so to speak. #cmworld
@tulipstrategies
A2: Twitter lists & Hootsuite currently. #CMWorld
@bendgibbons
A3:I have strong relationship w/ local reporter who may not respond to everything I send –but I know appreciates being in the loop #cmworld
@AmandaSubler
A3: Lists should always be fluid. If people don't find your content valuable, it's ok to move on! #cmworld
@AJutah
A3: Obviously if they tell you to leave them alone – you should #cmworld
@AmandaSubler
A3. Influencers worth connecting with should be glad to help in downtime. Just don't be spammy or demanding – they're humans, too. #cmworld
@gonztweets
Like the "cycle" approach #CMWorld  https://twitter.com/Twel5/status/603233617163194370
@CMIContent
@tulipstrategies Exactly. Don't write them off but don't become a spammer if they haven't responded to date. #CMWorld
@Twel5
Q3. Since when are social media marketers concerned about annoying people? #CMWorld #NotaFactor
@SHumblebrag
A3 B. sproutsocial and socialbro. #cmworld
@SocialSMktg
@SpencerHudonII Yes, need to be creative and not hold back to get the brand message out there. #cmworld
@ZirconTools
A3. Clairvoyance never was my gift. Those who do NOT wish to continue the convo usually (should) make it known.  #cmworld
@KipMeacham
A3) Keep them on your list and keep on trying to build a relationship by paying it forward.#CMWorld
@ideakid88
Agreed! #cmworld  https://twitter.com/CMIContent/status/603233906956075008
@AmandaSubler
A3 Sometimes your pitches may be great…just not the right time. Media is paying attention and just waiting for the right moment #cmworld
@tracibrowne
Q3: You have to have a good pitch that's relevant to their beat. Also, it should be "news". cc:#CMWorld
@Vruno
A3: Timing is everything with media folks. I'd test times of outreach extensively before removing non-responsive journalists #CMWorld
@PatrickHayslett
A3 If they are not responsive, most of the time it means they are just too busy. #cmworld https://twitter.com/CMIContent/status/603233395133427712
@rabbleandrouser
@KipMeacham thought that was just one those things gifted to all marketers 🙂  #cmworld
@CMIContent
A3. I think the #spam perception lies with the originator of the content/convo. Value-added content <> spam.  #cmworld
@KipMeacham
A2 @hootsuite or @tweetdeck – VHS/Betamax #cmworld
@kilfrew
A3 Agree that sometimes you also have to catch influencers, journos at the right time, they DO get bombarded #cmworld
@tulipstrategies
@WALToONs Although there's something to be said for brutal candor. #CMWorld
@bendgibbons
@ZirconTools @CMIContent completely agree!  #cmworld
@rabbleandrouser
Good point. #CMWorld  https://twitter.com/SHumblebrag/status/603233952904667136
@taylorhoren
Great tip #CMWorld  https://twitter.com/PatrickHayslett/status/603234157989355520
@CMIContent
Agreed! We've had success with follow up. #cmworld  https://twitter.com/AmandaSubler/status/603233581369004033
@CrowdContent
A3. Remember, it's a human-to-human interaction – not Human-to-Influencer. #cmworld
@gonztweets
A3. I believe a sincere effort to add value/meaning with content is hard to fake and hard to take offense from. #cmworld
@KipMeacham
Great advice! #CMWorld  https://twitter.com/PatrickHayslett/status/603234157989355520
@taylorhoren
A3 In this case, It is likely that we are lacking a story to draw their attention. I would prefer to look inwards. #CMWorld
@kcpravin
Amen! #cmworld  https://twitter.com/gonztweets/status/603234418984116224
@AmandaSubler
A3 What you may not know is we have a list too. You may be on there as someone to call for quote or even when article falls thru #cmworld
@tracibrowne
A3 Last thought on this one. If they're not 'responsive', maybe it's time to rethink your value proposition to them. #CMWorld
@Twel5
Good reminder #CMWorld  https://twitter.com/tracibrowne/status/603234655773532162
@CMIContent
@CMIContent A3, if media is not responsive and you really want them, refine your pitch, research them heavily and try again later. #CMWorld
@absolutemobile
Q4: What are some tips for personalizing your outreach to media/influencers?  #CMWorld
Agreed- I pitched a HARO never heard anything- until months later writer needed a quote for a diff. article #cmworld https://twitter.com/tracibrowne/status/603234655773532162
@AmandaSubler
@bendgibbons Agreed. Would probably want to replace "sucker" with "handsome/pretty person." #CMWorld
@WALToONs
@CMIContent @KipMeacham Clearly I don't have "The Gift" as they say… B^D #cmworld
@KipMeacham
Love this. #CMWorld  https://twitter.com/tracibrowne/status/603234655773532162
@ChristinKardos
Yes! #cmworld – always research and refine! https://twitter.com/absolutemobile/status/603234842826813440
@AmandaSubler
@WALToONs @bendgibbons flattery will get you nowhere…or everywhere 🙂  #cmworld
@CMIContent
A3. If they don't opt out, or complain, I will let them remain. Some will show 'no response' for a long time before engaging. #cmworld
@ofumaagali
A4: Research who you want to target- what they write about, their beats etc. #cmworld
@AmandaSubler
A3. This is where "patience is a virtue." Keep them in the list for awhile. Then, try again (and again).  #cmworld
@SocialSMktg
A4: I've really been trying to take the time to read, comment and interact with those I'm trying to target for coverage #cmworld
@AmandaSubler
Many reporters won't have time to respond. receiving such a glut of info every day that it's impossible… #cmworld  https://twitter.com/CMIContent/status/603233395133427712
@aesmithwriting
A4: Increasingly, this is becoming an important way to get their attention but can be time-consuming to build those relationships #cmworld
@AmandaSubler
A4: make it relevant to them, add value, no sales pitch, givers gain #cmworld
@kilfrew
A4: Although not as common these days, reporters may have "beats". Help them pitch their assignment editors with the right angle. #cmworld
@AJutah
@AmandaSubler This is a #MoneyShot tweet, Amanda! #cmworld
@KipMeacham
A4 Don't go straight for the email scrape. I've had great response when I went Twitter first. #CMWorld
@Twel5
A4 Actually use their name, if possible. None of this generic, mass-blast crap. #CMWorld  https://twitter.com/CMIContent/status/603234907809140736
@taylorhoren
@SocialSMktg it's a marathon, not a sprint, right? #cmworld
@CMIContent
A4 Prove you know what they write about in your first sentence or two. Then tell why your pitch is relevant #cmworld
@tracibrowne
Like the "cycle" approach #CMWorld  https://twitter.com/Twel5/status/603233617163194370 http://t.co/gfxQHWX5Oc
@PrBIM
Great tip #CMWorld  https://twitter.com/PatrickHayslett/status/603234157989355520 http://t.co/j0jH2RpUJW
@PrBIM
A4) Do your homework. When reaching out to anyone it's polite to have an idea of who they are and what they care about. Minimum.  #cmworld
@ChristinKardos
Good reminder #CMWorld  https://twitter.com/tracibrowne/status/603234655773532162 http://t.co/sGKJ2vG3cK
@PrBIM
A4: Treat media as another audience and look for ways to be useful and solve problems for them. Help them before expecting return. #cmworld
@mikemyers614
A2 @Mention @Brandwatch I use both of these for traction and observations. Completely thier fan. #CMWorld
@pixiee09
A4. Be yourself, understand context of interaction, and don't ask for too much (or better yet, don't ask for anything initially). #cmworld
@gonztweets
Journalists are egotists (like all of us). Comment specifically on what they've written & relate your pitch to it. More responses. #CMWorld
@PatrickHayslett
Q4. I'm taking a shot in the dark here but, oh I don't know, using a name? #CMWorld
@SHumblebrag
Relationship building is key #CMWorld  https://twitter.com/AmandaSubler/status/603235177419116544
@CMIContent
@Twel5 I think that goes both ways, and without saying 🙂 #cmworld
@rabbleandrouser
@AlaureMktg thanks! I just need a tool that consolidates all that. 🙂 #cmworld
@SocialSMktg
Q4: Actually read what they write and use their name. Nothing says a mass email/msg like generalization. #cmworld
@cyclaudiia
@tracibrowne Yes! Understand who you're talking too. There's nothing more annoying than a blind outreach. #cmworld
@gonztweets
Great tip #cmworld  https://twitter.com/gonztweets/status/603235366171181056
@AmandaSubler
A4 But don't underestimate a good general targeted well written press release…a lot of our ideas come from these when in a pinch #cmworld
@tracibrowne
…but as a former journo we do appreciate the updates w/out having to search them out. #cmworld  https://twitter.com/CMIContent/status/603233395133427712
@aesmithwriting
A4 Follow them closely,study their latest work and give content which is relevant to them. #CMWorld
@kcpravin
Good tip to read what they write! #cmworld  https://twitter.com/cyclaudiia/status/603235502389592064
@mikemyers614
It's like a relationship – choose the right one #cmworld
@TugceOe
A4. It's so so so so sOOOOOOooO important to understand who you're talking to, and why you're engaging with them. #cmworld
@gonztweets
@rabbleandrouser I'd like to think that it goes without saying but….you know…. #CMWorld
@Twel5
A3: Ask yourself this question: if you're in a non-responsive relationship, will you stay? The answer to that is your answer.#CMWorld
@Mr_McFly
@Twel5 That makes so much sense cause Twitter is such a more engaging platform and emails seems so rigid and could be spammy #cmworld
@cyclaudiia
A4) Research or just ask them what they are interested in or need. Be authentic and try to help them before asking for help. #CMWorld
@ideakid88
A4. I prefer marketing to people over influencers but that's just me. #CMWorld
@SHumblebrag
@CMIContent exactly! #cmworld.
@SocialSMktg
A4 You don't always have to pitch a story…send a list of people in your org and what subjects they can talk to. #cmworld
@tracibrowne
A4. The #Millennial take on this is insightful: collect meaningful relationships. Doing this right takes work and sincerity. #cmworld
@KipMeacham
A4 Put your piece in context with other things that they've done. It'll prove that you know their work. #CMWorld
@Twel5
Ladies and gentlemen, Mister Gary Nix…  #cmworld https://twitter.com/Mr_McFly/status/603235790999724034
@mikemyers614
A4: Understand the influencers relationships to the community. Provide them something that adds value. Don't just ask for things. #CMWorld
@juliezisman
A4. Try to get to know them. Follow them on Twitter and read their stuff. #CMWorld
@jeanbrunetHFX
Being able to openly discuss a recent article, event, insight, etc is a great way to prove genuine interest #CMWorld https://twitter.com/CMIContent/status/603234907809140736
@ShangRaeLa
A4. Sounds simple, but personalization is personal. And variable text ≠ personal. Pay attention. Think about what matters to them. #cmworld
@carmenhill
A4:  Speaking with an authentic voice #CMWorld
@connieurway
Be specific & acknowledge them. Mention a piece of their work and why you thought it was valuable. #cmworld   https://twitter.com/CMIContent/status/603234907809140736
@CrowdContent
A4: Don't only use mail merge. :-)#WheresClippy#CMWorld
@Mr_McFly
@ideakid88 yep! Helping without expecting of anything in return is such an underestimated approach to relationship building. #cmworld
@gonztweets
A4 I almost always respond to a personal message. And I always remember that person #cmworld
@tracibrowne
@Mr_McFly how does Clippy always come into play? lol #cmworld
@CMIContent
@cyclaudiia Agreed. It's a person-to-person interaction and Twitter better serves that purpose. #CMWorld
@Twel5
@cyclaudiia @Twel5 Yeah, Twitter's not spammy at all.  #CMWorld
@SHumblebrag
Love this. #cmworld http://twitter.com/carmenhill/status/603236034432901120
@gonztweets
A4: Support their communities before you pitch them. Post blog comments, participate in their chats etc. Relate your pitch. #CMWorld
@PatrickHayslett
#CMworld @SocialSMktg I hear you on that! When you find it, let me know!
@AlaureMktg
Our marketing manager @ShangRaeLa joins the #CMWorld chat. Make sure to connect with her if you're participating. https://twitter.com/ShangRaeLa/status/603236024484044800
@opentopic
Yes! #cmworld  https://twitter.com/PatrickHayslett/status/603236281758457857
@AmandaSubler
@Mr_McFly that would be #facepalm, right? #cmworld
@SocialSMktg
Q5: Who in the organization is typically handling media/influencer relationships? How much time should you devote? #CMWorld
A5: Honestly- probably almost all members of our team interact at some point with influencers #cmworld
@AmandaSubler
Yep! Personal interactions are the only interactions I want to participate in. #cmworld http://twitter.com/tracibrowne/status/603236199856263168
@gonztweets
@carmenhill But, Carmen, it's really important to use Carmen at least three or four times per personal tweet. Right, Carmen? #cmworld
@KipMeacham
@juliezisman that @carmenhill is pretty awesome! Glad you could join in!  #cmworld
@CMIContent
@SHumblebrag @cyclaudiia Lol. Of course it can be. Don't get caught with the 5 similar tweets in a row. #CMWorld
@Twel5
A5. Developing great relationships with influencers is very important to us #cmworld
@AmandaSubler
A5: We have a silo for that (he said, nervously) #cmworld
@mikemyers614
A5: But in general – I'm in charge of handling media relationships #cmworld
@AmandaSubler
Now Im intrigued… Clippy? @CMIContent @Mr_McFly #CMWorld
@AlaureMktg
A5: I think the more time you spend interacting/developing relationships with media/influencers the more successful you will be #cmworld
@AmandaSubler
A4 Don't pitch something they just wrote about…that ship has sailed…that's when that company expertise list cld have helped #cmworld
@tracibrowne
@KipMeacham @carmenhill Good SEO practice too! #cmworld
@mikemyers614
A4: Don't reach out about yourself, until you've taken the time to express interest in them. Get to know them first! #CMWorld
@SpencerHudonII
A5: It's a big job that everyone should have a hand in, but @Buzzstream can help organize and eliminate overlap. #cmworld
@AJutah
A4- Study the media intently & be a resource. Even if it doesn't immediately help you. It will come back to you down the line.  #CMWorld
@absolutemobile
Right on! 🙂 #CMWorld  https://twitter.com/carmenhill/status/603236034432901120
@jeanbrunetHFX
@CMIContent @Mr_McFly I heard Clippy likes bacon. #CMWorld
@bendgibbons
A5 peer to peer relationships work well, however as previously mentioned its about H2H.  Don't just leave it with marketing please #cmworld
@kilfrew
A5 Either the community manager or content coordinator would be good choices. IMO #CMWorld
@Twel5
A5. Two schools: Old school = hierarchical approach | New school = employee advocacy based on interest & community engagements. #cmworld
@KipMeacham
@bendgibbons @Mr_McFly oh we see what you did there!  #cmworld
@CMIContent
@gonztweets It may not make biz sense to the bean counters but it is so powerful. At least that has been my experience! #CMWorld
@ideakid88
A5 My pet peeve is having to jump through PR firm hoops to get to the person I want to interview #cmworld
@tracibrowne
@KipMeacham Not if it feels like first name stuffing 😉 #cmworld
@carmenhill
#cmworld Let's converse with customer to make best choices for them  #digitalmarketing http://t.co/HLtjywIWhZ
@purushms
A2: @socialmention is a great tool for tracking what's being said about your brand, especially by influencers. #CMWorld
@SpencerHudonII
A5: It depends on the pitch, but @1tomvalentino, our media relations specialist, is our guy! We're lucky to have him. #CMWorld
@taylorhoren
Managing media/influencer relationships is like a FT job. Don't have the resources to build, don't bother #CMWorld https://twitter.com/CMIContent/status/603236425962651649
@ShangRaeLa
A5: employees are the best brand advocates for any organizations & more time being devoted means more time for building rapport! #cmworld
@cyclaudiia
Have you seen the lineup for Content Marketing World 2015? Don't miss out. Early bird rates end 5/31! #CMWorld http://ow.ly/NpFea
@PhiladelphiaAMA
A5: @getLittleBird customers have users across the team.  Product & Digital Marketing, PR, Social Media. It depends on your goals. #CMWorld
@juliezisman
@mikemyers614 one of the differences for larger vs smaller enterprises #cmworld
@CMIContent
Amazing how many skip this part > MT @SpencerHudonII: A4: Don't reach out about yourself, until you get to know them first! #CMWorld
@ardath421
A5. I think it's important for all humans on your team to be involved with influencer relationship building. Yes, ALL humans. #cmworld
@gonztweets
#CMworld homework  @buzzstream  https://twitter.com/AJutah/status/603236713893335040
@AlaureMktg
Agreed- if they want to chat with someone on team- make it happen- quickly #cmworld  https://twitter.com/tracibrowne/status/603236956936511488
@AmandaSubler
@CMIContent @Mr_McFly Don't blame me, blame @justinbieber. #CMWorld
@bendgibbons
@KipMeacham @carmenhill Get the SEO going…you might land at the top of their list to contact. Hahaha #cmworld
@jeanbrunetHFX
Do you think anyone handles media/influencer relationships in most companies? Key word relationships…or is it just a spam list? #CMWorld
@PatrickHayslett
A4a Yes! But after helping, *don't* sell! Resist! #cmworld https://twitter.com/mikemyers614/status/603235306700177409
@MissingATrick
@ideakid88 agreed. There are some things you can't measure. Trust is one of them. #cmworld
@gonztweets
A5:  Cross-team efforts reduce time and increase efficiency #CMWorld
@connieurway
@AmandaSubler I can't tell you how many companies have missed an opportunity because their PR firm was not quick enough #cmworld
@tracibrowne
A5: Relationships take time. It's best to start with one person handling it until the influencer(s) get to know your brand. IMO. #CMWorld
@SpencerHudonII
@cyclaudiia @SHumblebrag "Hey ____! I heard that you write about ___. We should totally connect. #hashtag"  #CMWorld
@Twel5
@CMIContent Clippy is everything!#CMWorld http://t.co/Q8xPAsOydA
@Mr_McFly
Agreed #CMWorld  https://twitter.com/tracibrowne/status/603237350580363265
@connieurway
@tracibrowne I can only imagine..! #cmworld
@AmandaSubler
A5: I'm here to manage those type of relationships (this is a girl named Tara!) #cmworld
@rabbleandrouser
A5: It's great if there are multiple people. Someone may already have a relationship with someone you need. #cmworld
@JeremyBednarski
@Twel5 @cyclaudiia @SHumblebrag Totally.  lol  #cmworld
@mikemyers614
@carmenhill But merges are like potato chips #CantStopAtJustOne… Seeking twelve-step program. #GetHelpSomewhere #cmworld
@KipMeacham
A5: Ideally, someone skilled in relationship mgmt. And, if the relationship's important, as much time as it takes. #CMWorld
@bendgibbons
@AlaureMktg Sure! Let me know if you do, too.IFTTT may be worth checking #cmworld.
@SocialSMktg
@AlaureMktg #CMWorld  https://twitter.com/Mr_McFly/status/603237423477301248
@CMIContent
Yes! #CMWorld https://twitter.com/ardath421/status/603237088801206272
@SpencerHudonII
A5. If "relationship management" is assigned, then you should probably reevaluate your social strategy. Relationships are personal. #CMWorld
@gonztweets
Yes- exactly! #cmworld  https://twitter.com/JeremyBednarski/status/603237540536135680
@AmandaSubler
A5. Hopefully a team works to manage relationships – I try my best to do all that I can via social media! #cmworld
@JulieM_ISU
I agree, Patrick. #CMWorld  https://twitter.com/PatrickHayslett/status/603237223929094144
@jeanbrunetHFX
#cmworld Make your customer comfortable  and be at it.. That's about #conversation #marketing http://t.co/l5V2HTm71N
@purushms
@gonztweets People love other people #cmworld
@rabbleandrouser
@bendgibbons @CMIContent @justinbieber #CMWorld http://t.co/u9dH6xJWmo
@Mr_McFly
I just joined, but I bet if I say, "Keep it human" it will still be relevant.  #cmworld
@BrandedCartoons
One day at a time, @KipMeacham 😉 #cmworld https://twitter.com/KipMeacham/status/603237627622457345
@carmenhill
Q6: How do you track the mentions that come from media and influencers?  #CMWorld
#cmworld  H2H =Listen <=> Converse http://t.co/DaLIjd9JIP
@purushms
Great point! It may seem forced otherwise… better to have organic interactions with constituents #cmworld https://twitter.com/gonztweets/status/603237695691849728
@JulieM_ISU
@BrandedCartoons you know us so well #cmworld
@AmandaSubler
@jeanbrunetHFX @carmenhill Don't disagree, Jean. Certainly need and use SEO. For what I do the real-time approach works best. #CMWorld
@KipMeacham
@SocialSMktg Yes I have checked out IFTTT and use it… but maybe not as strategically as I should. I will take another look. #CMworld
@AlaureMktg
A6: I personally keep track of all links mentioning @CMIContent in different word documents on different topics #cmworld
@AmandaSubler
It gives amazing feedback to the company on things to change vs. keep. @SpencerHudonII @socialmention #CMWorld  https://twitter.com/spencerhudonii/status/603236993007558658
@TaylorMoretter
A6:  We are working on a way to showcase more of our press coverage in our online media room #cmworld
@AmandaSubler
Hi. I'm Pat the Bacon Ninja. I'm authentic, social, and I practice mindfulness. Will you be my new engagement buddy? lol 😛 #CMWorld
@PatrickHayslett
A6: Hashtags, regular search, tracking what they've "promised" etc.#CMWorld
@Mr_McFly
A5. Influencer relationships are overrated. How many influencers are actively shilling for brands? Unpaid? #CMWorld
@SHumblebrag
@CMIContent A5 I spend at least an hour a day on #infuencerrelationships #cmworld
@rabbleandrouser
Open Site Explorer from @Moz is a great way to find linked and unlinked mentions of your brand. #cmworld
@AJutah
A4a. Yes, interact & relax. Flowing convo is *not* a pre-text for selling. Don't ask, sell, just give. #cmworld https://twitter.com/gonztweets/status/603235366171181056
@MissingATrick
@AlaureMktg @SocialSMktg this article may help http://contentmarketinginstitute.com/2015/05/recipes-content-marketer/ #cmworld
@CMIContent
A6 Layered Twitter searches are a beautiful thing. #CMWorld
@Twel5
A5. Better to put time, money, and effort into more valuable relationships with people who care about the brand. #CMWorld
@SHumblebrag
A6:  Track @klout scores @twitter analytics working at being more informed #CMWorld
@connieurway
A6. I use @nuvi as well as Excel documents to keep track of mentions and interactions, and what this data means for our org. #cmworld
@JulieM_ISU
A6. Hootsuite search streams / notifications. #cmworld
@gonztweets
#cmworld Stop selling. Start Solving …. #conversation marketing http://t.co/xUxbJW8CYm
@purushms
Good stuff here! #CMWorld https://twitter.com/CMIContent/status/603238218268553216
@ideakid88
A6 there are SO many amazing tools for tracking mentions, I love using @Followerwonk, @Tweetdeck and @Hootsuite! #cmworld
@cyclaudiia
Yes! MT @ShangRaeLa: Being able to openly discuss a recent article, event, insight, is a great way to prove genuine interest  #cmworld
@ardath421
@Twel5 what do you mean by layered? #CMWorld
@MoninaW
A6: You can also use advanced search operators like this >> "QUERY" site:http://domain.com #cmworld
@AJutah
#cmworld Social selling starts with active listening http://t.co/LfXJWpy7do
@purushms
Do most of you track mentions by quantity or quality? #cmworld
@TugceOe
@MoninaW I'll do a keyword search but segment it out my users on my 'influencer' lists. Dump that data for engagement. #CMWorld
@Twel5
AlaureMktg #CMWorld  https://twitter.com/Mr_McFly/status/603237423477301248 http://t.co/vzVRFoT2tR
@PrBIM
AlaureMktg SocialSMktg this article may help http://contentmarketinginstitute.com/2015/05/recipes-content-marketer/ #cmworld http://t.co/geQ2IlpknK
@PrBIM
@gonztweets Very true! Someone who's good at maintaining the conversation should nurture the relationships, not a "delegate". #CMWorld
@bendgibbons
@TugceOe right now I track them all- then keep a separate list of the quality mentions #cmworld
@AmandaSubler
@JulieM_ISU @nuvi sometimes there's just nothing like a good excel doc #CMWorld #Data
@ShangRaeLa
@TugceOe I'd have to say both. I like to look at the numbers, but also qualitatively analyze what people are saying #cmworld
@JulieM_ISU
A6:@GetLittleBird focuses on mentions from #influencers. Both real-time for tactics effectiveness & monthly to see program progress #CMWorld
@juliezisman
@CMIContent Thank YOU! Concocted a few IFTTT recipes; however, premade ones are timesavers @AlaureMktg #happydance #cmworld
@SocialSMktg
To track or not to track is no longer the question! Thanks to @cyclaudiia here are some ideas for tracking. #CMWorld https://twitter.com/cyclaudiia/status/603238659412914177
@ideakid88
@ShangRaeLa @JulieM_ISU @nuvi we do love our spreadsheets #cmworld
@CMIContent
@ShangRaeLa @nuvi yes! I always rely on my trusty Microsoft Office tools to help me keep things organized 🙂 #CMWorld
@JulieM_ISU
Q7: What things should you NOT do when reaching out to media and influencers?  #CMWorld
@rabbleandrouser it is a time-consuming process but can reap many rewards #CMWorld
@CMIContent
A6) For most, it's easy to track manually. Why? Influencer engagement is one of the hardest nuts to crack in social. #cmworld #influence
@WiproDigital
Exactly! Relationship management shouldn't be assigned. Hell, it can't be assigned. It's just not natural. #cmworld http://twitter.com/bendgibbons/status/603239085562540032
@gonztweets
A7 #1 "Did you get my press release?" #cmworld
@tracibrowne
A5 Depends on co. size. In small companies it tends to be PR or Sales, even the owner. For larger co's, the community manager. #cmworld
@absolutemobile
A7: Really just pitching to people who don't make sense to target #cmworld
@AmandaSubler
A7: Ask them, "What's it gonna take?" #CMWorld
@mikemyers614
yes!!!! #cmworld  https://twitter.com/tracibrowne/status/603239552615055361
@AmandaSubler
Ha! So true #CMWorld  https://twitter.com/tracibrowne/status/603239552615055361
@CMIContent
A7: Oh and don't call them unsolicited to see if they got your email (unless you already have a good relationship)  #cmworld
@AmandaSubler
If you are tracking brand mentions, I hope you are giving those people a follow. Authenticity is in the little things… #CMWorld
@PatrickHayslett
A4. Make sure you got the name right. (heh) #cmworld
@SocialSMktg
@SocialSMktg @CMIContent @AlaureMktg which ones are your favorites? #cmworld
@rabbleandrouser
A7:  Disrespect the environment #CMWorld
@connieurway
@ShangRaeLa @JulieM_ISU @nuvi I love Google Docs! #cmworld
@rabbleandrouser
I used to track mentions, but all it did was show me how little I get mentioned. Then I got sad and ate two bags of Fritos. #cmworld
@BrandedCartoons
Great tip! #cmworld  https://twitter.com/PatrickHayslett/status/603239717203750912
@AmandaSubler
A6: Analytics from FB, Twitter & Hootsuite, along w/archived e-m alerts from Twitter engagements. #CMWorld
@bendgibbons
A7: Repeated follow-up when influencer's don't respond – especially trying to make them feel guilty they haven't #cmworld
@ardath421
A7 Remember, the fact you've redesigned your website is not news…neither is your sale #cmworld
@tracibrowne
A7. Ask for something valuable before selflessly delivering value. #cmworld
@gonztweets
A7: Automate outreach. No one likes a robotic engagement. #CMWorld
@juliezisman
A7 Canned messages. Assume that they NEED you. Tell them what to say. #CMWorld
@Twel5
A7: Making assumptions.  #cmworld
@SocialSMktg
@BrandedCartoons the struggle is real  #cmworld
@CMIContent
Always! #cmworld  https://twitter.com/SocialSMktg/status/603239716608200704
@AmandaSubler
Take a page from the beauty magazines=> Get Your Content In Shape For The Summer http://heidicohen.com/summer-content-marketing-tips/  #cmworld http://ow.ly/i/aZH8H
@heidicohen
@SocialSMktg we know what *that* does 🙂  #cmworld
@CMIContent
#cmworld The World in ur hands #digitalmarketing succeeds when content is optimized across devices  http://t.co/CezXE0RyGX
@purushms
A7. Never assume an influencer didn't get back to you because they "forgot." There's always a reason behind getting no response. #cmworld
@gonztweets
A7 Avoid the attitude that they owe you something because you followed them & engaged w/ their content. They don't HAVE to help you #CMWorld
@SpencerHudonII
A7) Treat them as a commodity. De-personalize the engagement. Spam them. Bombard them. CC them on tweet campaigns #cmworld
@WiproDigital
@Twel5 exactly! #cmworld
@SocialSMktg
A7: When doing outreach, don't• Send mass emails• Be overly promotional• Add them to email lists• Forget to help! #cmworld
@AJutah
@cyclaudiia @followerwonk @TweetDeck @hootsuite Which is your fave? #cmworld
@rabbleandrouser
@AmandaSubler Definitely! You don't want to annoy nor spam them. #CMWorld
@jeanbrunetHFX
Distribute #Content via email lists to give your content more exposure! #ContentMarketing #CMworld http://buff.ly/1AtiT3I
@ExpressCurate
Avoid this if you want success with influencers! #CMWorld https://twitter.com/ardath421/status/603239819003723777
@SpencerHudonII
A7: You should NOT visit them in person. At their home. In middle of the night. Wearing a Muu-muu. #cmworld
@BrandedCartoons
@SocialSMktg Thanks! 🙂 #CMWorld
@Twel5
A7) Do not become an robotic reacher or worse still a desperate spammer! Stay human and do the H2H thing. #CMWorld
@ideakid88
A7: Don't assume that your topic is relevant or exciting to media/influencers just because it is to you. Match areas of interest. #CMWorld
@PatrickHayslett
A4: identify their interest, provide related content – in my experience third-party content works better – and ask for opinions #CMWorld
@sandrolub87
Send the same, generic message to everyone.  #cmworld  https://twitter.com/CMIContent/status/603239434494947328
@CrowdContent
A7 And for the love of all that is holy…do not put the media on your general email list! That will get you blackballed veryfast #cmworld
@tracibrowne
Good specific example: #CMWorld  https://twitter.com/BrandedCartoons/status/603240250723475458
@mikemyers614
@CMIContent  A7: Never over promise and under deliver. #CMWorld
@anneke_aswegen
A7. Influencers are busy. Brevity is key in initial outreach. Don't send a novel and expect it to be read. #cmworld
@gonztweets
Q7: When reaching out to media/influencers, definitely shouldn't open with, "You don't know me, but I'm wearing your underwear."  #CMWorld
@WALToONs
A7. The "put up or shut up" approach works wonders. #CMWorld
@SHumblebrag
A7 no one likes a spammer! "Yes I got your automated message the first time, I just chose to not respond to it." #cmworld
@cyclaudiia
@CMIContent result: autoblock? 😀 #CMWorld
@SocialSMktg
@mikemyers614 @BrandedCartoons it's the muu muu, isn't it? #cmworld
@CMIContent
A7 Do not send numerous mails/DMs bugging them to publish your content. That's one way of getting blacklisted by influencers #CMWorld
@kcpravin
@CrowdContent Yes! Especially if you've had some sort of interaction with them before.  #cmworld
@TugceOe
@Twel5 you're welcome #CMWorld
@SocialSMktg
@CMIContent Well…#CMWorld
@mikemyers614
Pitched perfectly #CMWorld  https://twitter.com/mikemyers614/status/603240391308144640
@connieurway
@SpencerHudonII I agree, too much! #cmworld
@rabbleandrouser
Do NOT assume they like cats. #cmworld
@BrandedCartoons
A7 Not returning phone calls promptly…not showing up for set interview #cmworld
@tracibrowne
A7: I hate to say it, but follow instructions. Most sites that take guest content are crystal clear on how things must be done. #CMWorld
@PatrickHayslett
@ardath421 @juliezisman agree! #cmworld
@rabbleandrouser
A7. PLEASE stop adding me to email lists without my permission. "What's your email? I want to send you an ebook." is not permission #cmworld
@gonztweets
@AmandaSubler That can happen – makes HARO great for relationship building, even if you don't experience success immediately! #cmworld
@helpareporter
A7 Lie to them! Seems obvious, but it's crucial to uphold your reputation. #CMWorld  https://twitter.com/CMIContent/status/603239434494947328
@taylorhoren
A7: Don't assume your schedule is their schedule. DON'T email to say that you haven't heard from them and you have a deadline. #cmworld
@JeremyBednarski
Q8: Is it useful to send press releases to media/influencers or is that an antiquated approach?  #CMWorld
A*: This will be interesting (listening) #CMWorld
@mikemyers614
@SocialSMktg absolutely 🙂 #CMWorld
@CMIContent
A8: Honestly, I have mixed feelings about press releases #cmworld
@AmandaSubler
A8 Not antiquated at all. As long as the press release is relevant to what they write.  #cmworld
@tracibrowne
A8: A press release means everyone has the info – give them something unique that they can share #cmworld
@ardath421
@AJutah Getting added to email lists out of the blue is just so irritating! #cmworld
@CrowdContent
a8: press releases are helpful but if the influencers are following the brand, they should be in the know already #cmworld
@mordecaiholtz
You should definitely fax them a press release.  #cmworld
@BrandedCartoons
A8:  I have found they are very useful with local media #cmworld
@AmandaSubler
A8: However, I've found in general national media hate to get them unsolicited-they'd much rather a personalized pitch #cmworld
@AmandaSubler
@ardath421 Interesting…I find it's my job as the writer to find the angle no one else has taken #cmworld
@tracibrowne
A8: One strategy- Can send national media a personal pitch first- then send release if they want more info #cmworld
@AmandaSubler
A8: When I was a radio reporter, I almost *never* looked at press releases. I'd much rather have a personal, researched email. #cmworld
@AJutah
#cmworld make right #content get engaged,  converse & o/p = 🙂 customer http://t.co/etdjQolgc8
@purushms
A8 I think it can be part of a media kit but it's outdated, especially for influencer marketing efforts. #CMWorld
@Twel5
A7 (a) Use discernment in reaching out to influencers.  Every influencer isn't the same #cmworld
@connieurway
I find it's antiquated if you listen to all the chats you attend but actions speak louder and media types still respond positively #CMWorld
@PatrickHayslett
A8: I think not. I use personalized emails-more time-consuming but more  engaging. Our list is pretty small, tho. @CMIContent #CMWorld
@webmastergirl
@BrandedCartoons Stalker alert:  http://gph.is/1pgGoUD?tc=1 via @giphy #CMWorld
@ideakid88
@AmandaSubler Good use of your #contentmarketing #CMWorld
@mikemyers614
A8) Completely and unequivocally antiquated. Still not sure WHy the shotgun approach is still actually used in any way or shape. #cmworld
@WiproDigital
@tracibrowne @ardath421 Me too! But I find press releases don't give the depth you need to find that angle #cmworld
@ardath421
A8 Go ahead and send the press release with a personal note attached. What you think I would be most interested in. #cmworld
@tracibrowne
me too as a TV news producer- though sometimes came in handy to for general background info #cmworld  https://twitter.com/AJutah/status/603241410180026368
@AmandaSubler
Q8. Press releases are awesome!  My spam filter loves them. #CMWorld
@SHumblebrag
A8: More important question? Does press release now mean FAQ? That tends to be why #influencers want it. #CMWorld
@juliezisman
Great advice! #cmworld  https://twitter.com/tracibrowne/status/603241663750877184
@AmandaSubler
A8 I think press releases are useful and relevant but only if people have subscribed to it. #cmworld
@cyclaudiia
First, ask yourself the question, "Why do i have a press release?" #cmworld
@BrandedCartoons
A8: At @24saltlake, I get a few press releases each day, but majority are still not newsworthy. #cmworld
@AJutah
@CMIContent ((((warning sign here)))) to those that do *that* hahaha #CMWorld
@SocialSMktg
A8 We love really bad press releases too…we like to make fun of them "best in class this and that" headlines #cmworld
@tracibrowne
A7 Always pitch with an end goal in mind. Don't pitch simply bc they are on your list or to run up your media hits scorecard. #cmworld
@absolutemobile
@tracibrowne Sounds like fun!  #CMWorld
@mikemyers614
Let your list get out-dated – reporters change jobs quickly/layoffs happen, esp. in today's media industry. #cmworld https://twitter.com/marketmachines/status/603239856781828097
@aesmithwriting
A8) We have lots of clients who still get press releases done. Antiquated or not depends on the industry. Sometimes it's expected. #cmworld
@CrowdContent
"We bought a new coffee pot!" is not a good reason to have a press release.  #cmworld
@BrandedCartoons
A8) Use press releases for media/influencers that like them. If you have a proper relationship, then you should know what they want.#cmworld
@ideakid88
A8. I think it's a piece of the package. I think it's important to be able to at least know how to write one and hone those skills #CMWorld
@JulieM_ISU
yes! #cmworld  https://twitter.com/ideakid88/status/603242168627560449
@AmandaSubler
A8:  IMO I enjoy reading companies press releases on websites #CMWorld b/c it tells you if promises are delivered
@connieurway
@mikemyers614 @tracibrowne but makes some of us cringe and hope we're not on that list! #CMWorld
@CMIContent
Yes you have to know your stuff! What's newsworthy, inverted pyramid to lead w/ your best info etc. 1 PR can't tell whole story #CMWorld
@PatrickHayslett
A8 The media kit now should be just as much multimedia as press release. #CMWorld
@Twel5
A8 Add a line or two to your press release saying you can connect the reporter to experts not employed by company as well. #cmworld
@tracibrowne
@BrandedCartoons Care to elaborate? Just out of curiosity, which end of the conversation were you on? #CMWorld
@bendgibbons
I have a dedicated folder for those called "Bad Examples" (not just for press releases). #cmworld https://twitter.com/tracibrowne/status/603241950284795904
@carmenhill
We'll spend the last few minutes asking @AmandaSubler questions. Ask now! #CMWorld
@CMIContent
A8: The hard part about a press release is that everyone gets the same info. If I were in media, I'd want a unique angle. #cmworld
@JeremyBednarski
ohhh.. I like this! #cmworld  https://twitter.com/tracibrowne/status/603242332830445568
@AmandaSubler
@CMIContent @tracibrowne Everyone's on some list, somewhere. #CMWorld
@mikemyers614
@carmenhill Yeah, those are the ones that always get saved 😉 #cmworld
@tracibrowne
We want to see you at Content Marketing World! Register for #CMWorld by 5/31 for a chance to win a free hotel stay! http://cmi.media/cmw
@PeterLoibl
I would suggest spending less time worrying about press release and more time building a content rich media room on website #cmworld
@tracibrowne
A press release and a telegram walk into a bar… #CMWorld
@mikemyers614
@rabbleandrouser checking the one fr @chmicontent yet but I like d 1 that catches mentions on Twitter. Helpful in relp building. #cmworld
@SocialSMktg
A8: Press releases are table stakes for baseline story.   Must go beyond it with social, community, discussion, engagement. #cmworld
@chiprodgers
@tracibrowne yes! something we are trying to work on! #cmworld
@AmandaSubler
Look at your company website and see how hard it is to find a media contact (phone and email!) #cmworld
@tracibrowne
@ideakid88 No problem. Totally agree. #CMWorld
@mikemyers614
@tracibrowne Oooh, I don't think I want to do this (but good idea) #CMWorld
@mikemyers614
Good conversation on press releases in our #CMWorld chat. Would love to hear your thoughts… https://twitter.com/CMIContent/status/603240938102628353 http://t.co/ciulPbQdKY
@PrBIM
I have a question- how much time do you devote to monitoring media/influencers on your lists?
@AmandaSubler
@tracibrowne @ardath421 Writer may have different perspective on what's unique to them/their audience. #cmworld
@aesmithwriting
@mikemyers614 And an email says "Oh, oh!" #cmworld
@ideakid88
Thoughts? #CMWorld  https://twitter.com/AmandaSubler/status/603243138283601921
@CMIContent
@mikemyers614 I'm not going to hunt it down if I'm looking for a quote…I'll go somewhere else #cmworld
@tracibrowne
THIS #CMWorld  https://twitter.com/tracibrowne/status/603242936545980419
@connieurway
According to Prod Mgr Gomer Pyle, "Our widget's availability in a hot new fuchsia color marks the beginning of widget 2.0!" #CMWorld
@PatrickHayslett
Wrong (but honest) answer, but it depends on how busy I am. #cmworld https://twitter.com/AmandaSubler/status/603243138283601921
@carmenhill
Did you get our press release yet? It's really impt and we want to make sure you don't miss coverage! #CMWorld
@PatrickHayslett
@aesmithwriting @tracibrowne @ardath421 Knowing their perspective is why you develop a relationship first…  #cmworld
@ardath421
A tough reality that most marketers refuse to accept is most everything we think is important is not.  #cmworld
@BrandedCartoons
Fo' sure. This was one of my biggest pet peeves as a small town news reporter…. 1/2 #CMWorld  https://twitter.com/tracibrowne/status/603242936545980419
@aesmithwriting
@PatrickHayslett if reporters had a nickle for every time they heard this lol #CMWorld
@CMIContent
Worst thing ever…making press fill out a contact form instead of supplying an email address #cmworld
@tracibrowne
@tracibrowne Great point. If I have to hunt for it I usually will click out unless I really need it. #cmworld
@ideakid88
fuschia rules! @PatrickHayslett #CMWorld
@connieurway
Thanks again to @AmandaSubler for joining us on our #CMWorld chat today!
@CMIContent
[email protected] just began spending 2 hours each morning to monitor influencers / blogs on my lists. great for curation as well. #cmworld
@gonztweets
They'd make more than than they do now. @CMIContent @PatrickHayslett if reporters had a nickle for every time they heard this lol #CMWorld
@BrandedCartoons
Wrong (but honest) answer: it depends on how busy I am. #cmworld  https://twitter.com/AmandaSubler/status/603243138283601921
@carmenhill
Exactly. #CMWorld https://twitter.com/JeremyBednarski/status/603240897883549696
@SpencerHudonII
@mikemyers614 @tracibrowne Hard to find contact information = Leave us alone. #CMWorld
@bendgibbons
[email protected] I know, that's why I can't believe they haven't picked up our story yet. The reporter must be out of office…#CMWorld
@PatrickHayslett
And that's no joke! #cmworld  https://twitter.com/BrandedCartoons/status/603243559320420353
@carmenhill
Next week, it's all about building subscribers via website and blog with special guest @neilpatel! http://cmi.media/twitterchats #CMWorld
@CMIContent
[email protected] Daily for Influencer engaged content – but it's easy because I have @getLittleBird 🙂 #CMWorld
@juliezisman
@gonztweets great idea to build into your daily schedule.. need to do that more often! #cmworld
@AmandaSubler
2/2  Contact forms, outdated sites, no media contacts or names at all say You probably won't be hearing from us by your deadline." #cmworld
@aesmithwriting
@bendgibbons @mikemyers614 The robotics industry is terrible for finding contact info…most protected asset #cmworld
@tracibrowne
Thanks @CMIContent and @AmandaSubler – great chat! #cmworld
@ardath421
@aesmithwriting so true (and so frustrating) #CMWorld
@CMIContent
Check out @AmandaSubler's work on the @CMIContent YouTube page: http://www.youtube.com/user/cmi42 #CMWorld
@CMIContent
Join me at Content Marketing World http://okt.to/9w5R4g Use promo RACHEL100 to save $100 #CMWorld #contentmarketing http://t.co/HrNIS9IeXt
@CopywriterTO
@AmandaSubler up to 3 hours per client (4-5 platforms) #cmworld
@SocialSMktg
@AmandaSubler we knew you could do it!  #cmworld
@CMIContent
Hurry! Early bird rates for Content Marketing World 2015 end 5/31! Code CMWSOCIAL saves an additional $100! http://cmi.media/cmw #CMWorld
@CMIContent
Going to #CMWorld and want a chance at front row seats for John Cleese? Solve this puzzle! http://bit.ly/1HH078I http://t.co/wU1zP4pvxv
@CMIContent
@CMIContent @tracibrowne <– What they said. #CMWorld
@mikemyers614
@carmenhill if I had the time- I'd spend all day doing it too! #cmworld
@AmandaSubler
@CMIContent biggest piece of advice…anyone can pitch a story…relevance wins out over eloquence every time. #cmworld
@tracibrowne
[email protected] yep! 2 hours may be long, but again, it's new to me. i'll be sure to optimize scheduling. but so far, so good! #cmworld
@gonztweets
This 100x over #CMWorld  https://twitter.com/tracibrowne/status/603244592742424576
@CMIContent
A summer's worth of #CMWorld Twitter chats (via @CMIContent)!  https://twitter.com/CMIContent/status/603243971381370880
@byallwritesLori
[email protected] hah. it's something new i'm trying out, so i'll be optimizing my schedule for it. but no wastes – lots of education. #cmworld
@gonztweets
This. Great takeaway from @CMIContent #CMWorld chat today!  https://twitter.com/tracibrowne/status/603244592742424576
@aesmithwriting
Looking forward to it! #cmworld  https://twitter.com/CMIContent/status/603243971381370880
@aesmithwriting
Past #CMWorld Transcripts? This link is Gold, Jerry! Gold!  https://twitter.com/CMIContent/status/603243971381370880
@BrontoJim
8 super-simple tools you can use to create better #content http://contentmarketinginstitute.com/2015/04/free-tools-better-content/ via @cmicontent #CMWorld
@cmcphillips
Check out AmandaSubler's work on the CMIContent YouTube page: http://www.youtube.com/user/cmi42 #CMWorld http://t.co/k5ZwlGW8uZ
@PrBIM
@CMIContent I'd love to see a future #cmworld chat about planning a content calendar! Thoughts?
@AJutah
Just dealt with this…please don't. #CMWorld  https://twitter.com/JeremyBednarski/status/603240897883549696
@EmilyAhlbum
Marketing is about the Engagement, Not the Channel – Microsoft – http://klou.tt/17okx8wqreeul #CMWorld #channelmarketing
@CMRchannelmgmt
Posted June 1, 2015 in: Event by Kim Borden
---