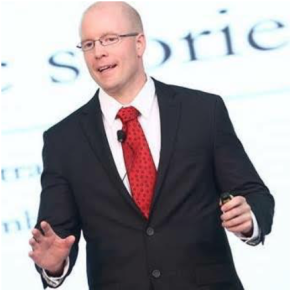 Each year at CMWorld it's invigorating to see new faces and heartwarming to see old friends. But, why should we have to wait until September to get to know some of our attendees? Each week we'll invite you to meet one of our Content Marketing World 2016 attendees. Next up, Christoph Trappe, an old friend, who is taking his authentic storytelling passion and traveling around the world to share it. Let's meet Christoph:
Is 2016 your first trip to Content Marketing World? 
No. Third time is the charm – or something like that. I didn't even make it through the first question without a cliche. LOL.
What is bringing you back to CMWorld in 2016?
Awesome speakers, meeting up with old friends, and who doesn't love live tweeting conferences? 🙂
How did your career lead you to content marketing? 
I've been a storyteller my entire career – even my whole life. I'm working on moving authentic storytelling into the content marketing realm. Currently, I do that mostly in healthcare, but will talk to anyone who wants to share authentic stories to help their business, themselves and their communities to live better lives.
If you switched careers today, what would you be doing? 
I don't think so. Ha. If I'd win the Powerball, I would move somewhere warmer than Iowa and blog about storytelling, write a few more books and talk about authentic stories. So pretty much like now. My childhood dream was to play in the NFL. I think that has passed now. 🙂 I did make it to play in the Big 10 at Iowa, but that was the end of that.
What is your biggest content marketing challenge? 
People want results too quickly. Why isn't this campaign already working after one day? Give it time! Overnight success takes longer than one night's sleep.
Where is one place in the world you'd like to visit? Why? 
Hmmm. Good question. I grew up in Germany so visited many countries in Europe on family vacations. I've never been to China or Australia. So maybe those could be next.
If you could sit down with one person in our industry, who would it be? What would you want to ask?
I would probably just tweet them. I've had the pleasure to meet many of the ones I'd like to talk to. Jeff Bullas, Joe Pulizzi, Andy Crestodina, etc. I love when people tell me something I didn't know, yet. Jeff Bullas in Mumbai told me why he tweets every 15 minutes. "Christoph. because it works. Twitter moves so fast." I tried it – using the tool he recommended. He was right indeed.
What is one orange item in your life you can't live without?
#CMWorld, of course. Are there other correct answers to this question? 🙂 (Editor's note: Bonus points…orange, of course, for this one!)
To meet Christoph and even more of our #CMWorld community in person, register now for Content Marketing World 2016! September will be here before we know it, and take advantage of great prices now! In fact, BLOG100 saves $100 off of current pricing! Questions? Please leave a comment here, or email cathy [at] contentinstitute.com. 
Posted January 26, 2016 in: Event by Cathy McPhillips
---