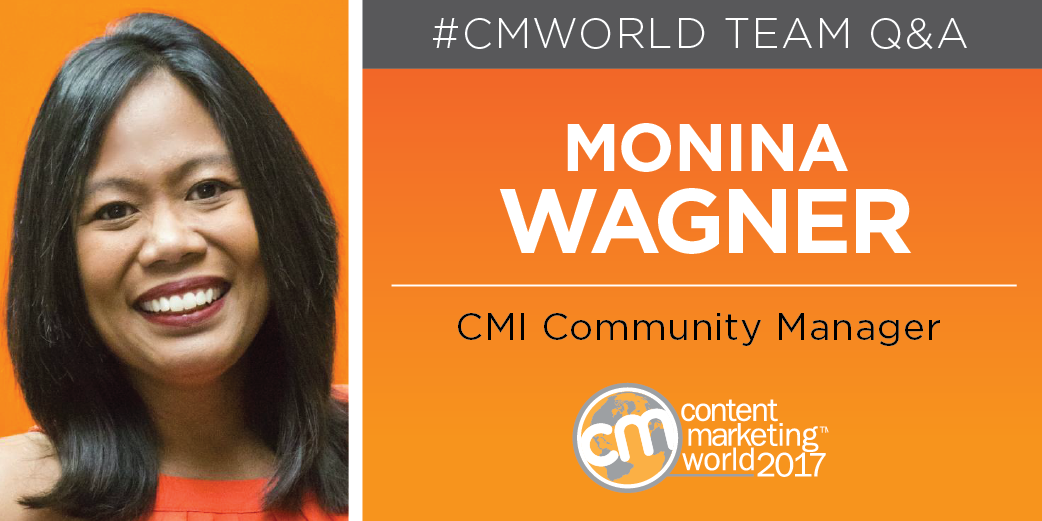 If you've tweeted to CMI or on the #CMWorld thread, taken part in a Twitter chat, been active in our LinkedIn group, been wowed by the content marketing examples on Facebook or have enjoyed the Instagram posts, you've been connecting with and seeing the work of Monina Wagner. Monina, or Mo to many of us, is the Community Manager for CMI, covering social and community management day in and day out. Mo's love of being the voice of CMI comes from a background in journalism and news and an interest in connecting with customers through storytelling. Learn more about Mo and all she's brought to our team:
Explain your role at CMI. What kinds of things do you do on a day-to-day basis?
I am CMI's community manager. First and foremost, I am responsible for the organization's brand on social media. I create content, respond to comments and concerns, and monitor online conversations. But being a community manager is much more. I am also responsible for advocating for the brand – on and offline. I actively go out into the community to connect with influencers and boost awareness for the company. This can be done through our weekly Twitter chats, conversations with community members, or meetups at our flagship event, Content Marketing World.
What makes you the most excited about work each day?
I love talking with our community or prospects. I set aside time every afternoon to check on the progress of a community member's latest project, the health of another's sick child, or if a storm affected one's neighborhood. This kind of engagement shows members how truly important they are in our thriving community.
What is your background, and how did it lead you into content marketing?
I have a degree in journalism and spent over a decade in local television news. But even then, I was using my community management skills to help our newsroom succeed. Social media wasn't exactly a career path yet, so I played on Facebook and Twitter during my free time. A vice president at an ad agency noticed my work and one thing led to another. Before I knew it, I was representing national brands and growing a community of like-minded mom bloggers for them. Good storytelling played a huge role in both jobs, so making the transition into content marketing was nearly seamless.
What kind of people do you want to connect with more?
It's always great to take an online relationship offline. Content Marketing World provides a fantastic opportunity to meet community members face-to-face. I met several of my closest friends because of one tweet.
If you had a personal mission statement, what would it be?
To live life with integrity. And to always remember there's a great, beautiful tomorrow at the end of every day.
Besides content marketing, what other niche could you write about? 
All things Disney. I absolutely adore the Mouse. I served on the Disney Parks Moms Panel so I like to think I hold a lot of secrets a first-time guest wouldn't know.
What's the last good book you've read?
Because I'm reading industry articles all day, I typically need to give my brain a break. So, I binge watch whatever reality TV show happens to be on at that moment! But I do admire Glennon Doyle Melton. Her book Love Warrior is one of my most recent reads.
What's something you'll always find in your refrigerator or pantry?
Fish sauce. It's a staple ingredient in Filipino cuisine. I grew up using fish sauce during many meals, and now my daughter has acquired a taste for it too. We also have several bottles of it in our house.
Awesome, Mo! We're so glad to learn new things about our team, and we're happy you're part of it. I look forward to seeing you rock the engagement at Content Marketing World this year and show our community (in attendance or not) all our event and community have to offer.
For those of you that would like to join Mo and the CMI/CMWorld teams at Content Marketing World, there's still time, but we're running short on it! Register today for the largest content marketing event on the planet. Code BLOG100 saves $100.
Posted August 31, 2017 in: Event by Cathy McPhillips
---