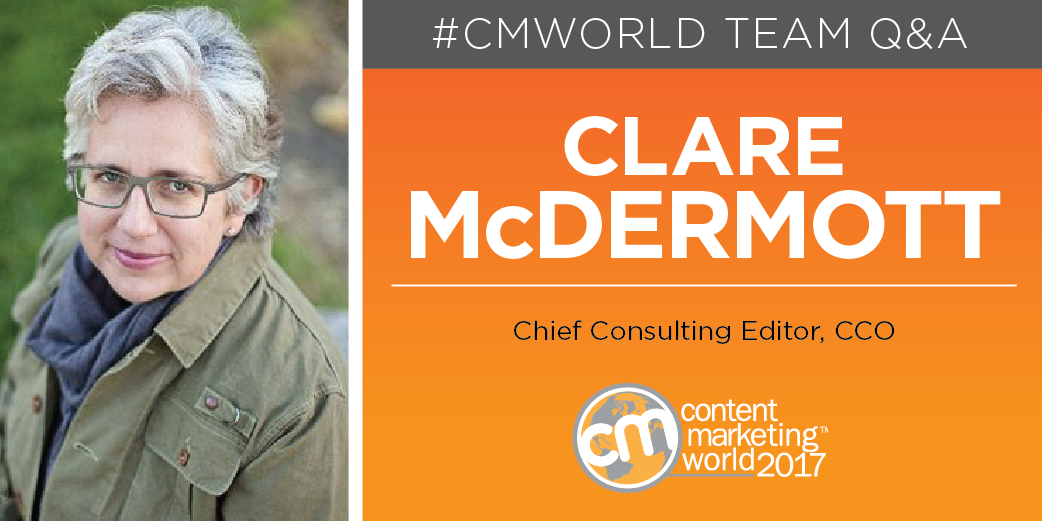 If you're a Chief Content Officer (CCO) magazine subscriber or reader, you've enjoyed the work of Clare McDermott, our chief consulting editor. And if you've attended Content Marketing World, Clare has had the pleasure of sharing the main stage most recently with Colson Whitehead, Pulitzer Prize-winning author of The Underground Railroad. Aside from her role publishing the bi-monthly magazine and unearthing some amazing stories for our community, Clare is someone we all wish lived a little closer to us so we could hang out with her and her beautiful family. And that sense of humor! If you don't know Clare, you won't want to skip over this. Enjoy!
If you had a personal mission statement, what would it be? 
Always be on the lookout for inspiration and joy, even in the tiniest of details.
Besides content marketing, what other niche could you write about?  
My focus outside of my role with CCO magazine is original research for content marketing. I help companies tell data-driven stories to inspire and educate their audiences. The subject areas related to this are:
– The ins and outs of original research for content marketing—from strategy and survey design, to data visualization and publishing … and everything in between.
– The art of interviewing experts. I got my start as an interviewer for market research a decade ago, and since then I've grown to appreciate interviewing as an art and science.
– Data visualization. I'm passionate about the intersection of data science and storytelling.
– All the accumulated knowledge of editing a print magazine for content marketers for nearly a decade!
What's the last good book you've read? 
I have a problem reading only one book at a time. Instead I make progress on a few at once. These are all on my bedside table right now.
– Mindfulness in Plain English by Bhante Gunaratana. Meditating focuses my mind and this book is helping me advance my practice.
– Don't Die on the Mountain by Dan Allen. (No, seriously.) I love winter hiking and this book is helping me overcome my fear of taking my kids up mountains during New England winters.
– Tools of Titans by Tim Ferriss. Fantastic interviews with ridiculously bright minds.
– Storytelling with Data by Cole Nussbaumer Knaflic. A great primer on data visualization.
What's something you'll always find in your refrigerator or pantry? 
Ras el hanout. My kids say I put it in almost everything … but no one's complaining! It's a Moroccan spice blend.
What's something else you'd like our community to know about you? 
I take vacationing seriously. I'm a big believer that stepping away from work (and even more, getting work out of your head) makes you more creative and more productive. My favorite vacations are New England hiking/backpacking trips, but I also love our family's surprise day tradition. Surprise day involves waking the kids at 6am and telling them they are skipping school to go on a very awesome outing. Last year we played hooky and went fishing for stripers in the outer harbor of Boston. This year I'm stepping up my game. It possibly involves goats.
Thank you, Clare! We're so fortunate to get to work with you and learn from you.
Interested in seeing Clare in person? Join her – and the rest of the CMI crew – at Intelligent Content Conference 2018, taking place March 20-22, 2018 in Las Vegas!
Posted October 23, 2017 in: Event by Cathy McPhillips
---