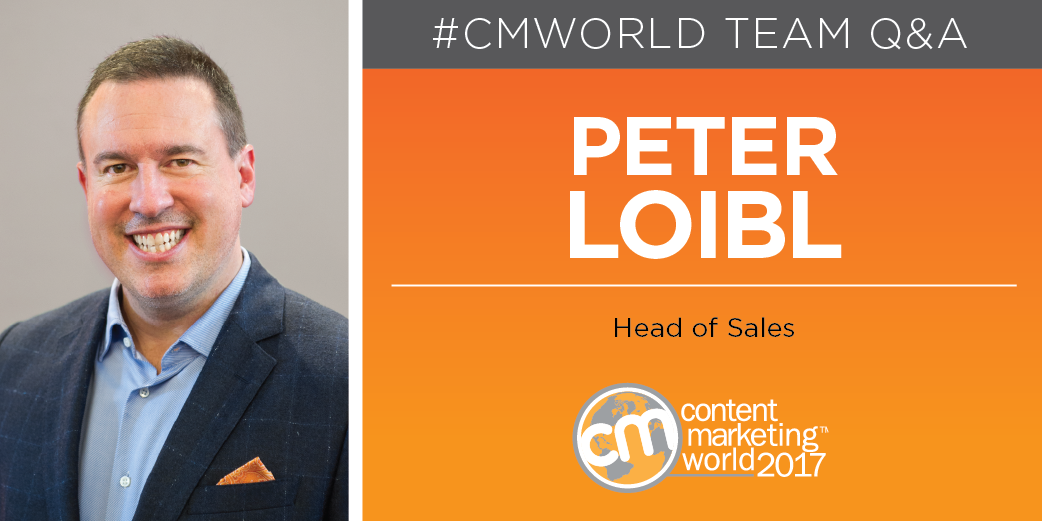 Content Marketing World isn't complete without the amazing expo hall of our relevant, dedicated and vibrant sponsors. Our CMI website isn't functional without the support of incredible benefactors and supporters. Our magazine can't print without advertisers and of course great articles to make it an award-winning publication. Leading the charge for these efforts and many others is Peter Loibl. Peter has been with CMI since the early days, and has connected CMI with some incredible supporters and friends, has built relationships and has grown our brand and the industry, and has done it in the kind of way that brings partners back again and again. We're lucky to have him on our team! Take a few minutes to get to know Peter if you don't already.
What kind of people do you want to connect with more – whether at Content Marketing World or at UBM? 
I think it's a copout to state that I like connecting with "smart" people or "nice" people, so, instead I like connecting with "challenging" people. Let me clarify: I love when someone's viewpoint throws a wrinkle into my mindset, thus challenging what I had believed to that point. Nothing intrigues me more than a person who makes you stop in your tracks and think "Huh – I hadn't pondered that." Sidebar: I also welcome any conversation with fellow members of the Ohio State Buckeye Nation.
If you had a personal mission statement, what would it be? 
To provide guidance, education, value and opportunity to the ever-growing universe of Content Marketing practitioners, solution-providers and evangelizers.
Besides content marketing, what other niche could you write about?  
I'd like to say I am capable of waxing poetic the ins and outs of Thermodynamics or Elizabethian literature, but alas, if forced to write about something I know like the back of my hand, it is the (albeit shaky) history of New York Mets baseball.
What's the last good book you've read? 
With utmost respect to many content marketing thoughts leaders who have authored some tremendous work (including our very own Joe Pulizzi and Robert Rose), I just finished Outliers by Malcolm Gladwell, and I can honestly say it changed the way I look at success and, more importantly, preparation and focus.
What's something you'll always find in your refrigerator or pantry? 
I can't get enough of Rao's marinara sauce … it is physically addicting, not kidding. Rao's is this legendary Italian Restaurant in East Harlem, NY, and while it is practically impossible to wrestle a table away from the Manhattan socialites who frequent the establishment, you can pick up their signature sauce at the grocery store (at least in New York anyway). DELICIOUS!
What's something else you'd like our community to know about you? 
One of my earliest jobs as a teenager was working at Dairy Queen, and one time I broke the Blizzard machine when I went rogue and tried blending the hard ice cream instead of the soft-serve ice cream, which was a strict No-No mandated by management. While I got away with it, I often look at that experience as the moment I realized that maybe, just maybe, it is worth considering others' feedback before unabashedly trying something stupid.
Thank you, Peter! This is fantastic, we're so happy to work with you and spread the content marketing love around the globe. And we love your dedication to all of your favorite teams, most especially the one in Ohio. O-H!
Interested in seeing Peter in person? Join him – and the rest of the CMI crew – at Intelligent Content Conference 2018, taking place March 20-22, 2018 in Las Vegas!
Posted November 15, 2017 in: Event by Cathy McPhillips
---