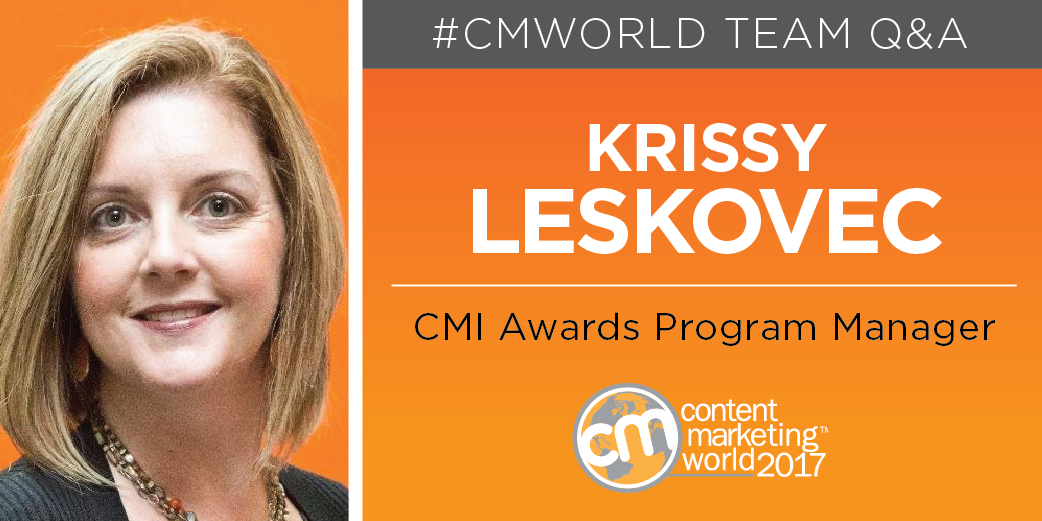 With the volume of content out there today, how do marketers know which examples to turn to for inspiration or new ideas? How do growing brands and agencies look for top talent? The Content Marketing Awards helps do all of the above, along with honoring the best of the best in our field each year. Our awards program opens in February and closes in May, with category winners announced in July. In September, the program culminates at Content Marketing World on the main stage where the top agencies (big and small), project and content marketer of the year are announced. Behind all of this is Krissy Leskovec, the program manager of the CMAwards. Aside from her diligence making this a seamless program each year, Krissy has added new ideas to cross-promote other CMI offerings, and is always willing to help and show up whenever our team needs something – including a coffee meetup or lunch, much-needed for a virtual team. Also, if you are from the west side of Cleveland, there's a pretty good chance one of your friends is one of Krissy's 100+ cousins!
Take a few minutes to learn more about Krissy:
Explain your role at CMI. What kinds of things do you do on a day-to-day basis? 
As the Content Marketing Awards Manager, my day-to-day looks different depending on the time of year. The awards entry period begins in January and the judging is completed by early July. During that time, I'm working behind the scenes making sure the awards program software is running smoothly for both entrants and judges. I receive and organize all of the print materials that are mailed in, and get them ready to send to our judges once the entry period ends. And, when someone calls or emails with questions, I'm always there to help. Once the winners are announced in mid-July, there's so much that goes into making sure our winners and finalists receive the recognition they deserve. I begin working with our editorial and events staff, our trophy vendor, printer, and awards sponsor regarding CCO, blog posts, CMWorld, trophies, certificates, and more. After CMWorld, I begin working on the upcoming year's Content Marketing Awards program so that we're ready for the next Call for Entries, just around the corner.

What makes you the most excited about work each day?
I'm most excited about learning more each day! It may be learning more about the software that we use, learning about some of the different entries, or learning something new about one of our judges – just by reading through their bios on our Judges page, you see how much knowledge they all have regarding content marketing!

What is your background, and how did it lead you into content marketing? 
My background revolves around customer service, philanthropy, and project management. Providing excellent customer service, finding solutions, and detail management are me in a nutshell. I worked with or volunteered at four non-profits, Komen Breast Cancer 3-Day, Leukemia & Lymphoma Society, Bright Side of the Road Foundation for ALS, and the Orange Effect Foundation, managing fundraising teams, large scale events, and much more. I knew Pam and Joe on personal level, and was working with them on the Orange Effect Foundation. When they were looking for someone to manage the Content Marketing Awards program, I was offered the opportunity manage the program, and I love it!

What kind of people do you want to connect with more? 
I'm always interested to meet any CMAwards entrants and Judges at Content Marketing World. It's fun to meet them face-to-face! I also like to meet people that are passionate about different non-profits and learning their why.

If you had a personal mission statement, what would it be? 
Be kind, be helpful, and be positive.
Besides content marketing, what other niche could you write about?
Hmm, let's see. Parenting two daughters, existing in a large Irish Catholic family, or maybe even pet adoption.
What's the last good book you've read? 
There was a time when I always had a book ready for when I finished what I was reading, but don't always make the time to read anymore. The most recent book I read was actually something that my 11 year old daughter was reading, Making Bombs for Hitler. She mentioned multiple times through the book "it's so good, you have to read it". It actually was a great book and it was so much fun to have little book club discussions with my daughter about it!
What's something you'll always find in your refrigerator or pantry? 
Chips and salsa
Thanks, Krissy! We're so excited for this afternoon when the 2017 Content Marketing Awards big winners are announced this afternoon at Content Marketing World. Hopefully you get a minute to catch your breath before the 2018 Content Marketing Awards planning begins!
If you're reading this and didn't make it to CMWorld 2017, we have a few options for you: (1) Buy an expo pass for tomorrow only! Walk on in and we can get you registered. This will give you access to our expo hall, and all of our networking. (2) Join us Friday for our industry labs, where we hone in on content marketing opportunities, challenges and case studies for specific industries. (3) Consider our video on-demand package, giving you post-show video access to over 100 main event breakout sessions. Visit our registration page for info on all of the above. And, most definitely, (4) keep Content Marketing World 2018 in your plans. Mark your calendar now…September 4-7, 2018 in Cleveland, OH!
Posted September 6, 2017 in: Event by Cathy McPhillips
---