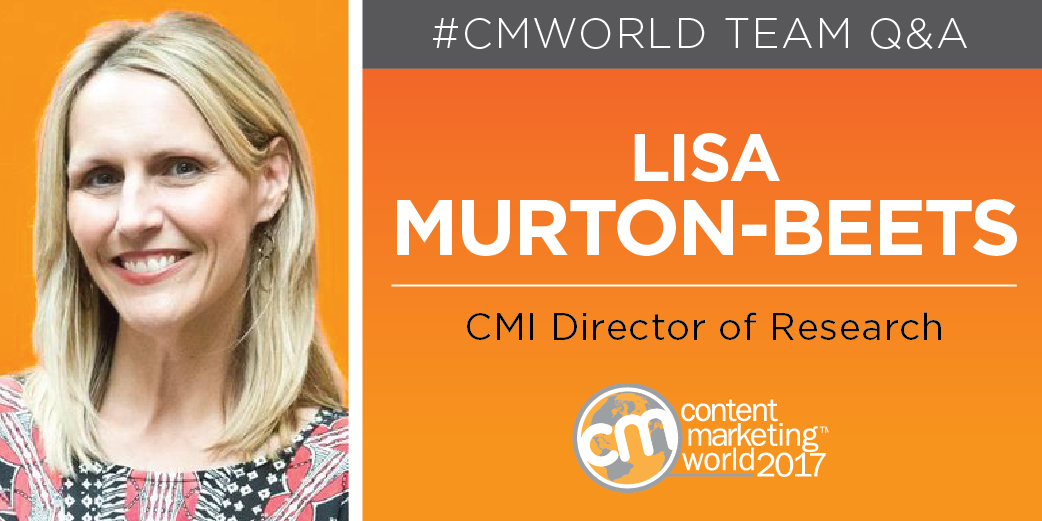 It's another chance to meet some of the CMI team! This week we'd like to introduce you to Lisa Murton Beets, our research director. Lisa has been with CMI since 2011 and has put together our annual research reports as well as custom research reports with some of our clients. What impresses me each year is the care Lisa puts into our annual reports, the questions she asks, the way the numbers are dissected and analyzed, and then presented to our audience. Our content marketing annual research is CMI's biggest piece of content marketing (how meta!) and we're so glad Lisa runs this for us. Take a minute to learn more about Lisa.
Explain your role at CMI. What kinds of things do you do on a day-to-day basis?
As research director, I study the business of content marketing. What are the trends? What is our audience learning, and where are the information gaps? What hypotheses do we need to test? What kinds of things are the best-in-class content marketers doing? My job involves a lot of project management and collaboration with our executive, sales, marketing/social/PR, design, and editorial teams, as well as our research consultants and sponsors. I design surveys, analyze data to pull out insights, write research reports, manage release details across the internal team, blog about research findings, etc. I also read a lot to keep up with developments in the content marketing industry.
What makes you the most excited about work each day?
I am most excited about getting to learn something new every day! I love to watch projects come to life from the initial vision to the final product. It's especially satisfying to meet people at Content Marketing World who tell us how helpful our work has been to them.
What is your background, and how did it lead you into content marketing?
My education focused on promotional communication. I started out as a B2B journalist on a monthly trade magazine. I then became a freelance writer and editor and moved into copywriting and custom publishing, which is when I first began working with Joe Pulizzi. Later, when Joe started Junta42 (prior to founding CMI), I began writing marketing-focused copy for him, and then began to edit books about content marketing. During those years, I also worked in non-profit communication and started a small business with my husband. When CMI decided to grow its research efforts, I was offered the opportunity to take the reins. It was a natural fit for me, and I love it!
What kind of people do you want to connect with more?
I enjoy meeting people who are passionate about what they do and are always seeking to learn and exchange ideas. I've met so many interesting, smart, and friendly people at Content Marketing World, and I look forward to meeting many more both at the event and within UBM.
If you had a personal mission statement, what would it be?
My personal mission statement is to be the best I can be every day; to be kind and encouraging to others. I'm all about lifting up rather than tearing down.
Besides content marketing, what other niche could you write about?
Indoor comfort and energy-efficient buildings (which were among the topics I covered as a freelancer), business writing/editing/publishing, survey design, and anything related to the chaotic (but fun!) lifestyle of being the mom of two boys.
What's the last good book you've read?
I like fiction, but I don't read a lot of it. I'm more of a skimmer of non-fiction titles – everything from business books to personal development to faith to cookbooks. I'll go to the library and come home with a stack of books that catch my eye and speed-read all of them over a few days. I read a ton on the internet as well. I recently decided to read more fiction, so I'm taking note of good books that others recommend.
What's something you'll always find in your refrigerator or pantry?
Chobani Flips in Key Lime Crumble. I'm hooked! And coffee – while I wish I could say I always have it on hand, Michele Linn can testify that I don't (too many runs up to Starbucks)!
Freebie (optional): What's something else you'd like our community to know about you?
I started working in publishing during college — typing the entire contents of monthly magazines on typewriters. Typos were extremely painful (and time-consuming) to fix, so you had to be accurate — which explains why, to this day, I can still type almost 100 wpm. Later, I was among the first editors to get a desktop computer (I can still remember the scary green glow of type on the boxy black screen). I became a freelancer before the Web. I used to hand-deliver thick piles of "marked-up copy" to clients, along with articles saved on floppy disks. I was an early subscriber to AOL, and truly looked forward to hearing the words, "you've got mail!" I've loved being a part of the technology evolution and I can't wait to see what AI holds for our content future!
Thank you so much, Lisa! We love how you bring our research to light and uncover so much to help our industry. And we're also excited to see your presentation at Content Marketing World.
To meet Lisa and other members of the CMI team, join us at Content Marketing World 2017. Registration is still open, and it's not too late to register. Use code BLOG100 to save $100 off main event and all-access passes. See you soon! Our event takes place September 5-8, 2017 in Cleveland.
Posted August 4, 2017 in: Event by Cathy McPhillips
---