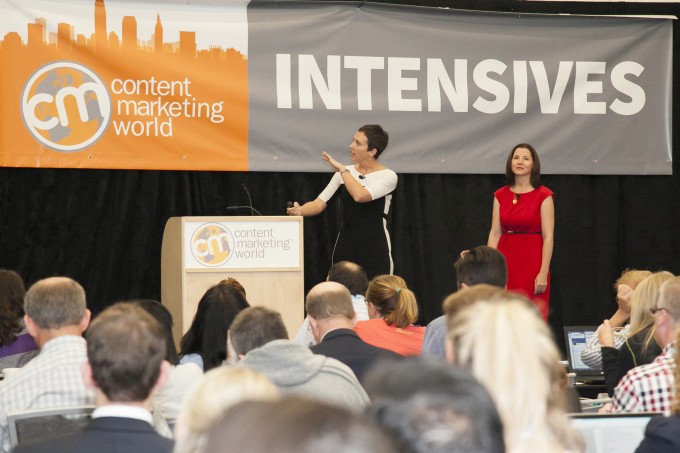 Every Thursday, a Scripted writer will recap a session from Content Marketing World 2014 that will be published here on the CMWorld blog. Find out more about Scripted by visiting their website.
Content Marketing World 2014 saw businesses from around the country come together in Cleveland to learn more about how they can reach explosive content growth. But with millions of pieces of content shared online each day, content marketers are often wondering: "How can my business stand out and grab the attention of consumers who are already swamped with content messaging from every angle?" According to Melissa Breker, Founding Partner of Content Strategy Inc., and Jenny Magic, Principal of Content Strategy for SiteGoals LLC, adaptive content is a proven and effective way to break through the noise.
The two took the spotlight to present "Getting Started with Adaptive Content – Collaborate With Your Tech Team Using Existing Tech Tools," and discussed how personalizing content to your users is easier —-and more affordable — than one may think. Drawing on years of experience with adaptive content, Breker and Magic walked the audience through basic education on the concept, and blended a hefty dose of intermediate content strategy techniques that every business can use to exhibit serious content growth.
1. Use Tools You Already Have To Segment Visitors
Breker and Magic kicked off their lecture by pointing out that the first step to adaptive content is to understand your audience and what they want. Website segmentation can sound complex if you're not familiar with the strategy, but it's really as simple as placing your visitors into categories or "buckets" — and you don't need specialized tools to get started.
"At a very base level, even if you're not willing or able to take a big leap into new technology, you can use something called the user-agent string that the browser delivers about every single visitor that comes to your website," Magic said. She explained that these strings provide readily available data points you're used to seeing in website analytics like IP address, geographic location, device used, and whether the visitor is new or returning. By combining this basic data with anything you already collect from visitors — such as profiles for logged in guests, purchase histories, site behaviors — you begin to form segmentation categories for all of your visitors
2. Leverage Context To Inform Your Content Mix
Breker and Magic discussed the importance of placing your user information in context as a way to determine which content should be shown at what points, to which visitors. Once again, this context doesn't have to be complicated or hard to collect. Tracking data such as environmental context (including any holidays or current events that affect individual users), traffic sources, site search data, and browsing patterns can help you segment visitors even further. Magic revealed that once you have this data you can "make some inferences about their goals" and "make guesses about what content they might need."
3. Personalize Content Based On What You Know
Content personalization is at the heart of an effective adaptive content strategy. It can be easier to understand what type of content your users want to consume by using the basic methods to segment website visitors, in addition to applying context to user environments and behaviors. These keys to what users want can be stored client-side as cookies, in URLs, or in local storage and used to serve personalized content and deliver it to the right user at the right time.
Some examples Breker and Magic discussed include welcome screens, imagery based on browsing patterns, location-centered resources, and customized product selection. As Breker noted, the ultimate goal is to "match customers to content."
Adaptive content is about giving your visitors exactly what they need, before they know they need it — and that means more profit for your business. As Breker says in her conclusion: "The great news is, guys, this is really profitable." Even if your business doesn't have the resources to invest in massive infrastructure changes or new technology stacks, you can partner with your IT team or CMS vendor and use existing tools to implement an adaptive content strategy. This will help increase engagement and boost your bottom line.
To find out more about adaptive content, read the transcript from our recent twitter chat with Melissa and Jenny.
Scripted provides high-quality, original content for a flat rate with a set turnaround time. Post guidelines for what you need, and five days later you'll receive professionally written and edited content.
Posted November 20, 2014 in: Event by Scripted Writers
---