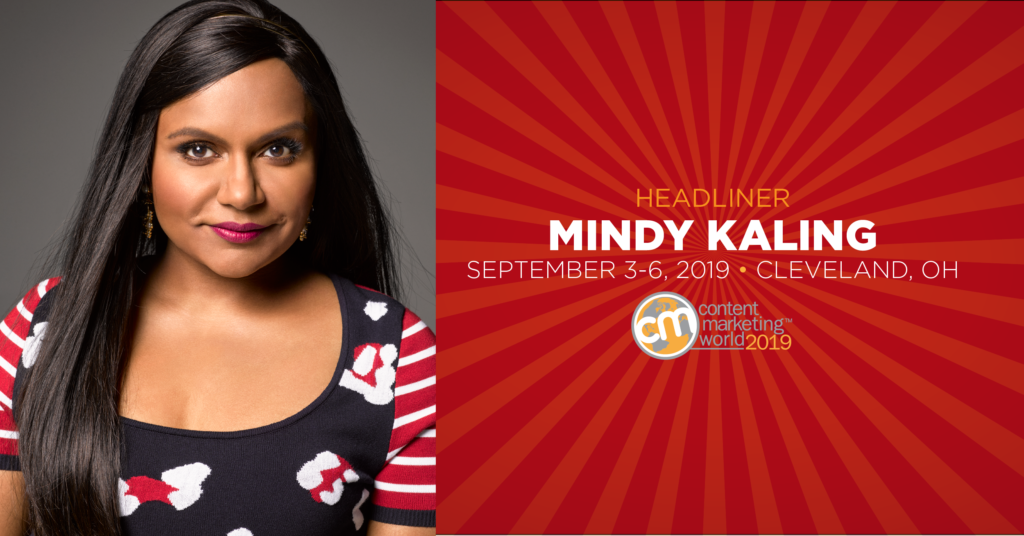 We know her as Kelly Kapoor from The Office, Dr. Mindy Lahiri in "The Mindy Project", and Amita, the jewelry maker in Ocean's 8.
But there's so much more to Mindy Kaling than what we've grown accustomed to seeing on the big and small screens, and we're thrilled to announce that Mindy will be sharing her story with us when she headlines Content Marketing World 2019.
A LITTLE ABOUT MINDY
She's an actor, writer, producer, author, and director. Aside from starring in The Mindy Project, she also wrote, and executive produced the series from 2012 to 2017. In 2013, the show was nominated for a Writers Guild Award in the New Series category.
Before "The Mindy Project," Mindy was best known for her work on the critically acclaimed, Emmy Award-winning NBC show, The Office. In addition to directing, producing, and portraying celebrity-obsessed Kelly Kapoor, Mindy wrote 26 episodes of the series, including the Emmy nominated episode "Niagara." Mindy was the first woman of color nominated for an Emmy in writing.
You remember the "Niagara" episode from October 2009, right? The wedding scene from The Maid of the Mist and Michael Scott getting teary watching Jim and Pam…and 9.42 million viewers getting choked up right along with him. Sniff.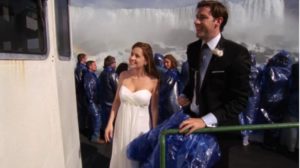 At the 2019 Sundance Film Festival, Mindy premiered her debut screenplay titled LATE NIGHT.  With a cast including Emma Thompson, Reid Scott, Ike Barinholtz, Amy Ryan, John Lithgow and Mindy herself, the film received critical acclaim at the opening weekend of the festival and sold to Amazon Studios for a record setting $13 million US rights deal.  LATE NIGHT will open in the US on June 7th, 2019.
Mindy recently finished production on a mini-series adaptation of the popular film "Four Weddings and a Funeral" for Hulu. She served as a writer and executive producer on the project. The series is slated to debut in 2019. Mindy recently started in the writer's room for her new untitled Netflix series that she is creating with Lang Fisher. The 10-episode will be a modern comedy-of-age comedy about the complicated life of a modern-day first generation Indian American teenage girl, inspired by Mindy's own childhood. In addition, it was recently announced that she will write, produce and star in an untitled comedy for Universal opposite Priyanka Chopra. Co-written with Dan Goor, the film will revolve around a big wedding in India and the ensuing culture clashes.
In 2012, Mindy was named to the Time 100 Most Influential People in the World List. She was honored with the 2014 Glamour Women of the Year Award. In 2018, Mindy delivered an impactful commencement address at Dartmouth College and received the honorary degree of Doctor of Humane Letters.
WHY CONTENT MARKETING WORLD FOR MINDY?
What excites us about Mindy is her dedication, tenacity and knowledge of her craft.
Here's what we mean:
CONSTANT LEARNING: Mindy learned Hindi for her role in Ocean's 8. With her parents speaking two different Indian languages, the only language her family had in common was English. "I had to become fluent enough in Hindi that I could speak it with ease in a couple of scenes and that wasn't easy because I don't speak any Indian languages," said Mindy.
DIVERSIFYING OFFERINGS: It's not just in front of the camera for Mindy, it's also behind the microphone. Mindy has lent her voice to multiple blockbuster animated comedies including the Oscar-winning Pixar film, "Inside Out."
FOLLOWING PASSIONS: She is breaking barriers and has become a role model to many. In Disney's "A Wrinkle in Time," Mindy had a leading role representingcharacters that she hadn't seen when she was growing up.
VENTURING INTO NEW MEDIUMS:In 2011, Mindy added author to her resume when she published her comedic memoir "Is Everyone Hanging Out Without Me? (And Other Concerns)," which appeared on the New York Times bestseller list. Her second book, "Why Not Me?" was published in 2015 and launched at number one on the New York Times bestseller list.
Follow the Content Marketing World 2019 blog for even more about CMWorld and Mindy. We have more up our sleeves and are excited to share it all with you!
You're not registered yet??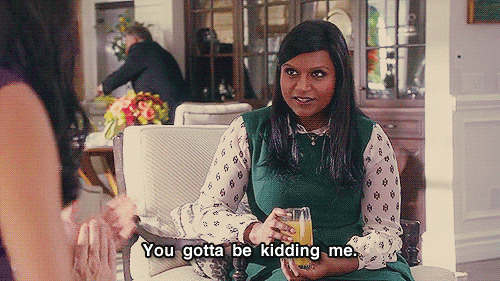 That's OK, we have time. But don't forget that our early bird rates expire on May 31, which will be here before we know it. Use code BLOG100 to save an additional $100 off those early bird rates and register today!
Posted May 14, 2019 in: Event by Cathy McPhillips
---