Content Marketing World is part of the Informa Connect Division of Informa PLC
This site is operated by a business or businesses owned by Informa PLC and all copyright resides with them. Informa PLC's registered office is 5 Howick Place, London SW1P 1WG. Registered in England and Wales. Number 3099067.
Natural Language's Impact on Content Marketing: A #CMWorld Chat with Sean Van Guilder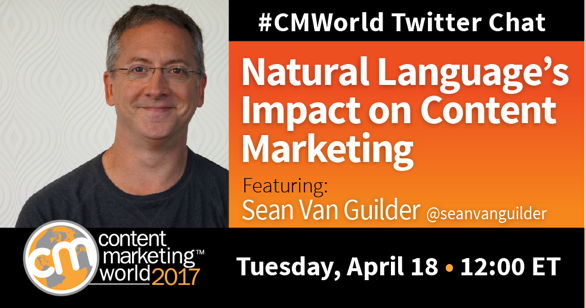 Have you ever talked to Alexis or Siri? Searched for a restaurant or store "near me"?  Or have you run a sentiment analysis of social media posts? That's natural language processing (NPL) doing its work.
On a recent #CMWorld Twitter chat, we discussed natural language and its impact on content marketing with Sean Van Guilder, Director of SEO at Point It. What follows are some of the many insights from the chat. Want more information on NLP? Be sure to read our Storify.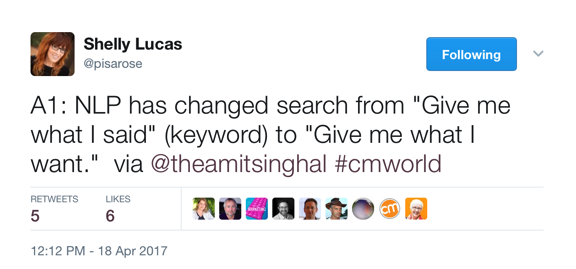 Defining NLP
Natural Language Processing is about machines imitating the way humans understand language. By extracting intelligence from human language, we can get smarter about our content and provide a better experience to our customers.
NLP and SEO
In recent years, NLP has changed the way the web works. Now, searching the internet has shifted from keywords to discovery based on context and intent. This means marketers should plan content around topics instead of focusing on a single keyword, taking into account the fact individuals think differently and might not use the same words to search the web.
Want to learn more about the future of content? Attend Content Marketing World in Cleveland, September 5-8, 2017.  Register before June 3 to secure Early Bird rates. Use code SM100 to save an extra $100.
Posted April 20, 2017 in: Event by Monina Wagner
---
UP