Content Marketing World is part of the Informa Connect Division of Informa PLC
This site is operated by a business or businesses owned by Informa PLC and all copyright resides with them. Informa PLC's registered office is 5 Howick Place, London SW1P 1WG. Registered in England and Wales. Number 3099067.
New to CMWorld 2014: Meetups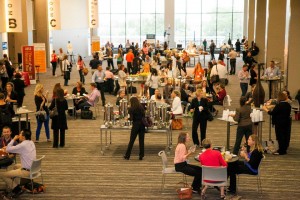 My, how we've grown! From 600 attendees in 2011 to 2,500+ attendees in 2014 – what a difference a few years makes. As Content Marketing World continues to grow, the team is making every effort to make sure that the event still has the feel of an intimate event: select small sessions, networking breaks, and new this year: MEETUPS!
Within our exhibit hall we've created a meetup lounge, perfect for some of our smaller communities and groups of attendees to congregate during breakfasts and breaks. We hope you can take advantage of this space and join one or more meetups that apply to you.
See the schedule below:
Tuesday

 

7:15 am – 8:15 am

#CMWorld Twitter chat:

Are you one of our #CMWorld twitter chat regulars? We love our Tuesdays at 12pm Eastern when we see our chat friends, but we're really excited to meet IRL! Interested in finding out more about our chats? Join us!

10:15 am – 11:00 am

New attendees:

Are you new to CMWorld? We're thrilled you're here. Connect with other new attendees, share expectations of the event, and meet some of the CMI/CMWorld teams and some event veterans. We'll be ready to answer any questions you may have.

1:45 pm – 2:30 pm

Flying solo:

Even with 2,500 other attendees, we know it's hard to meet new people in the first few hours of an event. Join others that are here alone, make a new connection and find a conference buddy.

4:15 pm – 4:45 pm

CMI contributors:

If you blog for CMI, write for CCO, instruct an online class, please join us for this meet up. This meetup is for the contributors to our CMI blog, online training course and CCO magazine. Spend time with Michele, Jodi and Clare to talk about upcoming initiatives, and be prepared for some thanks and appreciation for your great work. Interested in contributing? Please stop in.

 
 

Wednesday

 

7:30 am – 8:30 am

Connect with freelancers:

Are you a freelancer or are you looking for one to help you? Join us for breakfast on Wednesday to swap business cards and make some new connections.

10:45 am – 11:15 am

Content strategists:

With CMI's recent acquisition of ICC, we'd love to meet our CMWorld attendees who are content strategists or would like to learn more about content strategy.

4:00 pm – 4:30 pm

Agencies:

Are you an integrated marketing agency, or one that is just beginning to enter into the world of content marketing? Meet others with the same visions, challenges and opportunities; it's great to have an industry peer with whom you can bounce ideas. Looking for an agency? You're welcome to join as well!
Please mark your calendars accordingly!
Still not registered for CMWorld? There is still time! Join us in Cleveland September 8-11, 2014. Use code CMWSOCIAL to save $100 off your registration. 
Posted August 25, 2014 in: Event by Cathy McPhillips
---
UP