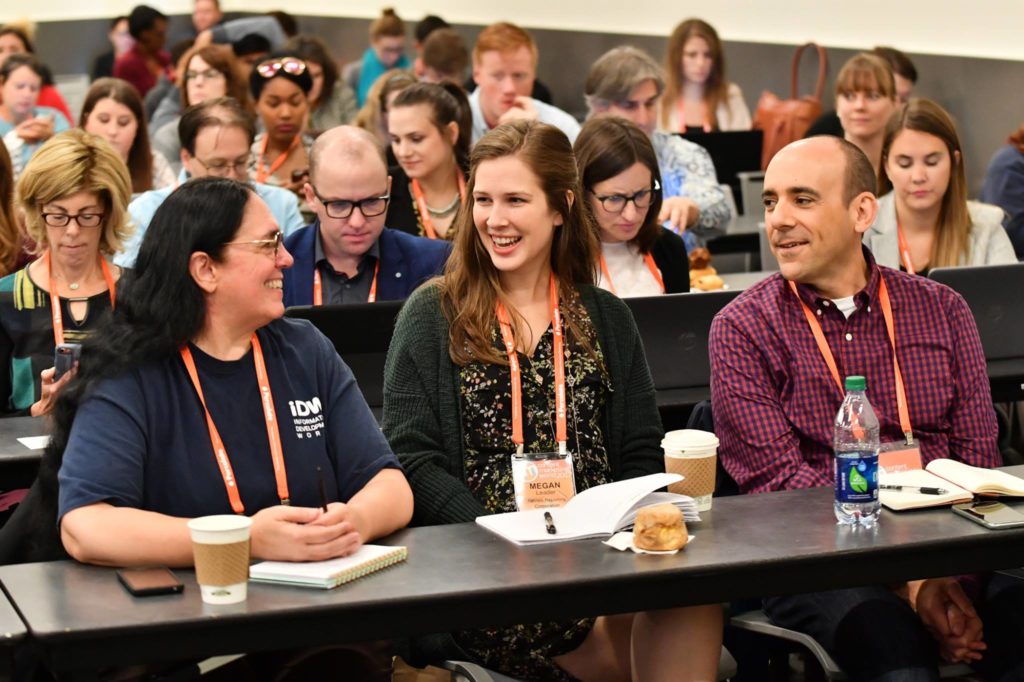 Hey there! Yes — you over there. The one with the first-time marketing job. Come here for a second, I want to share something with you. *gestures conspiratorially*
First of all, I want to tell you: CONGRATULATIONS! Whether this is your first-ever job, or a mid-career pivot, or a responsibility handed to you out of the blue (surprise, you're a marketer now!), I wanted to share that you've landed somewhere pretty fun and exciting.
That said, I know the whole new-to-the-industry thing can also be a little daunting, no matter how you got here. The good news is, you're not alone! The Content Marketing Institute has resources and they come in the form of an amazing community, career development resources, and events, to help you on your journey. My favorite part of Content Marketing Institute offerings is Content Marketing World—CMI's annual multi-day content marketing conference and expo in Cleveland, OH.
What can a new marketer get from Content Marketing World?
Let me preface this by clarifying: when it comes to conferences, this is not my first time at the proverbial rodeo. During the course of my marketing career, I've been to (and even organized) my share of industry events. Most of them have been worthwhile, some have been a little disappointing, and a few have fallen into the "let us never speak of this again" category. (Seriously. I've got stories.)
Content Marketing World (CMWorld) is unique in the landscape of conferences—far from your run-of-the-mill industry event that has you checking the clock in a fit of "how much longer?" during every session. Sure, it delivers in all the ways you'd expect a world-class event to: engaging workshops, practical breakout sessions, inspirational keynotes, and a series of events that range from the purely networking-driven to the wholesome (fun run! morning yoga!) to the social (kickoff party at the Rock and Roll Hall of Fame!).
What really sets CMWorld apart, though, is the immediate sense of community you experience while attending. It doesn't take much to connect with other attendees—join a stranger at a table during a crowded networking break, or drop just the right GIF response to a #CMWorld tweet, and it's not unlikely that you'll find yourself running around Cleveland with new colleagues and friends. In fact, the community surrounding CMWorld helped me (and continues to do so) make the huge pivot from full time employee to business owner.
During last year's CMWorld, I ended up singing somewhat rowdy group karaoke with a fun-loving bunch of marketers from across functions and industries—most of whom I'd previously encountered only through Twitter, but all of whom ended up becoming part of my larger professional circle. CMWorld encourages a sense of camaraderie that manages to be both fun and professional. What happens in Cleveland doesn't have to stay in Cleveland, and that's good news for anyone looking to expand their network—especially those who are new to marketing.
Can't-miss sessions for new-to-marketing folks
If this all sounds like too much fun to miss… Well, it is. But decision paralysis is real, especially when you're trying to get your arms around all of the concepts that could set you up for career success. To help narrow down your choices (and free up more brain space for networking, learning, and karaoke), here are five sessions that new marketers shouldn't miss:
Tuesday
Content Marketing 101: Setting and Documenting Your Strategy and Building Your Team
Time slot: 1:00 PM – 4:00 PM
You know that a tight strategy is critical to any successful, effective content marketing effort… but sometimes connecting those two dots is a little more challenging than it sounds for a new marketer. Michael Brenner, author and CEO of Marketing Insider Group, will help his audience understand the core components of successful content marketing strategies and how to turn them into a strategy that makes sense for your business.
Wednesday
The Content Marketer of the Future: 5 Big Traits You Need to Thrive in the Coming Marketing Revolution
Time slot: 11:20 AM – 12:05 PM
Feeling overwhelmed by the thought that as a content marketer, you need to be able to do ALL THE THINGS (write, edit, film, manage, engage with social, analyze… the list goes on), ALL AT ONCE? Joe Lazauskas, Head of Marketing at Contently, can help you cut through the noise and focus on the handful of areas that are most important for your work—now and in the years to come.
How to Craft Addictive Email Content
Time slot: 2:00 – 2:45 PM
No matter how many times you may hear "email is dead," it still generates the highest ROI of major marketing channels—so why not master the art of creating killer email content? Liz Willits is the Senior Content Marketing Specialist at AWeber; she'll lead her audience through a study of what makes email effective and intriguing, so you can craft content your subscribers can't resist.
BONUS SESSION: Henry Rollins Keynote, 5:15 PM – 6:00 PM.
Catch this actor, writer, performer, and punk rock legend sharing his storytelling expertise in the unlikely—but highly applicable—setting that is CMWorld.
Thursday
Scalable Content Marketing Solutions for Solo and Small Marketing Teams
Time slot: 11:20 AM – 12:05 PM
Unless you work in an unusually forward-thinking environment, chances are good you're a part of a small content marketing team (or, just as likely, you ARE the content marketing team). Join Vishal Khanna, VP of Marketing & Communications at HealthPrize Technologies, for a session focused on making the most of your constrained resources when it comes to tools, processes, and tactics.
Charting the Course to a Career in Content Marketing
Time slot: 2:50 PM – 3:35 PM
Once you've absorbed three whole days of content marketing-related ideas, strategies, and possibilities, one question is likely going to rise to the top: How can I navigate this ocean of an industry to land where I want to be? Let Amy Higgins, Content Strategist at Salesforce, help you find the answer to that question by recognizing the area(s) of specialization that best fits your talents—and identifying opportunities for personal growth that will help you get there.
Join us in Cleveland
I tend to get a little jazzed up when I talk about Content Marketing World. This will be my fourth year in attendance, and I genuinely look forward to going all year. As an industry event, it stands apart in its quality and value for attendees—but more importantly, it fosters the kind of community I wish I'd had when I was just starting my marketing career. If you're looking to connect with a wild, weird, wonderful bunch of people (who also happen to be great at what they do), don't miss the opportunity to experience it for yourself.
Ready to join us in Cleveland? Register for Content Marketing World today! Use code JANN100 for $100 off your registration. *Stage whispers "you're welcome."*
Already registered? Follow #CMWorld on Twitter to start building connections and community before the conference.
About the author: Maureen Jann is the founder and managing director at SuperDeluxe Marketing, CMWorld speaker, co-working space owner and advocate, and all-around incredible person. When she had this idea about helping folks in specific job functions find *their own* value in what CMWorld had to offer, I took her up on it! We hope you enjoy the series, and that it helps you make your visit to Cleveland the most epic one yet. ~ Cathy McPhillips, CMI VP of Marketing
Posted July 2, 2019 in: Event by Cathy McPhillips
---