As a marketer, you understand the importance of a LinkedIn company page. There, users can learn about your business, and you can establish thought leadership. As a professional, you know the impact LinkedIn has on networking, job searches, and even leads. But are you leveraging as best as you could?
Consider this. LinkedIn boasts more than 630 million users worldwide. Two new members sign up every second.
Is LinkedIn a priority for you? Are you building a personal brand? Are you making strong, meaningful connections on the platform?
LinkedIn Strategist, Creator, and Trainer Michaela Alexis says your activity on the platform can help you win business and land your dream job, but you have to know where to start. Michaela joined the CMWorld community on a recent Twitter chat and revealed the secrets to her LinkedIn success.
We couldn't record all of the great tips shared during the hour-long discussion. There were just too many! So, we put together a Twitter Moment. You can also find a few highlights below.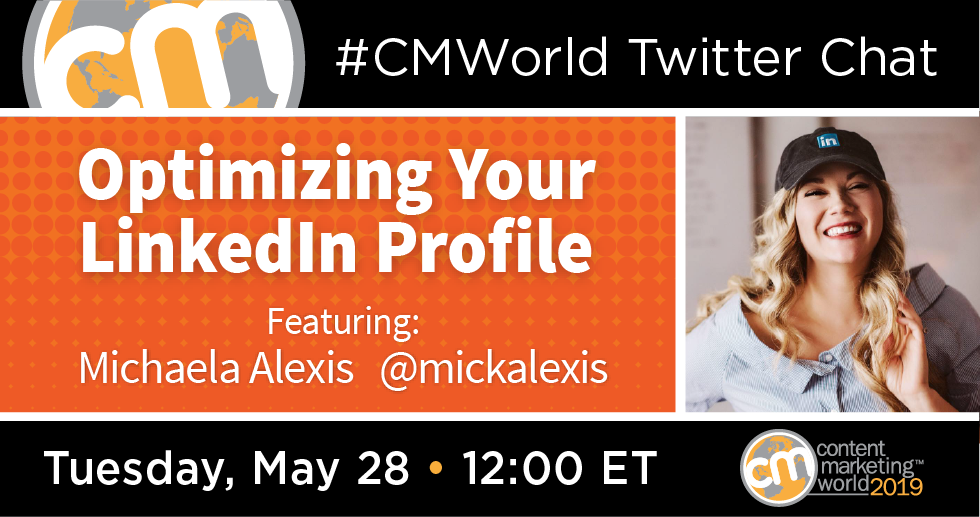 What are some effective ways to organically boost your presence on LinkedIn and make your profile SEO friendly?
Algorithms are constantly changing. What are the elements of a good LinkedIn post? What kind of #content performs best?
How does LinkedIn factor into your personal branding strategy? When was the last time you looked at your profile? Let us know in the comments below.
Meet Michaela at Content Marketing World when she presents "How to Build a Mega Personal Brand on LinkedIn on a Mini Budget." Register before this Friday, May 31, with code SM100 to receive $100 off Early Bird pricing!
Posted May 28, 2019 in: Event by Monina Wagner
---