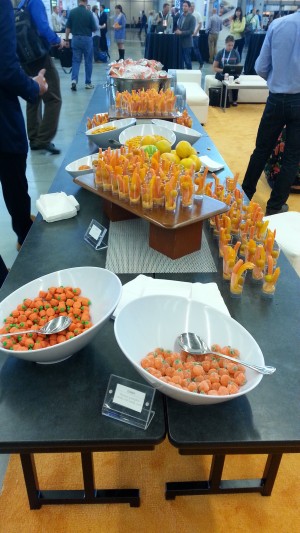 This guest post was written by Arnie Kuenn, CMI friend, CMWorld speaker, and CEO of Vertical Measures, a search, social and content marketing agency. We will feature CMWorld blog posts each week. 
As avid readers of CMI, we assume you all made your way to Cleveland for Content Marketing World 2014. I attended the event with two of my team members from Vertical Measures, Account Director Dave Haar, Content Marketing Team Manager Drew Eastmead, and we had an unbelievable time. Remarkable presentations and in-depth workshops to an attendee-only music festival and networking events, Content Marketing World offered something for everyone.
Amazing Speakers
Attendees of Content Marketing World had the opportunity to see an amazing line of speakers. Here are some of our team's highlights:
Award-winning actor and producer Kevin Spacey shared his thoughts on storytelling. He challenged attendees to connect with audiences, and figure out how to educate, entertain, and perhaps most importantly, surprise them. He noted that there has never been a better moment for us marketers – as we have the ability to reach audiences across a variety of platforms – that's huge!

 
Joe Pulizzi, the Godfather of Content Marketing himself, stressed the importance of physically writing down goals in order to accomplish them faster, as it has been proven that successful content marketers have a written strategy and are dedicated to following it closely. 
Chief Strategist for the Content Marketing Institute Robert Rose spoke about "experience marketing." We need to focus less on the number of interactions with a customer, and more about the experience those interactions provide. Our content needs to be so great that people are willing to pay for it, but strategic enough to change customer relationships. He also graciously offered a free chapter of his new book, Experiences: The 7th Era of Marketing. 
Scott Stratten, President of Unmarketing, reminded us that in social media, speed is almost as significant as genuineness. Of course, we need to be authentic and transparent, but without immediacy, our efforts can fall flat. Customers want to be heard, and we need to actually listen. 
Marcus Sheridan, Founder of The Sales Lion, led a great discussion on "content shock" with Mark Schaefer.  Marcus said he doesn't believe content marketing is dead, or is even dying. He asked us to think about marketing ten or twenty years from now. Will marketers and companies still be teaching, educating and innovating? Yes – we will. And as long as we are doing those things, content marketing will be alive and well.
Education Galore
In addition to the conference, other educational opportunities were available, including workshops and industry labs. 
Workshops
Before the conference started, there were 13 different pre-conference workshops available for those who wanted to further their content marketing knowledge. Each Content Marketing World workshop focused on a deep dive into a particular content marketing solution area, including sales enablement, demand generation, conversion rate optimization, content creation management and more – all of which were very successful.
My team at Vertical Measures put on the Content Marketing 101 Workshop. It sold out two weeks early and an hour into the workshop it was standing room only.  This goes to show that even at a major event like Content Marketing World, we are still at the early stages of content marketing. The workshop was a huge success and drew rave reviews, which was a great way to start the week in the Cleveland.
Industry Labs
In addition to pre-event workshops, Content Marketing World also offered "industry labs," a deep dive, workshop-style format into the specific content challenges in different vertical industries, including financial services, hospitals, nonprofits, retail and more. An instructor led each lab, with guest stars presenting throughout the day.
Networking and Parties
There were plenty of other non-education focused happenings at Content Marketing World as well, including a music and food truck festival.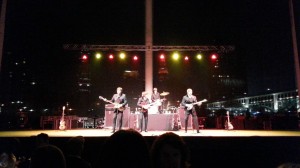 ContentFest and SAP After Party
Music fans at Content Marketing World were in for a treat at ContentFest – a music festival that featured musical acts including Cleveland-based Welshly Arms, and 1964 the Tribute, named "the best Beatles tribute band" by Rolling Stone Magazine. ContentFest attendees also had the chance to eat excellent food from more than a dozen Cleveland food trucks at Jacobs Pavilion at Nautica. For those of us who weren't ready for ContentFest to end, SAP hosted an after party featuring even more fun, food and networking opportunities at Shooters on the Water. 
Cleveland!
In addition to the official parties and networking events at Content Marketing World, there is so much to do in the city of Cleveland, making it an excellent place to hold the biggest content marketing conference on the planet. Attendees were offered discounted tickets to the Rock and Roll Hall of Fame and Museum, Cedar Point Amusement Park and to Cleveland Indians games – making for a truly fun-filled week away from the office.  
Didn't Go?
Then save the date right now!  It will be back in Cleveland, September 8-11, 2015.  Registration will be open Monday, December 1st.  This is your chance to get the Super, super early bird rate – the lowest rate you will be able to find all year, so be sure to register as soon as you can! 
Learn more about Arnie and Vertical Measures by visiting their website. Content Marketing World 2014 has just ended, but look for articles and more on our curated list.ly page. Registration for Content Marketing World 2015 opens in December! 
Posted September 16, 2014 in: Event by Laura Kozak
---